How can people be an enthusiastic and successful artist? Is it has to find own style? What the difference between the painter and artist?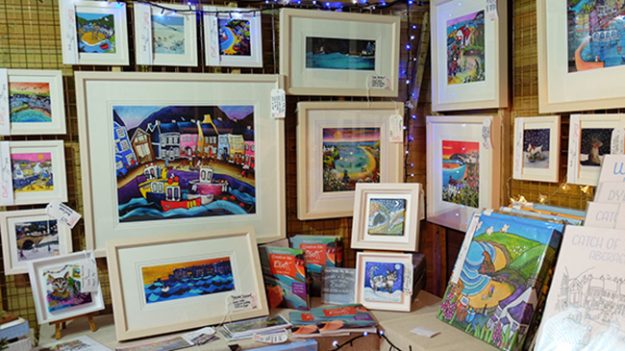 Setting in a small room located in the Cardiff Christmas market, which was used as both store and art studio with a lot of fantastic paintings. Using unusual colors and techniques to interpret a piece of work, importantly, she can release the stress as well.
Helen Elliott, who is a successful and famous artist in painting. She has the rich experience in drawing pictures, as when she was a child and learned how to draw.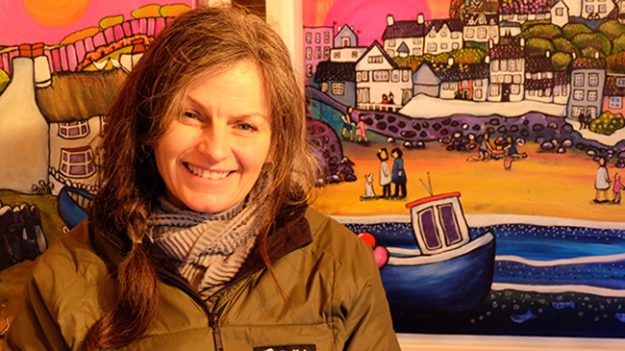 "I love discovering. I try to portray a relaxing side of life. Children without formal education are just like painting. Having not been taught, no one told me that I cannot use purple and blue, or ocean cannot be pink. Even I did not think about it, I am free to do what I want to do, without any binding and rules," Helen said with a big smile on her face.
As an outstanding artist, Helen isn't a traditional one who has the professional background. "I just love the painting overtime when I was five years old. When I was in school, we got to choose what we want to do for our O level which is an exam. I want to do the art and I join the art class, after three weeks they said I have to leave the art class because I couldn't paint and draw, I was really upset. But I know it's true, when you look at my paintings, my perspective is not very good. I love color, line and design."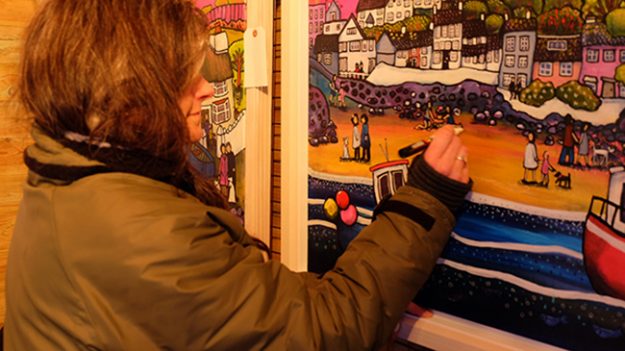 Helen lack of education in this field, however, she has developed the own unique way of painting to achieve success. "So I start to study the chemistry and science all kind of these things," explained Helen, "I just took art as a night class. I was asked to leave because they said I couldn't draw properly, and that was the end. After that, I had a very good career with the home office of government.Therefore, since then I haven't stopped, I love art and all of the things are have real life in the world."
"I pick up a paintbrush again because I regret giving up my dream when I was a child. Do not give up your dreams, never." Helen shared the feelings of her only regret in her life with me, looking at her paintings and laughed. In addition, Helen has insisted on discovering new things and products, through her imagination and the artistic knowledge of the whole world.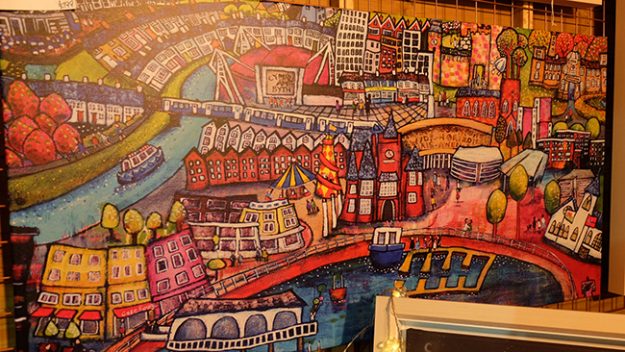 Helen's inspiration comes from an art movement that around in the 1930s and it explains a great deal about her approach to painting. "Native Art, it depicts scenes of day-to-day life which makes you smile and it's happy that people are willing to use some strong colors to express their feelings. I started looking for a similar style, and when I found pictures like mine. Besides, the international festival of naive art was held in France last year and I was the only person selected to participate as a representative in the UK." Helen laughed and took pride in the successful achievement.
The Naive art movement gave Helen the freedom to paint as she wanted to and to break accepted rules. "As you can see in my paintings, flowers may not be red, also sky may not be blue. I want to use colors those people find unusual to show my thought, giving the feeling whatever the happiness or loneliness to people," Helen pointed at one piece of her works, "this is the longest painting I have ever taken, six months, also you can say is the typical one. Everything you can see in this painting is unique and memorable, people are dancing, birds are flying in the sky, and everything looks peaceful. I would like to express the better life through drawing."
Nevertheless, there also are some challenges that Helen needs to be faced. " As an artist, economic sources always should be considered and worried. Therefore, I often paint some pictures and put these online, customizing some calendars and paintings as well as. Sometimes I showed my work at local art shows and participating the competitions," Helen added, "also the cost on paints, palettes and brushes are taken into account."
"It is also a hard challenge, I often with insignificant or inadequate ideas when creating the painting. But I will find some ideas for my work by traveling or participating in some social activities, such as volunteer activities and art exhibitions." Helen said and later patiently told me an example of his previous.
Although meet difficulties and challenges in painting, Helen believed she could do a perfect artist through her unremitting efforts, "I work all the day even sometimes overtime. In the night, I often think about my future work, and what new details that I can add to my painting to express my feelings. When I facing the problem, I know I have to solve by myself and keep going."
"Now that you have chosen, you have to give 100 percent effort to your decision and everything." Helen shared her belief with me. Additionally, she never relaxes in her dream career and always perseveres in the pursuit of their dreams.
About her current career, Helen was particularly satisfied. "Two years ago, I asked to go to the American to train the golden paint to become an artist educated, the only person in wales, it's really honored. After that, working France for a couple of months." For the future about her art, "next year, I will open the new gallery in Yorkshire, also I have been pretty lucky in the field of work."