"We hope the British government, at least, had the dignity to ask Turkey to stop bombing the innocent people," said Erdal Kaya, a Kurdish-Welsh businessman.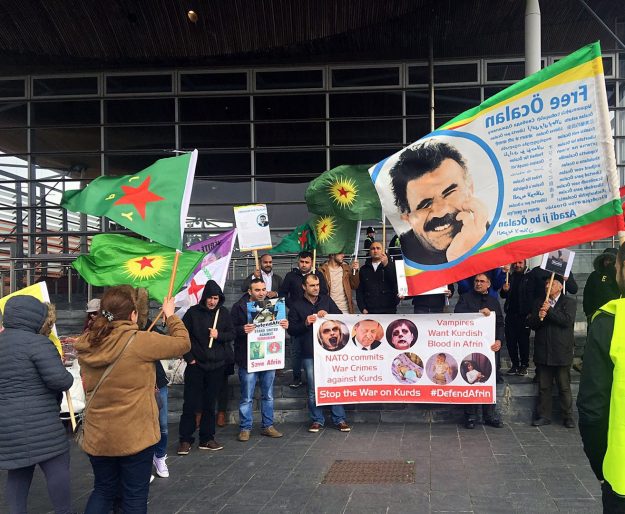 OVER 30 Kurdish people gathered in front of the National Assembly for Wales, denouncing Turkey's bombing of Afrin in northern Syria.
This protest has been called by the Kurdish Community in South Wales on Wednesday. More than 30 Kurdish people, as well as several Plaid Cymru (Party of Wales) politicians, gathered at the Welsh Assembly at around 12 pm to against the bombing attack in Afrin region by Turkish government. The protest lasted for two hours.
"We hope the British government, at least, had the dignity to ask Turkey to stop bombing the innocent people," said Erdal Kaya, a Kurdish-Welsh businessman. "The biggest disappointment for us is the NATO didn't say anything to Turkey. Go back to four or five years ago, when Kurds were fighting against Isis, it was all over the news and we were considered as heroes! Now, we are forgotten, we don't deserve it!"
Many Kurdish-Welsh citizens think Afrin is under ethnic cleansing by Turkish military since this January. Turkey, however, accuses the YPG of supporting the Kurdistan Workers' Party, a terrorist group considered by NATO.
Some of the protesters , such as Orhan Aksoy, the spokesman of Kurdish community in South Wales, have family still living in the area. "A member of eight people's family, who are my relatives, bombed in a frame and they got killed. At the moment, the Kurds are getting killed not just boy Turkish, but also by the UK, German and Russia, all the big bosses," he said.
Sultana Rasno, who comes from Afrin said, "The Turkish destroying cities, towns, they killed so many innocent young babies and kids."
Those protesters are unsatisfied with the reaction of UK government and think there should be more concerns and support from NATO allies.
Rhun ap Iorwerth, the Assembly Member for Ynys Môn, said, "As a politician in Wales, I hope that the Kurdish people can get the same right as Welsh people and I am here showing my solidarity today."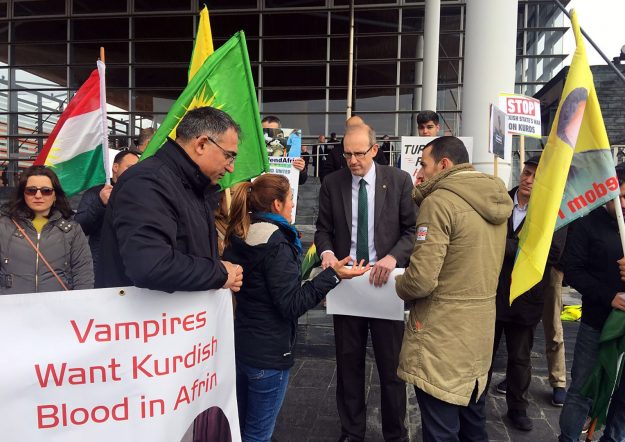 I was proud to stand in solidarity with members of the Kurdish community earlier and express my concern and sympathy regarding the situation in Afrin.
Ro'n i'n falch i sefyll mewn undod gydag aelodau o'r gymuned Cwrdaidd heddiw a dangos fy nghydymdeimlad gyda'r sefyllfa yn Afrin. pic.twitter.com/gFHMxho4do

— Llyr Gruffydd AC/AM (@LlyrGruffydd) 2018年3月14日
Simon Thomas, the Assembly Member for Mid and West Wales, said, "There are about three thousand Kurds in wales. All of them have families, as well many of them have their own businesses and they're very much part of the citizenships of Wales. Therefore, we want to see the UK government take a much firmer line with the Turkish government about the military intervention that they are doing in Afrin."
London's King's Cross train station was closed for several hours on last Sunday evening and trains were diverted since Kurdish protesters converged outside of the station, according to BBC news.
With the Kurdistan Solidarity Campaign's calling, there will be more demonstrations organized in the UK.
"We have got a lot of Kurdish people in Britain and all over the European countries, they are all doing demonstrations," Erdal Kaya, one of the protest organizer said, "This will not end, we will keep doing it till Turkish government stop their massacre!"
Click the video to see the protest on Wednesday