More women than ever before are starting their own businesses in the UK. Becky Szwandt, founder of Stretchy Suzie's yoga studio, proves that you don't need a business degree or a huge initial investment to run your own successful enterprise.
Becky Szwandt makes everything look easy. Despite running late for our interview, she manages to glide into her not so shabby-chic yoga studio apologising profusely.
The space is a carefully curated combination of 1970s wooden furniture, soft cream coloured fabrics and vintage anatomical drawings while the air is infused with lavender essential oil and the lighting is kept low. Wearing dark grey lycra leggings and a black bomber jacket, Becky reclines athletically at a small table in the corner of the room.
This laid-back but composed attitude encapsulates the spirit in which Becky founded her yoga studio, Stretchy Suzie's, five years ago at the ripe not-so-old age of 27. "I didn't always want to run my own business, it just evolved. For me, starting a business was about what I needed to survive in the yoga industry and how I could create a space I was happy to teach in and a service I wanted to give."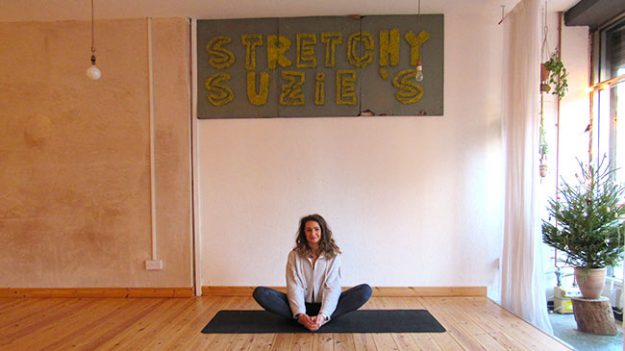 The service that Stretchy Suzie's provides is pretty wide reaching. The space is not only a yoga studio and therapy rooms but a community hub hosting events from art workshops to food nights.
"Before opening the studio I was working at a number of other community gyms or private halls which were not only financially unfeasible but they would be cold or the flooring would be dusty and the atmosphere didn't feel how I wanted it to. I never sat down and said I want to own a studio, it was more like I want to teach yoga, how can I keep doing that?"
The combination of a passion for yoga and financial necessity forced Becky to find a residential property she could live in and teach from laying the foundations for the business. Family, friends and prior clients attended Becky's stylized yoga classes in the comfort of her bedroom.
"The landlords were happy for me to teach there but eventually they increased the rent. So I was pushed into finding a commercial property and starting Stretchy Suzie's."
The studio logo, Suzie, designed by Becky Szwandt. Reproduced from @stretchysuzies with permission.
The way Becky discusses starting her own business, makes it seem like the entire outfit appeared overnight. She does admit that when her landlords increased the rent she had been writing a business plan, "in the background."
"I went on a one-week business course where they taught us to write a business plan. But I wasn't aware what I would use it for. Then the letter from my landlord came through and I thought I've got to do it."
The next step was finding a commercial property that would allow Becky to establish the calm, bespoke atmosphere she wanted to provide her clients. This, she managed to do using the £450 deposit from her flat and a business credit card with a £2,000 limit.
Donald Trump, eat your heart out.
"The estate agent showed me around the property but the building was in such a state. The studio had a wall running through it, stairs running up the back and the ceilings were caved in in the bathrooms. But I had to find a property and this one was within my budget so I said to the landlord can I knock these walls down? It shouldn't be too hard my brother's a carpenter. But when I said I would knock the walls down myself it spurred the landlord into doing it himself!"
But Becky's DIY spirit started to crack when a tiler informed her that installing a suitable floor would be stratospherically out of her budget. "At that point I cried. The floor was so important to me, but then we found the solution of carpet and it all got resolved."
As soon as the space was workable, Becky began teaching and investing in her business which now hosts seven yoga teachers and four therapists. "I made the shop sign myself, I did everything as cheaply as I could. When money was coming in I put it back in and just carried on like that."
This strategy allowed Becky to eventually replace the carpet with her dream wooden flooring.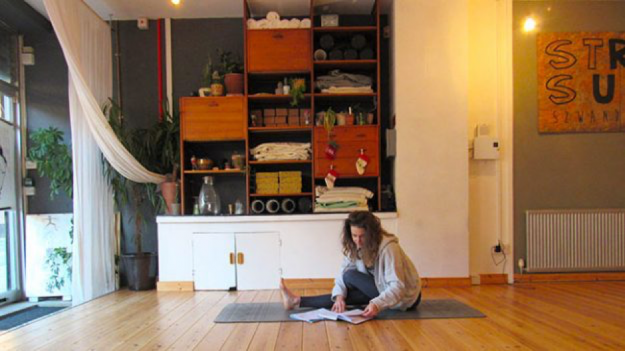 Becky credits her yogic philosophy with helping her overcome flooring and non-flooring related challenges as an entrepreneur.
"I believe that you create what you set out to create so it doesn't bother me so much if things don't go to plan. Either I've created that outcome and can make a few changes or I just think well this is helping me to grow or understand what I want."
For Becky this philosophy is rooted in understanding one's own thought patterns. "When I started teaching yoga I gained awareness of the relationship between my thought patterns and what was going on in my life. Whilst meditating at the end of a yoga class, you realise the stories you're telling yourself aren't even true. Whenever I feel stuck I always go back to my thought patterns to see if they're holding me back."
A flexibility class at Stretchy Suzie's. Image reproduced with permission from @stretchysuzies.
Becky's thought patterns don't seem to hold her back very often though as she even designed her own studio logo.
"There was a time when I was living on my mum's dining room floor so I started drawing to make some extra money. I drew this yoga girl and my friend called her Suzie. When I had to come up with a name for the studio Suzie seemed like a memorable choice as no one can pronounce Szwandt!"
Small business owners clearly need to have a variety of skills but this doesn't sound like a problem for Becky. "Even as a child I've always been a do-er. My mum couldn't dress me, I'd always want to do it myself. I've always wanted to do everything myself but I do need to try not do everything all the time."
---
Visit the Stretchy Suzie's website to book a yoga class or therapy session.