A cozy restaurant, serving traditional Italian and Portuguese dishes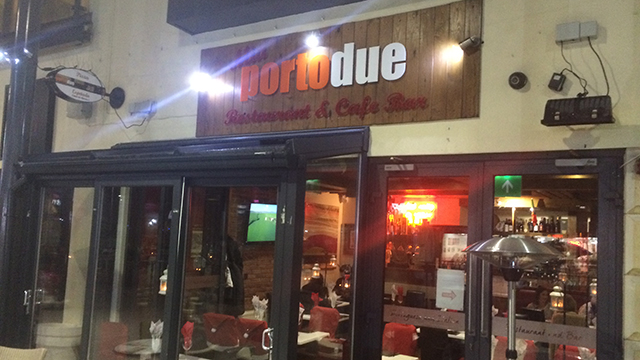 Mia Porto Due is a wonderful restaurant located at the heart of Cardiff city center, in the Brewery quarter. It is small and quiet place that has red table cloths and plush furniture. The overall ambiance of the place is a bit romantic.
The staff is very welcoming and most of them have exotic accents, they whisper to ask you if you are ready to order but until that point make themselves scarce. It is difficult not to imagine one is on a date, considering the way you're treated. The music is soft and ties in very well with the overall feel of the restaurant.The foreign accent of the staff members only adds to the feeling of being away on a holiday for two.
The food is delicious, although slightly expensive, especially if you are a student. A meal and a drink can cost you anywhere from 15-30 pounds depending on your palate and appetite.  Some of things on offer include pizzas, pasta and risotto; obviously, it is partly  Italian after all. Their fish and seafood starters are all worth their money.
The mains are Espetada skewers offered with a variety of sauces, of different meats, fish and chicken; peri-peri and regular. The skewers are cooked on a Grill and then suspended upside down on your table, it makes for a delightful eating experience, really, please take my word for it.
Some of the Portuguese specialties include Bilfinhos, steak fillet in cream wild mushroom, garlic and fresh herb sauce and Monkfish and Mussels, in a Portuguese spicy tomato and potato sauce. But the best they have to offer, is their range of stone grilled steaks. The steak is brought to you sizzling and you can cook it to your preference on a stone grill. The restaurant's menu advertises this method was used by the ancient Egyptians and Vikings.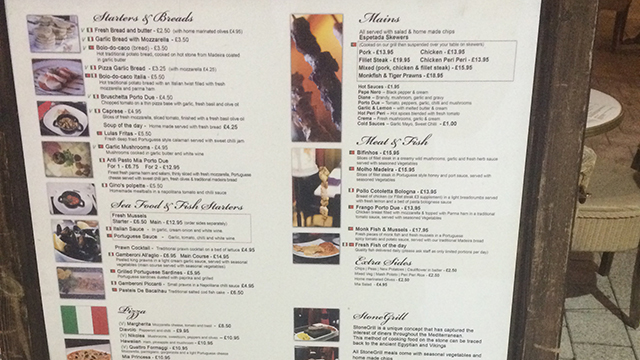 The drinks menu could have been larger; the beers on offer are few, with only Carling available on tap. The dessert menu is nice and balanced between Italian and Portuguese treats. All in all a good restaurant: a posh, fancy little place to go out with your partner or have a first date with your special someone, not the best place for a lads night out.
Four stars out of Five
Verdict: A cozy restaurant with great food.