Hip-hop and Islam may be an unusual combination, but this female hip-hop hijabi duo Poetic Pilgrimage say nothing is impossible. They spit out strong lyrical raps to show their defiance of wars, racism and sexism and more. What motivates the girls?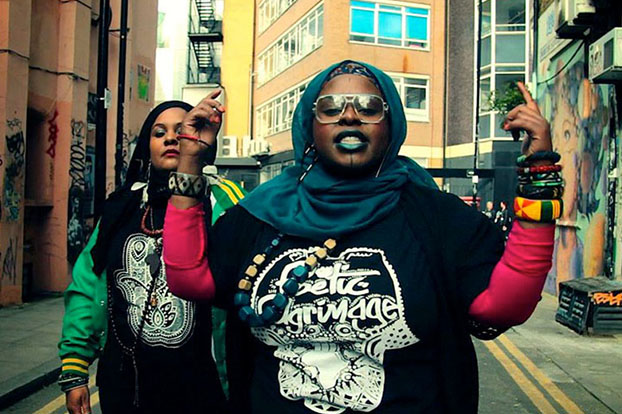 She wraps her hair in a purple headscarf and hangs an aqua blue hijab loosely around her head and neck. She wears a yellow jumper and underneath that, there is another layer of purple garment. For bottom, she matches a pair of simple-looking pants with a pair of comfy shoes. You might think she is just another Muslim girl. Yes, she prays five times a day, but what you don't know is who she really is. She is Tanya Muneera Williams, rapper from British Muslim hip-hop duo Poetic Pilgrimage.
She dresses nothing hip-hop. No hoods, no baggy jeans, no flashy gold chains. But when she opens her mouth, her rap is poetic, or hip-hop fans would say, it is "fire". She raps her views on peace and war, love and hate. She speaks against world injustice. Behind her fashion, it is a hidden layer of edginess, boldness and toughness. Tanya is truly a walking contradiction that fuses hip-hop and Islam together.
Growing up around hip-hop, Tanya says: "I express myself using hip-hop. It is a safe space. When I walk into an environment, people sometimes think this woman shouldn't be on stage because she is black or she is Muslim. But when I walk into a hip-hop space, people just want to know can you rap and are you good at it. It is a place with equality and opportunity."
Born in Bristol to Jamaican parents, Tanya says her origins have significantly shaped the maxim of the group.
"Having Jamaicans fighting against slavery and Bristol's migrant workers against racism, my family and I have this backdrop of resistance, dignity, and pride. It's very influential in my life," she says.
Tanya describes their formation and the music they make as "a friendship and a conversation". This relationship is not just between them, but with their audience as well.
Born in the 1980s, Tanya says she feels like she was born in a time of wars and conflicts. As best friends, the two girls would hang out and talk about these issues and debate about them.
Peace+love check our latest video 'Bigger Than' inspired by @madlib & #bluenote filmed/ directed by @GlobalFaction https://t.co/pldqpHJ5ke

— Poetic Pilgrimage (@PoeticPilgrim) July 20, 2016
What inspired the girls to take their views into the public as well as onto the hip-hop stage?
Tanya says it is the lack of representation they had as themselves. Although at a young age, they saw some black girls that were extremely sexy and aggressive being represented on the television, she vividly remembers they felt misrepresented.
"Seeing these television faces, all we knew is that we didn't see us. Or even the type of music that we were supposed to like, we felt so strongly we didn't fit into that. We then decided we needed to be able to represent ourselves," says Tanya.
Poetic Pilgrimage was formed during their undergraduate years in London. They both studied people's cultures and representations. Eventually, they put the essence of that into their music.
However, being able to lead a free and artistic lifestyle could mean a conflict of interests between Tanya and her family.
"My family is not always supportive," she says, "It is not exactly because they don't want me to do music, but they came to England to have a better and more secure life. For me to then chase after something new and experimental could put that in jeopardy."
Pioneering in the industry for the 15th year now, Tanya has proved to her family that Poetic Pilgrimage has the significance and influence in the Muslim, women and hip-hop community. The group has released their own album, collaborated with other artists, made their public appearances overseas and been involved in an Al Jazeera documentary 'Hip-Hop Hijabis'.
They are definitely not blinded by the fame. They see no point of stopping, be it their music or their aspiration to represent themselves.
"People always have stereotypes, positive and negative, I do too. But I think there's real power in challenging these stereotypes, owning our stories and taking hold of all these narratives about us. Essentially just us representing ourselves instead of letting others do it," says Tanya, "Words are power. We all here shall be heard."