St David's Day Parade showed the Welsh heritage despite the Council's funding cut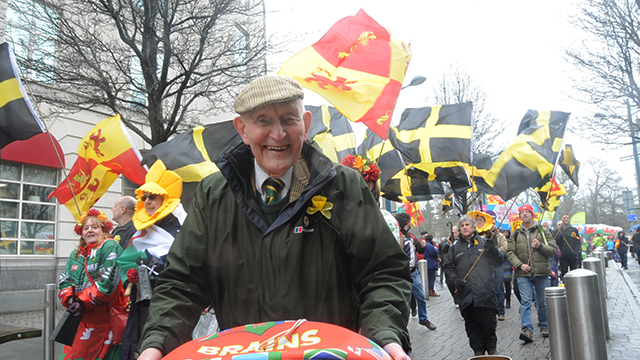 Nearly 1,000 people paraded through the city centre celebrating the St. David's Day on 1st March even though the Council withdrew funding from the event.
St David's Day Parade in the city centre displayed the Welsh pride and amused people beyond the country, despite the subsidies cut resulted reduction of participants and shorter route.
A Parade organiser David Petersen said, "It is fantastic walking through Cardiff on St David's Day. We can keep the parade happening and meet new people. This is the best I have ever experienced."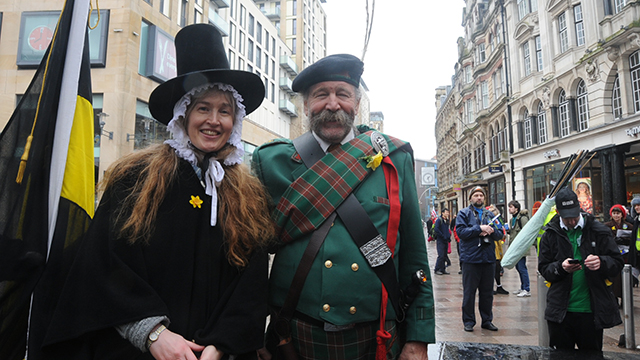 St David was the Welsh bishop during the 6th century and has been celebrated as the patron saint of Wales since 12th century. The parade in Cardiff is accepted for 15 years as an annual event that everyone in the city can attend regardless of their age, ethnicity and social background.
Some worried whether the parade would be held because of the Council's funding withdrawl. Since organizers have to pay to close road for community events, it is difficult to hold the event as before. 
But participants enjoyed themselves and amused attendants with traditional Welsh clothes or daffodils flower, Welsh music and the flags.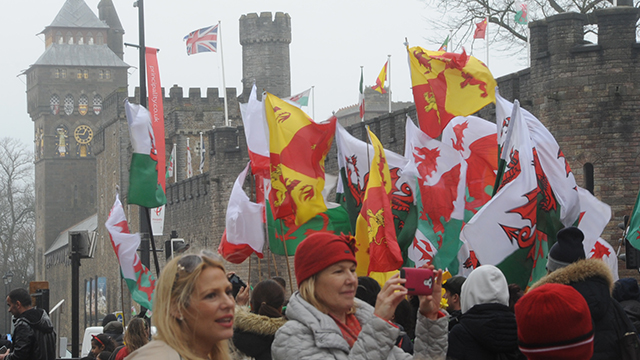 Each flag in the parade has different origin in history: a yellow cross on black is St David's flag, the lion on red and gold is the Bannar of Owain Glyndwr in the battle against England in the 14th century and the Welsh Dragon is the national flag of Wales.
Welsh traditional clothes, which some participants were wearing in the parade, is 19th century's style. According to Ms Abigail Thomas, daughter of Mr Petersen, women's traditional Welsh costumes have various distinctive characteristics: the Welsh hat and the cap, a betgwn (bedgown), a thick woven skirt, the apron and the stockings.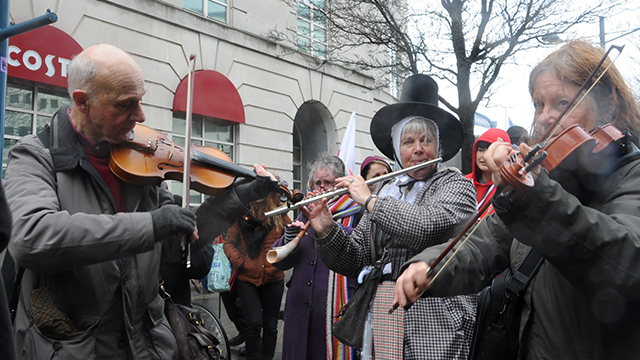 Mr Petersen referred to the message of St. David's last sermon 'do the little things, the small things you've seen me doing' repeatedly in the speech. "It is what he said when people asked him before his death. To do the little things is important to make a better place. It has to be said, little children might have never heard," he said.
Ms Jane Jones, a teacher of Stanwell School in Penarth, joined the parade with her 21 students and colleagues. "It is fabulous that I brought some children to march. It helps them understand Wales, where they live," she said.
Ms Wang Xiaoyang, a Chinese student who watched the parade, felt that she hoped more people had been able to attend the parade. "Seems many people skip off class or work to join the parade. Welsh people need a bank holiday to enjoy their national day."
The participants and the attendants sang the national anthem at the end of the parade. The lyric and how to pronounce can be learned here.