Unfamiliar homeless woman by Maggie Smith touches us with familiar feeling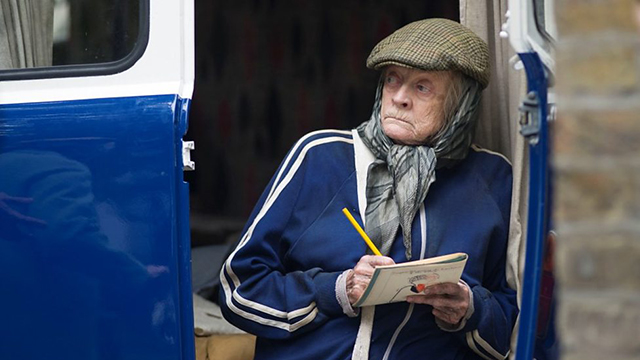 Professor McGonagall in Harry Potter is not here, Dowager Countess of Grantham in Downton Abbey either. Miss Shepherd (Maggie Smith) is a homeless woman who is selfish, difficult and who stayed in other's parking for 15 years. She may be charming, but not elegant or dignified like our familiar Dame Maggie Smith.
This is a story written by Alan Bennett, based on his true-story that he allowed the woman staying in his parking for 15 years.
Also this is a story of people with two faces and how they became free. Bennett (Alex Jennings) has two himself for 'living' and 'writing'. Ms Shepherd has her present face and the past one. Moreover, Ms Shepherd and Bennett's mother are described in contrast as the two 'mothers' Bennett cares for. As the film goes on these structures, this is a complex story even with Bennett's witty monologue.
Bennett's concern seems to be more familiar for many people. Caring elderly parent gives high pressure to sons and daughters (He hated word 'care' even though he often clean his toilet that Miss Shepherd failed using.) He felt some guilt letting his mother stay in nursing home and kept Shepherd near him. But there is no physical contact between Bennett and Shepherd that may means they see each other as 'others'. And that's why he could allow her stay for so long.
Two 'mothers' may understand his emotional conflict. Real mother said she is okay, and the other sometimes blamed him that he kept them for his writing. But they never left and relied on him. This acceptance that psychological distance doesn't mean he doesn't show them love touches us. Using of natural sound such as howling wind or birds twittering in the film also encourages touching in unusual but ordinary days.
In the climax, close-up of deep wrinkled Miss. Shepherds' hands and elsewhere-minded eyes talks all of her life. Hytner used a film's advantage effectively from its original playwright. Shepherd is not a familiar character at all, but I can believe her life and feeling. Who loves Maggie Smith herself will love this film too.
Trailer
Alan Bennett: "Maggie has got a sense of humour, but Shepherd didn't at all. "
in the Behind the scenes of the Lady in the Van
http://www.bbc.co.uk/bbcfilms/interview/the_lady_in_the_van_lff