A food oasis with a warm atmosphere and spicy dishes.
Being at Shaam Nights, a Syrian-Lebanese restaurant at City Road, makes you forget that you are in Cardiff. Arabesque decorations in red, green and golden color fill the wall. Colourful lanterns hang out from the ceilings, surrounded by dimmable spotlight bulbs. Arabic tunes are playing in the background. It is the perfect setting to escape from the cold and wet weather.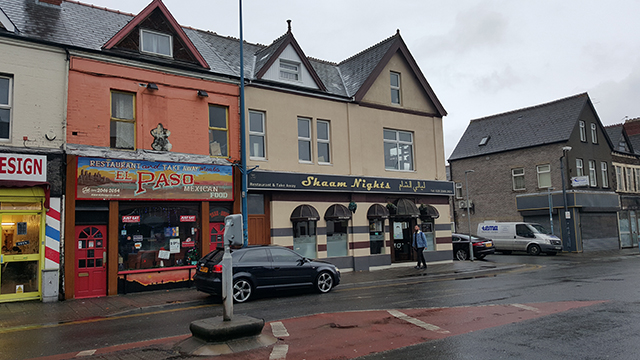 It was empty when I arrived there with a friend, noon last week. But our waiter, Omar, said that after 5pm, guests must book in advance. Apparently many people like their food and service. Trip Advisor rate them 4.5 star out of 5. Sunday Times Magazine has deemed them one of the best Middle Eastern grill houses in the UK. They are justified in this case.
The menu was easily navigable, with explanations of each dish's ingredients. The prices were around £10 for main courses. Unfortunately, they was no pictures. It makes us wonder about the portion's size. Omar could not really help us. "It is usually for one person, but it depends on you".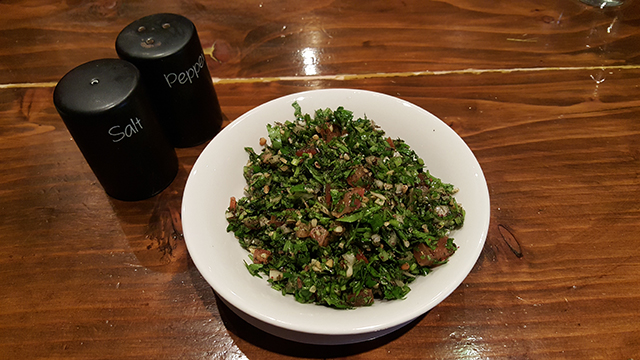 The serving turned out to be quite plenty for two people, especially the Sham Nights Mix Grill, where a pile of skewered chicken shish, lamb kufta, kebab halabi, chicken wing and rice filled up a 30 centimeter long plate. We also ordered tabbouleh, a mix of chopped parsley, tomatoes, burgul, onion, mint and lamb sambousak, deep-fried pastries filled with minced lamb.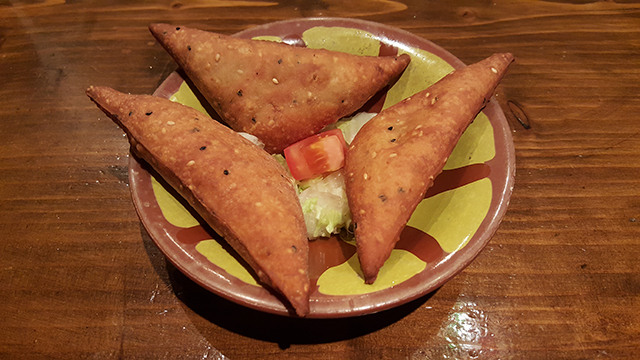 The tabbouleh, while fresh and tangy, was not exceptional. But the sambousak pastry was crunchy and not greasy. The skewered meats were tender, with a rich but subtle use of spices like cardamom and cumin. I would prefer more kick, but some might prefer the restaurant's balanced approach.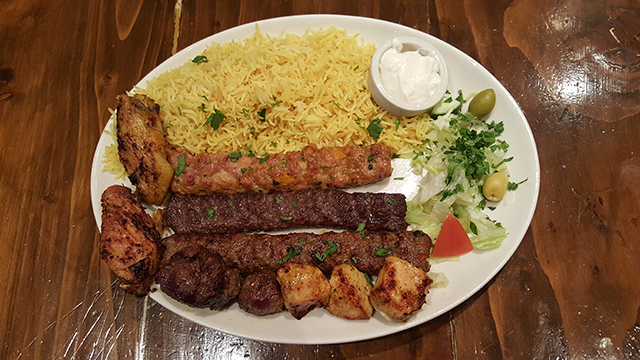 Our lunch ended on a high note with the katayef, mini pancakes stuffed with double cream and pistachio and a conversation with Omar. Although he missed his Egyptian hometown, he made us feel at home at Shaam Nights.
4.5/5 stars
Verdict: Highly recommended. Bring a lot of friends to enjoy the generous portion.
…
// Powered by Cincopa Video Hosting for Business solution.New Gallery 2015/12/11cameramake samsungheight 360orientation 1camerasoftware Adobe Photoshop CC 2originaldate 11/28/2015 9:19:05 PMwidth 640cameramodel SM-N9208cameramake samsungheight 360orientation 1camerasoftware Adobe Photoshop CC 2originaldate 11/28/2015 8:08:21 PMwidth 640cameramodel SM-N9208cameramake samsungheight 360orientation 1camerasoftware Adobe Photoshop CC 2originaldate 11/28/2015 8:08:09 PMwidth 640cameramodel SM-N9208cameramake samsungheight 360orientation 1camerasoftware Adobe Photoshop CC 2originaldate 11/28/2015 8:06:00 PMwidth 640cameramodel SM-N9208cameramake samsungheight 360orientation 1camerasoftware Adobe Photoshop CC 2originaldate 11/28/2015 8:04:54 PMwidth 640cameramodel SM-N9208cameramake samsungheight 360dir: 53alt: 0lat: 51.488889long: -3.168333orientation 1camerasoftware Adobe Photoshop CC 2originaldate 11/28/2015 9:05:54 PMwidth 640cameramodel SM-N9208cameramake samsungheight 360orientation 1camerasoftware Adobe Photoshop CC 2originaldate 11/28/2015 8:20:13 PMwidth 640cameramodel SM-N9208cameramake samsungheight 360orientation 1camerasoftware Adobe Photoshop CC 2originaldate 11/28/2015 8:14:57 PMwidth 640cameramodel SM-N9208cameramake samsungheight 360orientation 1camerasoftware Adobe Photoshop CC 2originaldate 11/28/2015 8:11:17 PMwidth 640cameramodel SM-N9208cameramake samsungheight 360orientation 1camerasoftware Adobe Photoshop CC 2originaldate 11/28/2015 8:10:17 PMwidth 640cameramodel SM-N9208
See what other people think of Shaam Nights: