How will you be transported by Icelandic performance art?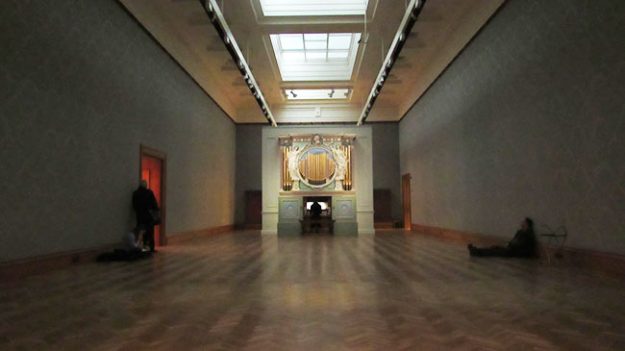 An Icelandic performance art piece featuring an 18th century organ in the capital of Wales is not your average ending to a night of Italian passion.
But Icelandic performance artist Ragnar Kjartansson aims to take the audience back to the room that inspired Italian singer Gino Paoli's 1960 hit "Il cielo in una stanza" through the repetition of song.
"Paoli wrote the song after sleeping with a prostitute and falling in love with her. I think Kjartansson is trying to bridge the gap between this room in Wales and that room in 1960 in Genoa," says Stephen Phillips, Marketing and Communications officer for Artes Mundi.
Kjartansson, a Reykjavik native, has removed all the publicly owned works from the 18th-century gallery and focuses the audience's attention on an 18th-century Welsh organ and a continuous performance of Gino Paoli's 1960 hit "Il cielo in una stanza".
"There are seven different performers from a variety of musical backgrounds from opera to contemporary Welsh musicians. They all have their unique styles which gives the repetition some variation," says Stephen.
Kjartansson was inspired by his native Iceland, an 18th-century Welsh organ and an Italian love song.
By performing the piece on a loop, Kjartansson is tapping into what musical psychologists term the "exposure effect" which may explain how the performance transforms the space.
"Typically, as a person continues to be exposed to a piece, they tend to like it more. This is because our attention shifts to different levels and aspects of sound so the piece starts sounding different across repetitions," says Dr Elizabeth Hellmuth Margulis, professor at the Cognition Lab of the University of Arkansas.
"Boundaries of time and space may begin to break away as people shift their attention from one part of the music to another. For some kinds of music, it takes this repeated immersion to connect to the aspects of the sound that are most rewarding," said Dr Hellmuth Margulis.
You may feel compelled to stay and watch the performance due to the exposure effect.
Kjartansson was inspired to create the work after seeing the organ during his year as a short listed artist of Wales' international Arts Prize, Artes Mundi in 2014.
"He saw the organ commissioned by the Welsh patron of the arts Sir Watkins Williams Wynn and fell in love with it. He loves the kitsch and super romantic and decided he wanted to work with that organ," adds Stephen.
"The Sky in a Room" is on at the National Museum of Wales until 11th March.
Entry is Free.