Hundreds of people gathered at the city center on to celebrate St. David's day on Wednesday afternoon.
Around 1500 people participated in the hour-long parade, which starts at City Hall and ends at St. David's Hall.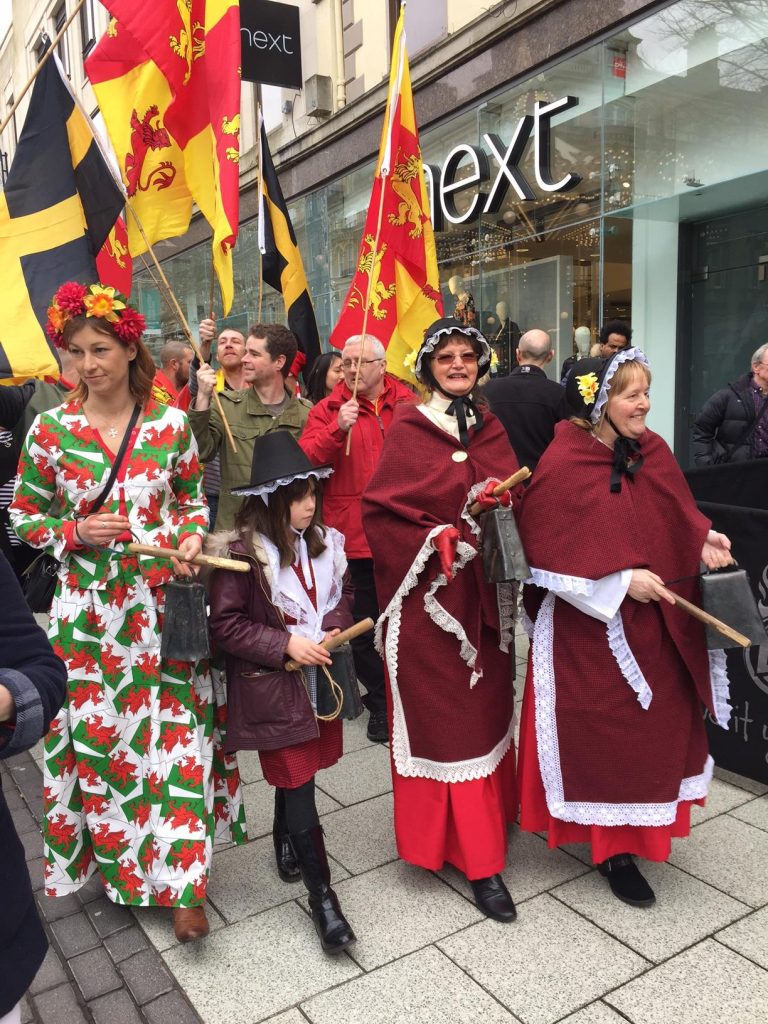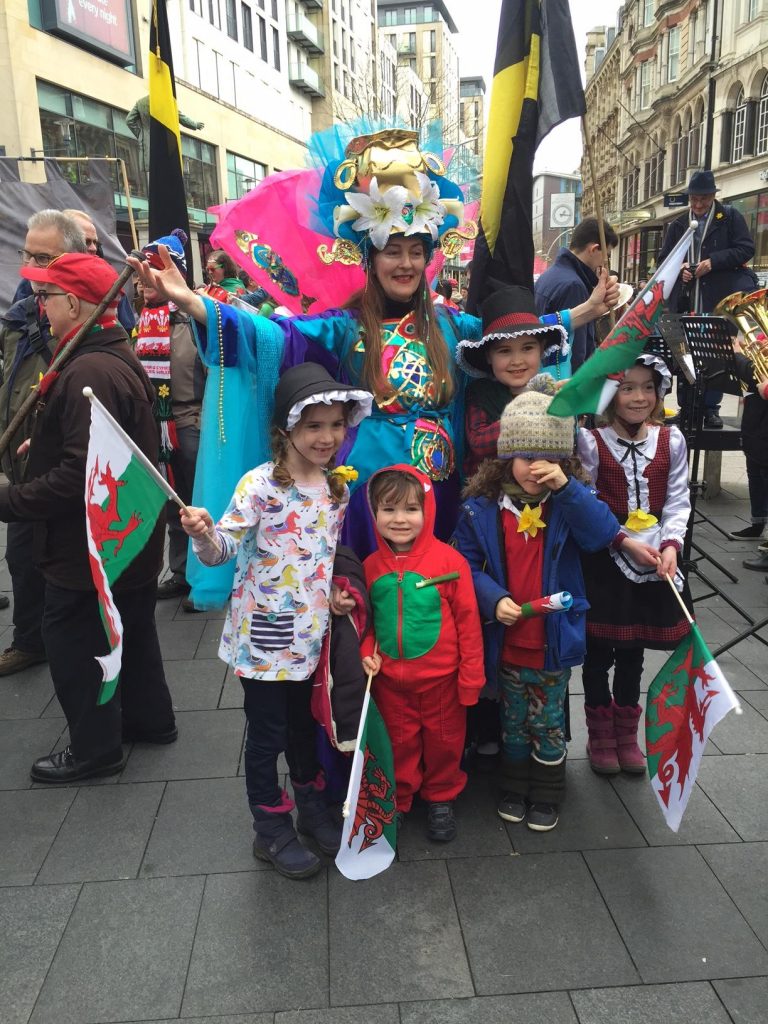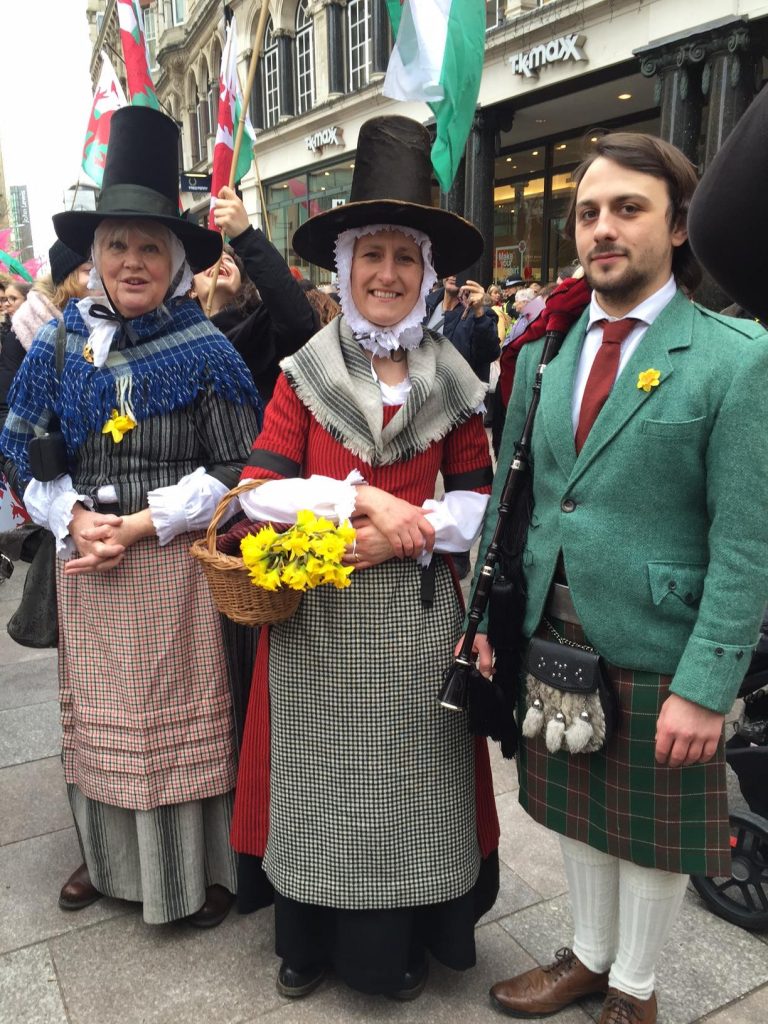 The parade is an annual event to celebrate St. David's Day, which falls every March 1st. Though the parade is famous for showcasing traditional Welsh culture and heritage, it is also the perfect time and event to promote cultural diversity in Wales.
"I think it's important to realize the potential of St. David's Day," Says Marc Evans, steward for the parade. "Not just for bringing people together. The parade is very inclusive, we welcome all the different communities in Cardiff. They have plenty to contribute."
After seeing protests after protests in the city with topic around Brexit and migration ban, promoting diversity and equality through a parade is definitely a new and interesting take.
"We've had in the past communities such as Nepalis, the Hindu community, the Filipino community and a lot of other communities join the parade. They want to express 'We love being in Wales and Wales is a country we want to celebrate." Says Marc.
One of the many groups that participated in the parade and help promote diversity is the Cardiff Youth Council, which had 10 representatives to join the parade.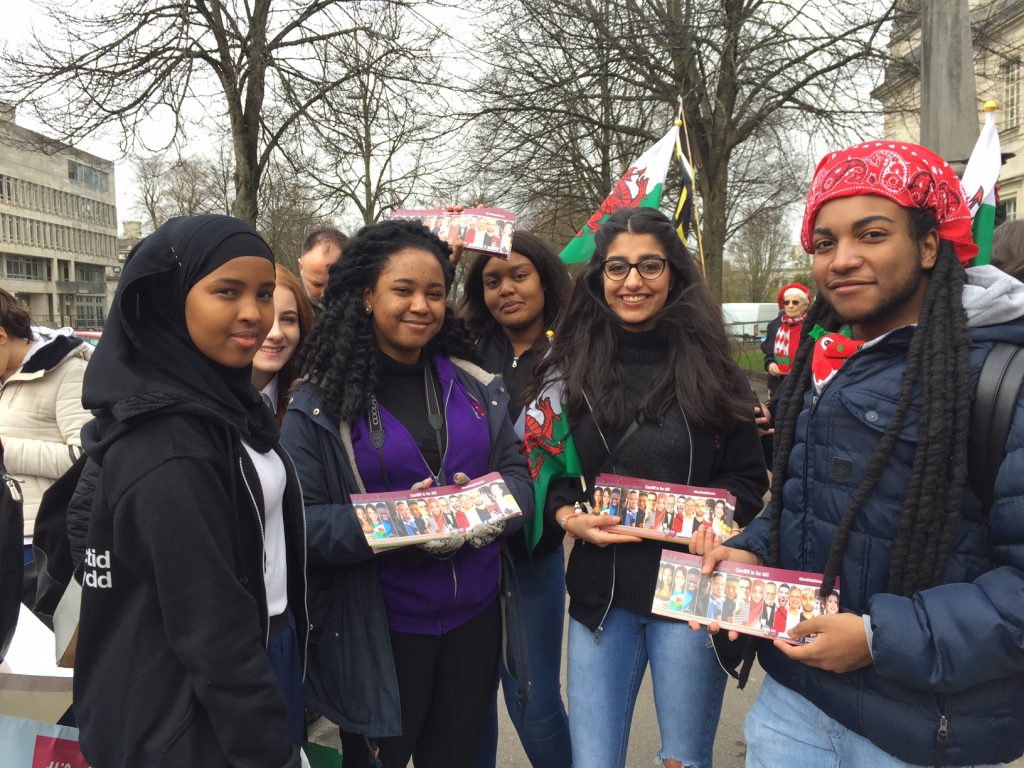 "We've come here to promote tolerance and racial equality." Says Rafael Fernandes, member of the Youth Council. "Our tagline is don't hate, educate, Cardiff is for all. It's the national campaign for the British youth council and we'll try to promote it as best as we can while we're here."
Though many came to promote diversity, surely the main idea to promote Welsh culture and heritage has not been forgotten. A lot of the parade participants attended the parade in traditional costumes and have arrived from places as far as West Wales.
A participant of the parade is a Welsh lady, who wishes to keep her name private. She has decided to dress as a character from Welsh mythology, as she feels it is important to promote Welsh traditional folklore and legends.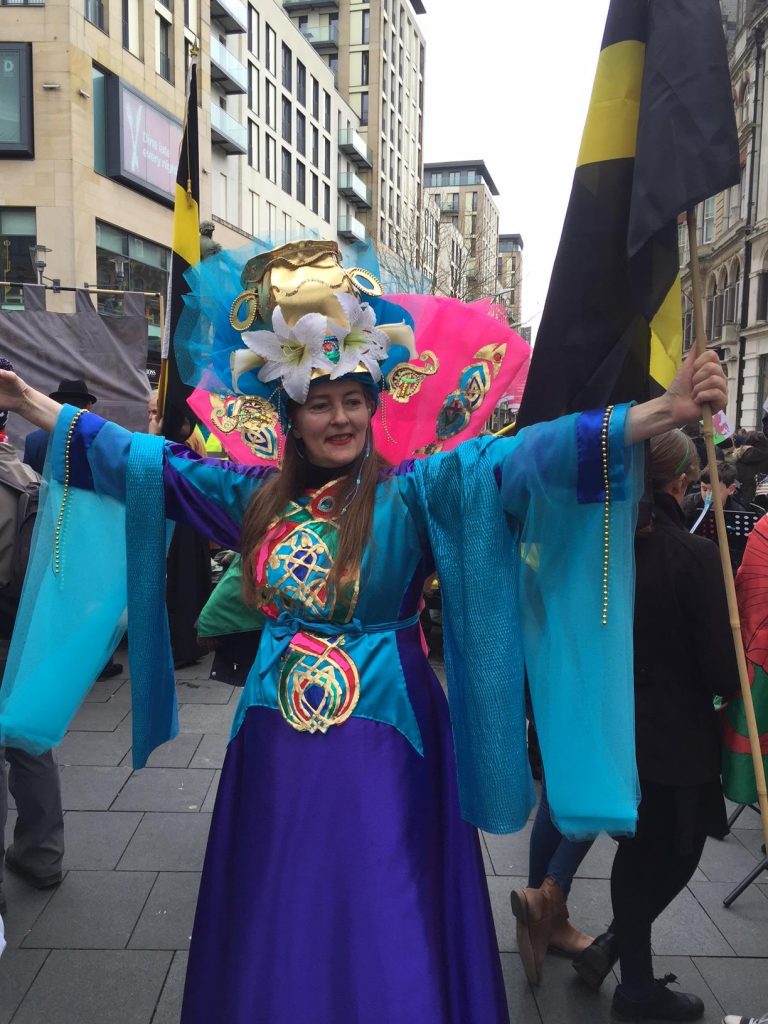 "We have so many legends but we only hear about the famous ones adapted by Disney and Hollywood. I think it's important for people to learn more about Welsh legends." She said. "I'm representing a lake goddess, Merlin had twin sister her name is Gwendydd. Her name is mentioned in Welsh poetry."
Thousands of people who came to watch the parade were also dressed in Welsh attribute to show Welsh pride. One spectator, Olivia Evans, felt that she needed to show pride for her Welsh heritage, even though she's only partially Welsh. She feels that St. David day is a very special day for Wales.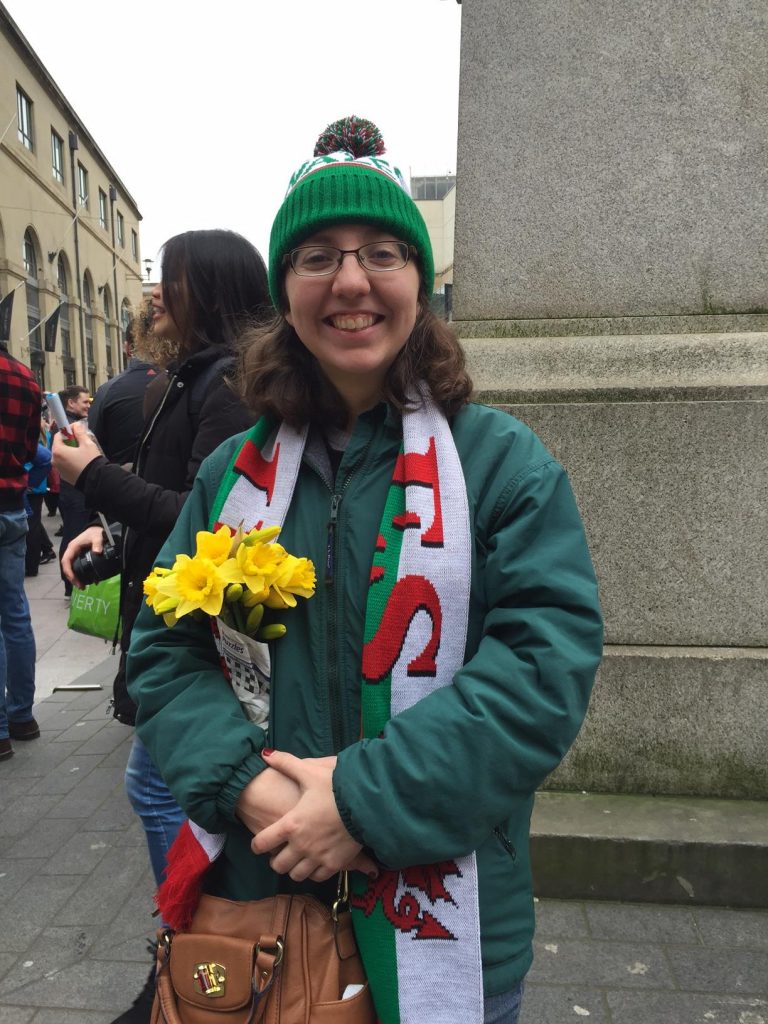 "Wales has always been lubbed into the UK and England is always the 'big cheese'. So I think St David's day is complete Welsh pride, it's a day that's only for Wales, and you can't really get in on it unless you're here. You can't really appreciate it as much as unless your Welsh, it's so special and it's just for Wales."
The parade also attracted international visitors. One of the visitors is Christine Armstrong from Malta who is currently spending time in Newport and has come to Cardiff especially to see the parade. She feels that it is important for people to be proud of their local heritage and keep traditions.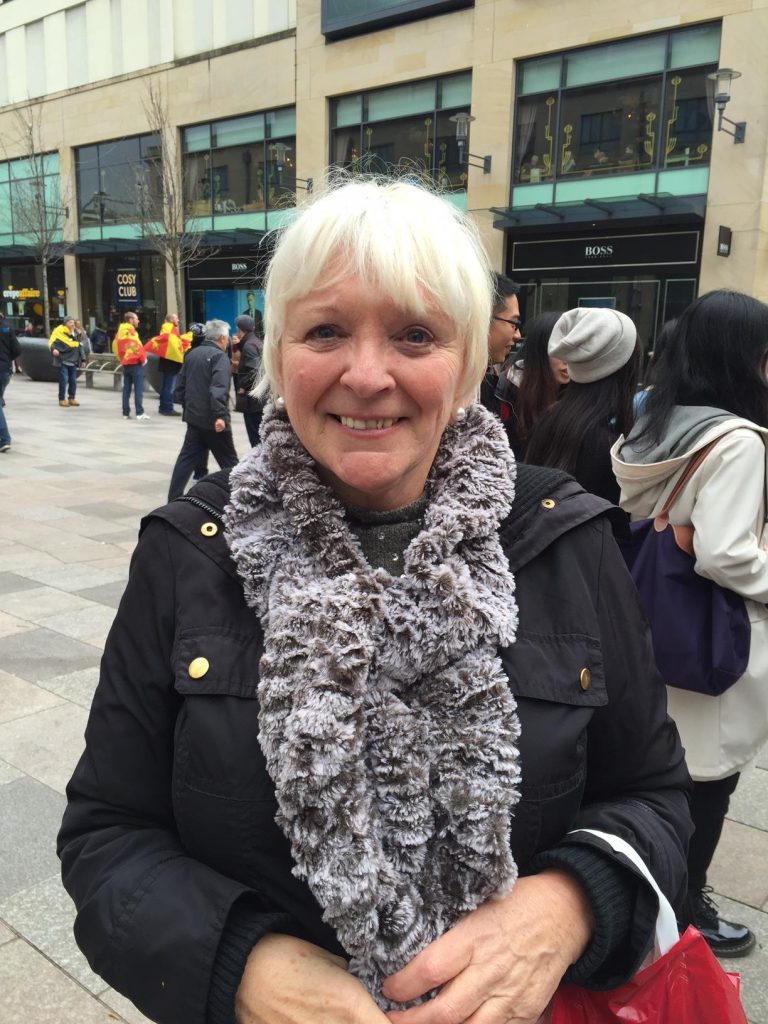 "I came especially at this time to see the parade and it's wonderful, the music, the colour, the culture, the myths. The fact that they continue to remember their culture, that's very important because it's very easy to forget your old culture.
Who is St. David?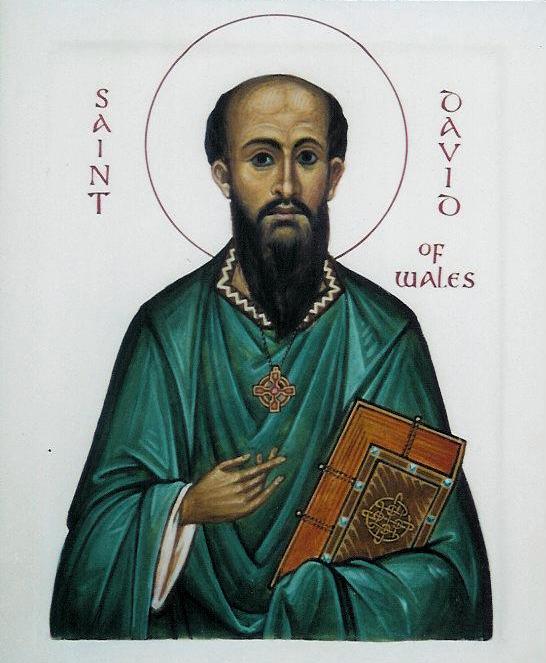 Even though it's one of the biggest celebrations in Wales, there are still a lot of foreigners who lives in Wales and are still not familiar with the history of St. David.
St. David, or Dewi Sant in Welsh, was born in Pembrokshire and he was the patron saint of Wales. He helped spread the word of Christianity and founded around 12 monastries in his lifetime.
He was also known for performing miracles throughout his life. One of his famous miracle was when he was preaching at the Synod of Brevi and raised the flat ground into a hill.
St. David died on March 1st 589 and is buried in St. David's Cathedral in Pembrokshire. He was canonized as patron saint of Wales by Pope Callixtus in 1120 and since then March 1st has been commemorated as St. David's day.
St. David's Day activities
If you missed the parade on March 1st, no need to worry because there are still lots of ways to experience Wales biggest celebration.
Take part in St. David's Day Run
Yes you heard that right, grab your running shoes, Welsh attributes, and get ready to celebrate St David in style. Taking part in St. David's Day Run run not only let's you celebrate St. David's day, but you will also be raising money for charity. The St. David's Day run will take place in Bute Park on Sunday March 5th and will be raising funds for Cancer Research Wales.
For more information, visit the St. David's Day Run website.
Watch a Welsh Movie
If you are a fan of football than the upcoming movie, Don't Take Me Home, is not to be missed. The movie will tell the story of Welsh football team's journey into winning Euro 2016. The movie will be available in all cinemas starting March 3rd.
Go for a stroll through a Daffodil park
When's a better time to visit a daffodil park than on St. David's day? You can get a guided daffodil walk at Stackpole, Pembrokshire and get a special St. David's day lunch afterwards. Or if you plan to stay in Cardiff, be sure to take a stroll along Park Place and see the newly planted daffodils especially for St. David's celebration.
Visit a castle
When's a better time to learn about Welsh history and culture other than on St. David's day? Whether it's Cardiff Castle, Carphilly Castle, Caernafon Castle or whichever castle you choose to visit, you will definitely learn something new about Wales. If you are lucky, you may get a chance to meet the Welsh red dragon, which is currently touring castles in Wales. Take a snapshot and claim yourself as the mother (or father) of dragons.