Graffiti art has become popular in Cardiff. Artists want to further its future through passion.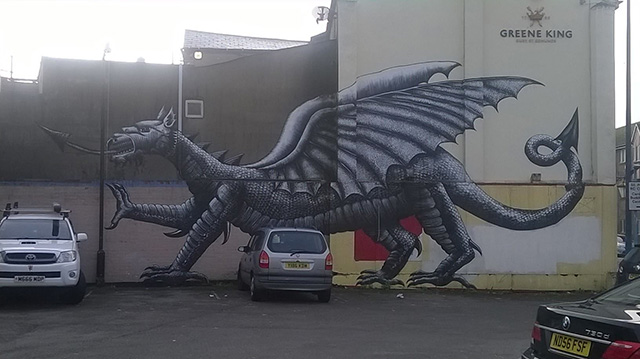 A huge Welsh Dragon, a melancholic girl's face…  Street art allows one to appreciate and relish creativity without a price, walking around the city of Cardiff you might find one that strikes your fancy, and it is free.
Spike is a graffiti artist based in Cardiff and according to him the most substantial challenge faced by artists like him today is, "the leap from graffiti to art, the acceptance you know, being accepted as an artist." The notoriety associated with graffiti hinders artists from getting the same respect as artist that practice other forms of art. "You just have to work on your own, its a lot harder with out support, if you want to do something you just do, you don't do it with the help of anyone."
"I don't get any support from anywhere, I don't look for it, its something I do because I got a passion for it, some artists depend on arts council and grants, but not me", Spike adds.
Bradley Woods, a graffiti artist based in Cardiff known as Rmer agrees. "We don't receive support from any organisations, councils or arts councils."
Another problem graffiti artists face is generating financial value for their art. "I didn't chose graffiti art as a job option, I started for the love of the art form. Jobs and commissions came many years later", Bradley says. "It not a career, it's a lifestyle choice, its not the sort of thing you do if you expect to earn highly", Spike adds. "It's a passion, profession is something that comes into it later".
Street art, especially graffiti is an art form that has gained popularity and has grown enormously in the last 20-30 years. Artists such as Banksy have international renown and their artworks are sold for thousands of pounds.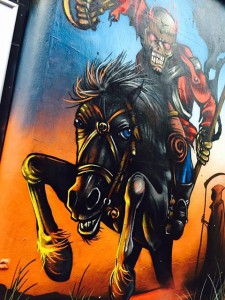 Things are changing for the better, people are slowly being seduced by this art form and artists are optimistic about its future. "It just grows bigger and better, I couldn't have said 20 years ago it would be as big as it is now", Spike says. "This is the biggest art movement the world has ever seen and I can only see it growing", says Bradley.
Bradley feels Cardiff is a great place for graffiti artists and the city offers good exposure for their art. "We organise our mural walls with local businesses and property owners, graffiti art is about promoting your self and promoting yourself on the streets is the best form of advertising." There are beautiful examples of street art in Cardiff, especially in and around Roath.
The early struggle and financial limitations related to street art occasionally prevents young people from taking up this art form. But Bradley feels differently, "I think it wrong if young people think 'I want to be a graffiti artist, it's a great job', this is an art form that takes years of practice, it should be done for the love", "We run workshops throughout South Wales, but to be honest if a young person wants to be an artist, they will become an artist, all that's needed is self believe and lots of practice."
When Street Art started out it was not valued as much as traditional forms of art as there was an element of illegality associated with it.
The perception is changing for the better however, and Street art in general is gaining respect as the legitimate art form that it is.
Significant graffiti artworks created by Rmer: