Guildford Crescent closes doors, leaving Cardiff locals in gloom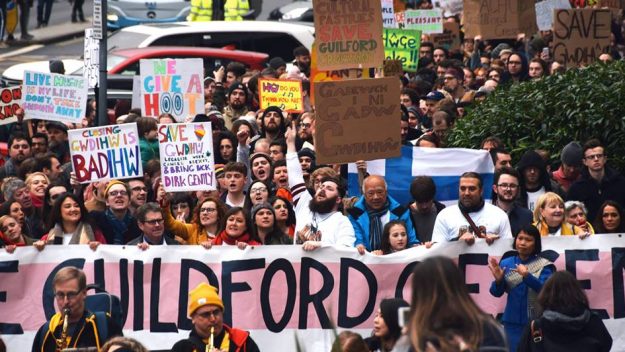 We all have our moments of doubt. When Hannah Nicholson-Tottle abandoned her music degree to pursue Filmmaking and Photography at the University of South Wales, she had second thoughts too. The pressure of assignments didn't help either.
During a first-year filming assignment, she contacted the small venue Gwdihw, on Guildford Crescent. She remembered it fondly from having attended a few music gigs there.
"Not only were they kind enough to allow me to film there, but they were also supportive of the project and more than happy to be interviewed despite me clearly having no clue what I was doing," says Tottle. "The kindness and patience of the staff there instilled the little bit of confidence I needed to believe that this course was one that I could be good at."
After that she and her camera became regulars at Gwdihw. "Since then, I've shot over fifteen high profile music festivals, worked on fashion editorials and got really into photojournalism. Gwdihw gave me the vital chance to get a foot in the door and allowed me to work on my skills at a pace that gives me confidence in what I do and how I do it."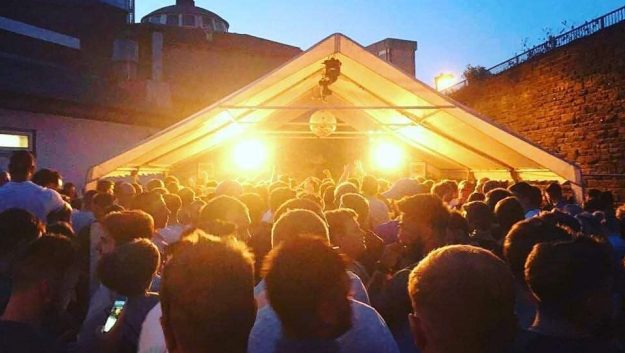 Hannah is only one among the hundreds of bands, DJ's, comedians, and other artists who credit a part of their success to Guildford Crescent.
Guildford Crescent is home to a live lounge – Gwdihw Bar, and two authentic family-run restaurants, Thai House and Madeira.
The Thai House is one of the oldest Thai restaurants in the UK. The Thai House and Madeira restaurant had been in Guildford Crescent for the past 20 years with a loyal and consistent staff. Gwdhiw had also spent a decade in the place. These businesses employed around 80 people.
Even for the people who worked there, Guildford wasn't just a place to provide their income, it was their home. Alex Fawcett who worked for three years at Gwdhiw Bar says,"The staff was a very close-knit community and it was somewhat like a family. We went through highs and lows and moments that were downright hilarious. The atmosphere was always very welcoming and diverse. A wide range of acts was always on the agenda covering multiple genres."
Today, the crescent stands bare as all three of these businesses have been asked to clear out, with  tentative plans to demolish Guildford Crescent to  build a new student accommodation.
This Grade 2 listed building would have been demolished on 4thFebruary had everything gone according to plan. But because the businesses had a massive support from locals and the Council Leader Huw Thomas personally spoke to Mr. Rapports against the decision of demolition, Landlord Matthew Rapports put the demolition on hold for three months.
Around 20,000 people signed an online petition against the demolition and 2,000 showed up to a protest that was held on 21stJanuary against the demolition. Activists, visitors, artists,performers, and local staff all came together to voice their dissent. Activist Daniel Minty posted, "I've yet to meet anyone who actively supports the landlord's decision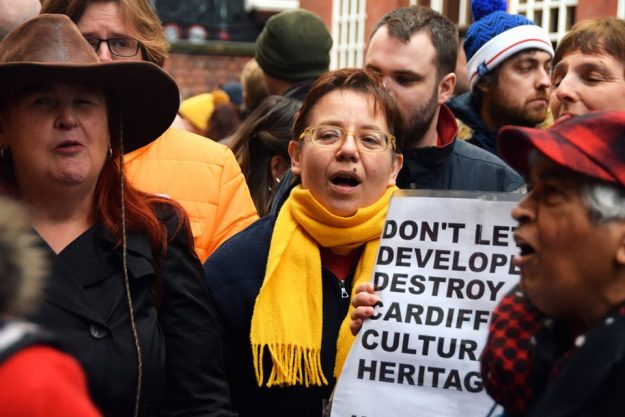 Sarah Merry, Deputy of the Council, gave her personal opinion on the subject saying, "I think that it's important to preserve the crescent as part of historic Cardiff – there are whole areas of Cardiff lost over time, and if we want to tell a story about how Cardiff has developed as a city then the crescent is important." She also thinks it might affect the economy of the city as visitors want character and sense of a place, not identical city centres purely made up of big chain stores.
MP Jo Stevens also registered an objection in an application to the council concluding with, "The council must take every step and use all of its powers to prevent demolition of this tiny jewel in our core city centre. Demolition would represent an incalculable act of historical and cultural vandalism."
At present, Madeira has opened up at a new location at St. Mary's Street. The Thai House has found a temporary kitchen and will be accepting orders through the app Deliveroo. Gwdihw Bar and The Thai House are looking for places to move.