Author and activist, Chris Nineham says that we don't have a government in Britain at the launch event of his new book
The author speaking at the launch event organized by the Cardiff People's Assembly argued that the recent events in Britain has proved a dysfunction in the corridors of power.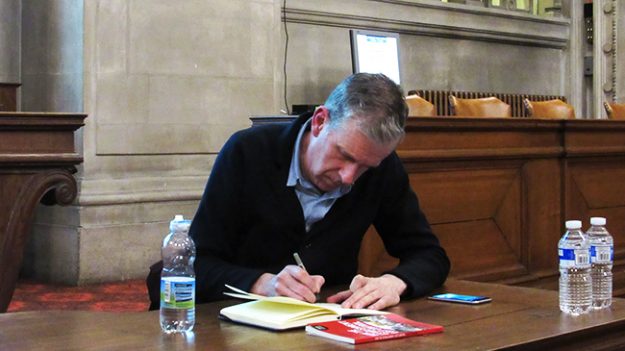 "There is constant disunity, no sense of purpose and no real strategy. Partly this is because of the low caliber of politicians who are in charge of things," he says.
A weak and unpopular establishment is losing control – Chris Nineham is interviewed about his book 'How the Establishment Lost Control' https://t.co/2h9VjVdgjA

— Counterfire (@counterfireorg) March 23, 2018
"60% of people in Britain define as working class. There is a growing sense of inequality which is a big problem and the society is divided with a tiny minority benefiting and the majority is getting secured."
He argued that the sense of anger and confusion generated by these events has directed the common people towards the left wing. He also added that the dislocation felt by them reinforced the rise of Jeremy Corbyn.
He criticizes the Labour party's efforts to undermine Jeremy Corbyn's message and accuses the BBC of organizing a propaganda against Corbyn.
"We are in a very exciting situation now but anyone thinking that getting Jeremy in with the people around him into parliament is going to bring about the change is delusional," he added.
"This is a book to cheer you up. The game's afoot. The old certainties are fading." – @KenLoachSixteen on Chris Nineham's new book pic.twitter.com/Ew8KOGvj3j

— Writing on the Wall (@wowfest) September 21, 2017
However, he believes that real change can be brought about by mass participation and says that the impact of these protests are not often mentioned.
According to Chris, the British society has developed through the mass demonstrations and campaigns in the past.
"Mass participation in every city, community, every university will be critical in bringing change."
Being a socialist and activist, he concluded the talk by reminding people that change starts from the ground level.
"Socialism is nothing if it is not about popular participation in politics, Socialism is nothing if it is not about mass mobilization, it is nothing if it is not about an act of self- liberation on the part of working people."