Sunny, solitary and beautiful places in Wales to take a break from your exam period stress.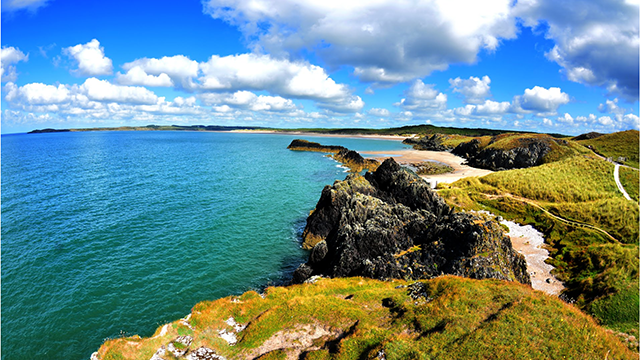 Not only, sunny and warmer days comes with the spring. For students, this time also means final exams, essays and last-minute presentations. But the solution it is few a miles away. The hidden coves and bays of the Welsh coastline offer five hidden beaches perfect for relax time before the most stressing days of the year.
1. Llanddwyn Beach, North Wales
Located near Llanddwyn island, the south-western tip of Anglesey, Llanddwyn Beach is an excellent sandy beach with impressive sand dunes and spectacular views of Snowdonia National Park, Caemarfon and the Llyn Peninsula.
If you like sunbathing, windsurfing, kite-surfing, fishing and even ancient Celtic romance, then this beach is a must-visit. It is also an ideal spot for a family picnic.
If you are a nature-lover you will love this beach. Along a path through the grassy hills form the beach to the nature reserve at Llanddwyn Island, you can explore the nearby forest. If you are lucky, you will see various seabirds such as guillemots, kittiwakes and puffins.
Caroline who recently visited Llanddwyn beach believes Llanddwyn Beach is the best beach in the world. "If you want to feel completely relaxed you must walk along Llanddwyn Beach to Llanddwyn island.This beach is sublime. The sandy beach stretches on and on and it is best at low tide. It can be a very long walk but it is totally exhilarating and a great place to indulge in some introspection. It is a good choice to walk right along to the furthest point by the lighthouse and stare out to the sea and just think," she says.
Location: Llanddwyn island, Newborough, Anglesey
Distance from Cardiff: 189 miles (4h 30min by car/ 6h by train)
Dogs friendly beach?  Dogs allowed
Weather & tides: http://www.thebeachguide.co.uk/north-wales/anglesey/llanddwyn-beach-weather.htm
2. Mwnt Beach, West Wales
Owned by the National Trust, this beach with a perfect sandy cove is considered as a jewel in the treasure chest of the coastline of the Cardigan Bay area.
The most attractive thing is its location. The beach is within the Cardigan Bay Special Area of Conservation and it is an ideal place to spot bottlenose dolphins, basking sharks and porpoises.
If you have a yearning for a wild adventure, go to this beach and you will find great slabs of rock that shelve into perfect turquoise seas, ideal for sea-caving and snorkelling.
Kevin, from Cardiff, visited Mwnt Beach last month. He says, "Just consider West Wales as a 3D picture postcard. The whole area is beyond beauty. Mwnt however, is a tiny bay at the bottom of an unspoilt cliff and simple car park. If you are looking for peace, calm and serenity, Mwnt is your destination."
He adds, "Find a map, take the children, a bucket and spade, but whatever you do – don't miss it."
Location: Mwnt, Penparc, Cardigan, Cardiganshire
Distance from Cardiff: 98.9 miles (2h 15min by car/ 4h 30min by train)
Dogs friendly beach?  Dogs are welcomed from October to April only
Weather & tides: http://www.thebeachguide.co.uk/south-wales/dyfed/mwnt-weather.htm
3. St Non's Bay, West Wales
St Non's Bay is in the south of St David's which is famous for Whitesands Bay. If you want to escape from the noises of St David's and Whitesands, the easy amble along the Coast Path above rugged St Non's Bay is just the answer, with great sea views and plenty of seabirds.
In addition, if you are keen on swimming, jumping from heights and enjoy heavier swells, you absolutely can't miss this place.
The good quality water of St Non's Bay was particularly believed to have curative power and considered beneficial for women in childbirth and Saint Non, the royal princess, was said to have given birth to Saint David beside this bay in AD 500.
Location: St Non's Bay Cave, St David's, Pembrokeshire
Distance from Cardiff: 128 miles (3h by car/ 2h 20min by train)
Dogs friendly beach? Dogs allowed
4. Skrinkle Haven Beach, West Wales
The sandy, shingly beach of Skrinkle Haven, lies southeast of Manorbier village between Old Castle Head and Lydstep Point.
Although it is a little bit tricky to get direct access to the beach, it is welcoming and there is a car park and a picnic area on the cliff top. If you walk to the eastern end of Skrinkle Haven, you will find its famous Church Doors, a limestone arched cave entrance between the beach and a rocky cove. Daniel Start, the author of Hidden Beaches, says in his book, "The scenery reverts to rocky limestone at the adjacent coves of Skrinkle Haven and Church Doors, where striated pillars have created an abbey-sized archway."
You will come across more dramatic scenery with multiple neighbouring coves and caves beside the beach. And you can enjoy all kinds of activities from family picnics, bathing, swimming and wildlife watching to more energetic sports such as surfing, coasteering and boating.
Location: Skrinkle Haven, Manorbier, Pembrokeshire
Distance from Cardiff: 95.3 miles (2h by car/ 3h by train)
Dogs friendly beach? Dogs allowed
Weather & tides: http://www.thebeachguide.co.uk/south-wales/dyfed/skrinkle-weather.htm
5. Mewslade Bay Beach, South Wales
Mewslade Bay is probably one of the most beautiful bays on Gower. If you want to calm down and refresh your mind, you should go to this beach, perfect sands beneath craggy golden cliffs encrusted with pinnacles.
The way to this lovely beach is via a hidden valley near Pitton. From the small village of Pitton, the short walk to the beach leads down a wooded path and then through a valley which is owned by the National Trust.
If you fancy surfing, you will have a wonderful surfing experience with local surfers. If you are keen on walking, you have to try this place because it was listed as one of the Ramblers' Association's 'Top 10 Coastal Walking Routes' from Rhossili to Mewslade Bay. The gorgeous view along this walking route is definitely worth trying.
Location: Mewslade Bay Beach, Rhossili, Gower
Distance from Cardiff: 63.4 miles (1h 30min by car/ 3h by train)
Dogs friendly beach? Dogs allowed
Weather & tides: http://www.thebeachguide.co.uk/south-wales/glamorgan/mewslade-bay-east-weather.htm
So why not pick up one place right now? Check out the map:
Redone by editorial group three.