Penarth native Charlotte Ridgewell has strategies to compete with big beauty companies: create yummier and healthier products.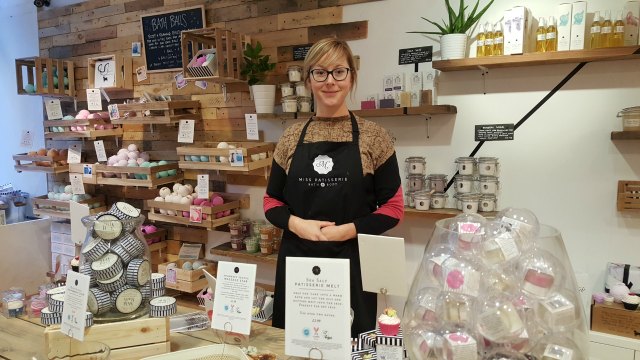 Rows of bright pink, yellow, white, bright, purple cupcakes decorated with flowers lined up behind the windows of Miss Patisserie shop at Duke Street Arcade, in front of Cardiff Castle. At its opposite are yellow and mint petite cakes and pink muffins with a rose bud on top. Many passersby stop to look, oohing and aahing at the colourful delicacies. They might not know that none of those little things are edible: they are bath products.
Shoppers can find bath bakes, cupcake-shaped bath bombs that could be used as exfoliator as well as making the bath water fragrant; bath balls, scented foaming bath fizzy that dissolve into water; shower steamers, that would release essential oils when put under water; patisserie melts, small cupcakes that generate oils and butter if dissolved and bath macaroons that could lightly scent the water.
All those products are made in Cardiff, by a team called Miss Patisserie 'Chefs'. The owner of the shop, Charlotte Ridgewell, dressed in a long black apron, would patiently explain to customers on how to use the products, sometimes inviting them to experience using it in a large sink in the shop's corner. "You must peel of the wrapper before putting it under water. When the base fizzes away, the top could be used as scrubs," she said, explaining how to use a bath cake.
Charlotte thought combining little pastry and bath is such a cute idea. It allows her to create such a variety of unique products. "Why does a certain thing need to look boring? I love going in the bath. If I have something like a little cupcake to throw in the water it would be the best thing ever. Also a lot of ingredients we use are edible, such as cocoa butter, milk, honey."
One of Miss Patisserie's crew shows how to use their bath bombs.
Charlotte admitted that she is obsessed with fragrances. She smells different perfumes all the time. "I think it's really important to be surrounded by a peaceful smell. It really triggers your memory and your brain to think of either a special place or a special person."
Her personal favourites are fresh natural scents. "I really like sea salt, that memory of being in a beach. Just the freshness of, like freshly cut grass. I also love those citrus fruit notes. I'm not so much of a floral person," she said. This might come from the fact that she was born on the coast, at Penarth, and grew up near a forest on the countryside. "My childhood is going on the bikes, into the woods, being surrounded by fruits and berries. When the rain is pouring down it really accentuates all the scents." But she does makes exceptions. "I love rose geranium. I also really like woody scent, almost manly, masculine musky scent. Because to me they are quite fresh."
While Charlotte's sensitivity to scents is influenced by nature, her fondness for beauty products was influenced by her mother. "My mom is really careful about what she puts on her skin. She always said never put soap on your skin because it is drying. Also, she has always been into treatment like spa and alternative therapy." This childhood experience lead her to become an aroma therapist for a local hotel, before opening her own business in 2009.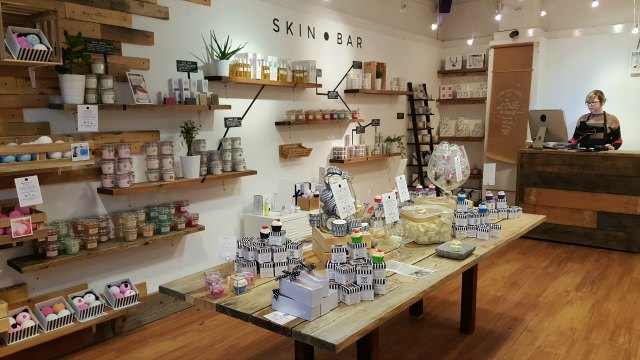 Charlotte's interest in creating her own line came by chance after purchasing a 'Make it Yourself' bath bomb kit, when she was forced to take time off work for 6 weeks after breaking her leg. Her family and friends love her products so much that they recommended her to sell them.
As she has always been very visually creative, she created her own designs and packaging. "I went to the university and I did a degree in graphic design and photography." Her inspiration for the styling of the brand comes from places and things she adore, such as Paris. She loves the architecture, patisseries, the chicness of the city. "It is also where my husband Jorge proposed to me and now we're not just husband and wife but also business partners," Charlotte says on her website.
After selling her 'Cupcake' bath bombs at local fairs, Charlotte approached local gift shops, garden centres and pharmacies to see if they wanted to stock Miss Patisserie. Soon trade accounts were placing regular orders. When she wanted to take the product nationwide, she paid for a small stand at the Home & Gift trade show in Harrogate, Yorkshire, England. She opened 75 accounts at that show. Since then the company has slowly grown. "I was making enough money to do it full time."
Last year, at the last week of October, she was finally able to open her own store in Cardiff. The cupcakes are still among the best sellers, but now customers, who can feel more relaxed trying on products at the shop, are also crazy about her line of skincare such as body oil and scrubs. "The reaction I get is amazing. People just said 'Oh my god my skin feels so good'. They end up buying that for themselves and maybe the cupcakes as a gift for someone."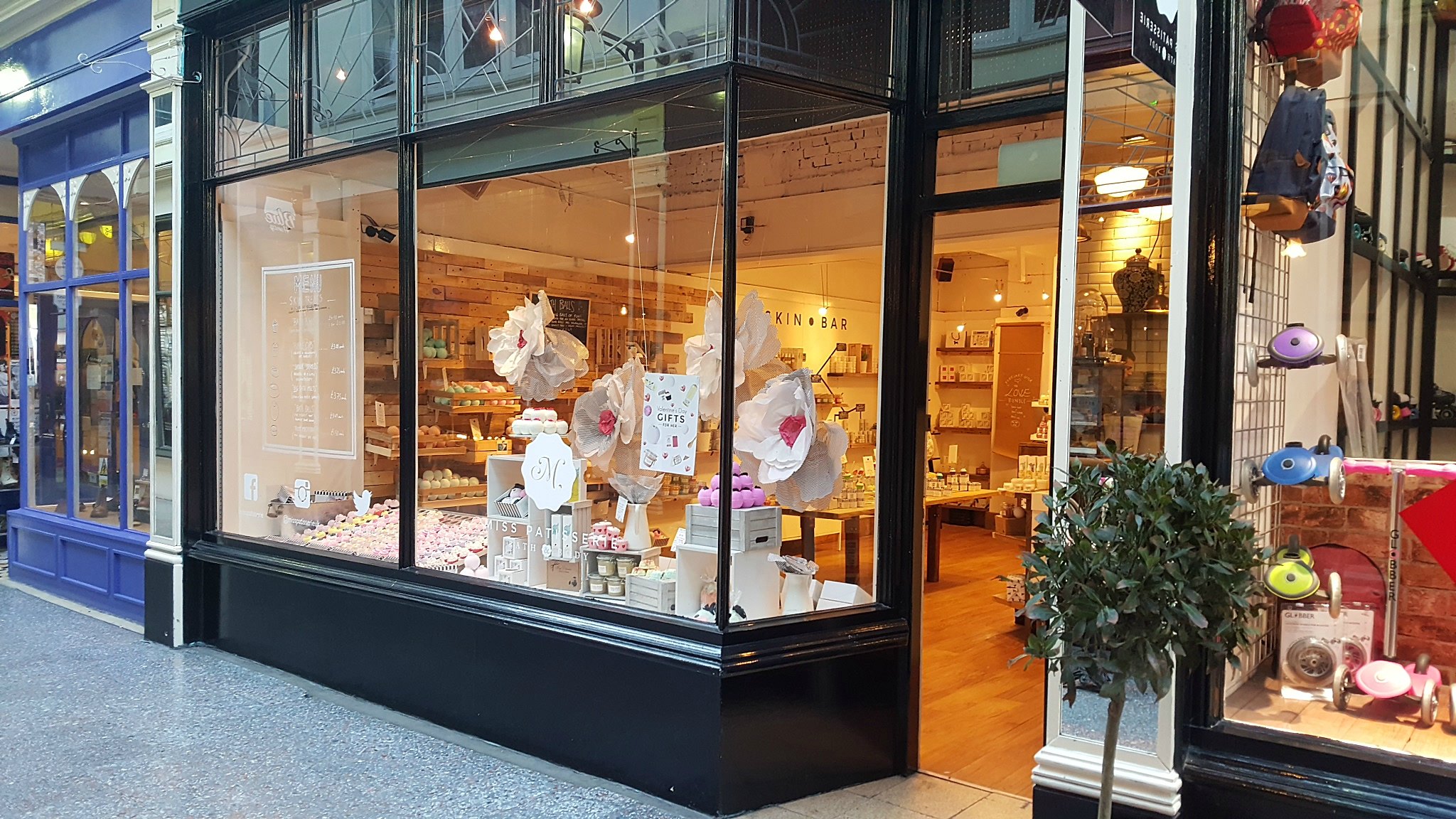 It does not mean everything runs smoothly. Her main competitors are giants such as The Body Shop and Lush. "It is not easy. They have big finance behind them and they have been going for decades."
Charlotte differentiates Miss Patisserie from the competition by creating original products. "For instance, I do not know anyone else that has done shower steamers," she said. Miss Patisserie's products also have less Sodium Laureth Sulphates (SLS), a commonly used chemical that can cause skin irritation. "Some of the stuff you find on those big shops are cheap and cheerful. You might find a salt scrub with a lot of lemon juice and SLS which cost 8 pounds and really small."
To increase visibility, Miss Patisserie is promoting the shop on social media. Having a physical shop also helps making her products more popular. "The shop really is built on word of mouth and especially as it's a Cardiff company. People want to shop in independent shops."
However, there is a slight problem with her brand. While it allow Charlotte to be playful, it limits her ability to create male beauty products. "We are probably going to come up with separate brands. It makes everything a little more complicated, but we are going to work it." Indeed, she has big ambition. "We are giving it a good year before we even look somewhere else. But if we do, I shall think of opening a shop somewhere in either Bristol, or somewhere we can do deliveries and for us to not be so far away."

Miss Patisserie Cardiff's shop:

Here is where you can find Miss Patisserie: