Endometriosis is real and people need to be made aware. How? Jaimee Rae knows exactly what to do.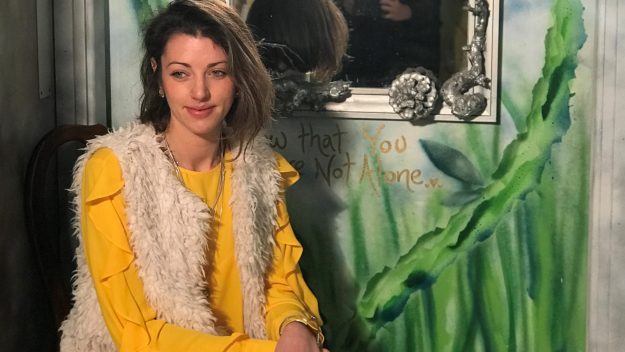 "I just want to dip my fingers in paint and create art and let my EndoWarrios know they are not alone," says Jaimee Rae McCormack as she sipped her tea adjusting her yellow ribbon on her yellow top. An artist, Endometriosis sufferer and creator of the Rising Awareness movement and the EndoWall, Jaimee started this initiative to raise awareness about the condition.
Endometriosis is when the cells that act like the lining of a woman's womb move and grow outside the womb and affect regular everyday activities, sex, periods, and often cause mental health problems.
"It's like fireworks exploding inside you and knives being stabbed repeatedly across your body," adds Jaimee. It's a disease that affects the entire body and moves through the blood stream and can attach to and invade organs. "It may sound like a Harry Potter spell but trust the EndoWarriors out there that really know."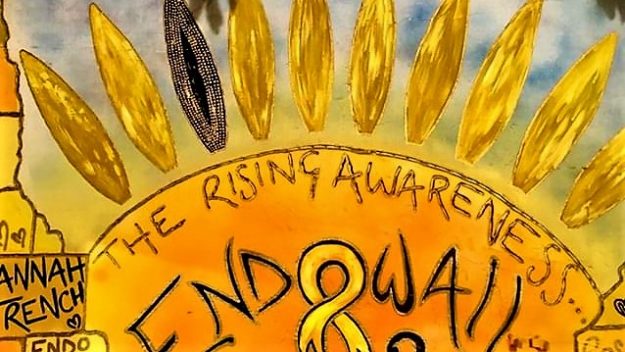 Her journey with Endometriosis really began when she was 12 years old, but it wasn't until she was 25 that she was diagnosed with it. "My GP told me I was a hypochondriac and was creating a fuss over nothing. It took my 13 years before I was diagnosed with Endometriosis, after lots of tests, prodding, poking and a lot of begging for someone to believe my pain," she adds.
Even after receiving diagnosis, there are women fighting to be heard and believed by their doctors. According to Jaimee, often times the doctor's disbelief is more detrimental to woman's health than the condition itself.
Understanding the plight that Endometriosis survivors- or EndoWarriors as she likes to call them go through with doctors and numerous futile trips to the hospital, she realised something had to be done to raise awareness. People needed to know that endometriosis exists because "something has got to change."
After several tests, misdiagnosis from her doctors, feeling lost and alone with her pain, she began searching for something positive she could divert her energy towards. Desperately wanting to take advantage of the blank canvas on the side of her house, Jaimee thought what better way to capture people's attention than art? So, it began- Jaimee dressed in yellow from head to toe and her yellow spray paints took over what was the first of the many EndoWalls.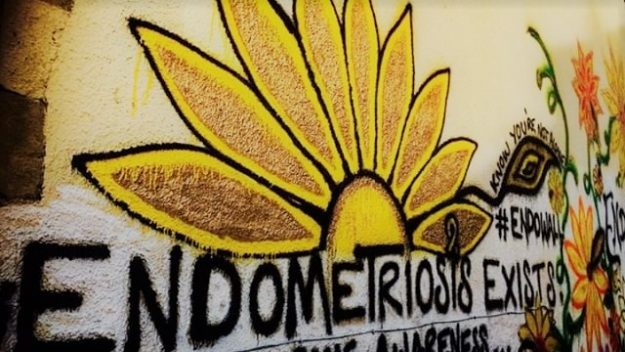 The first wall got mixed reactions. Someone had even called the police on her but after a while, more positivity flowed in and she found many such women who wanted, desperately to be a part of what she was doing.
"I felt so empowered by the stories shared and no longer felt alone. I decided to add another section so that I could include all of the names of the EndoWarriors I was connecting with. That was when the EndoWall was truly born." Throughout last year, inspite of making several trips to the hospital to have more Endometriosis removed, she was determined to continue with the project and raise more awareness.
The more she fuelled her energy into raising awareness, she came to a realisation that people are not talking enough about it and the only way she knew to make them aware was through art.
"I've always been a creative person, so I guess that's the way my mind works. Honestly I couldn't think of a more powerful way to grab people's attention. Art and colour have the ability to draw the eye in," she said. A lot of her art is influenced by Dali, Klimt, Monet, Banksy and many others.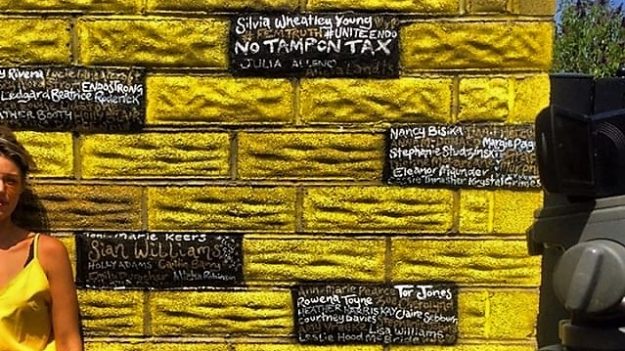 Jaimee was initially desperate to be heard and believed that her pain was real, which served as initial motivation for her. But seeing the positive response her first EndoWall had got from EndoWarriors all over world drove her to continue with the Rising Awareness movement.
After hearing so many women's stories, Jaimee felt like she wanted to do something to try and make a difference and really speak out about her and many other women's lives so that others could be informed about what it is really like to live with Endometriosis.
"What started as frustration certainly has had a serendipitous turning. I'm no scientist, inventor nor doctor but I do aim to bring a positive visual for the negative invisible, Endometriosis, and encourage others to speak out," she adds
With every project, there are certain difficulties one faces. Determined to keep going with her project, one of the hardships that Jaimee faces is that she has often found it difficult to manage it financially.
"I haven't been able to have a full-time job for four and a half years now, so I do small jobs here and there and started doing fundraisers. The first wall I paid for myself and it cost us over a 1000 pounds to do it," but the more she kept going she realised this is something she needed to keep doing. She needed a way to keep bringing it back.
So, she started doing fundraisers and selling postcards. Any money that comes in from anyone who donates or buys the postcards, is invested only into creating the wall.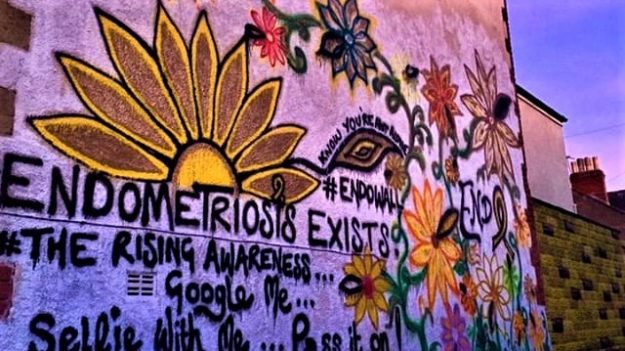 "I would love to one day be able to have a salary out of this and feel like I'm doing something that I'm passionate about and it's my job!" she said, "Especially from speaking to so many women who suffer with the condition, makes me realise I need to keep doing this and the hardships I have been through are just nothing in comparison to some of these women who have lost children because of Endometriosis."
And so, with all the help she gets, Jaimee is still resolute on creating this unique undertaking which will be seen more of in Cardiff in the coming year. Jaimee has created two EndoWalls as of now- one on the sider of her own house and the second one in a café in Cardiff Bay called Sunflower and I.
She is currently preparing for the two EndoWalls she has planned for the coming months with EndoWall 3 in a café in Riverside called Go, EndoWall 4 in the Splash of Vintage store whereas EndoWall 5 is still undergoing talks.