An empty lot of land has become a seed of opportunity for the women behind Green City Events. Now they are ready to grow a stronger community from a sustainable place.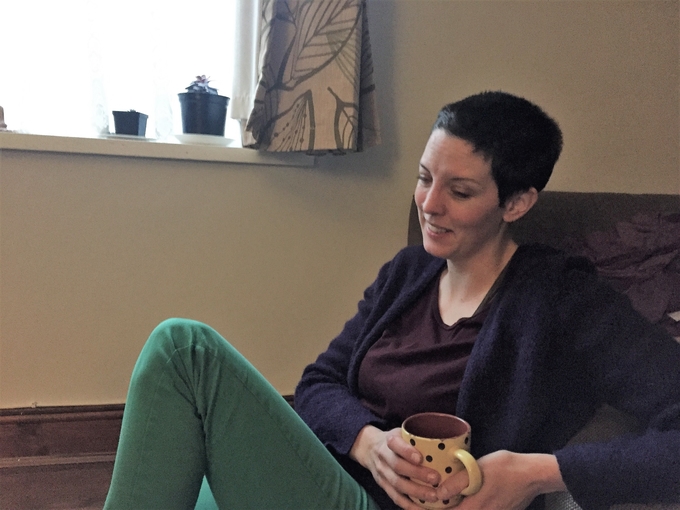 Becca Clark dropped the keys onto the coffee table in front of her close friend and colleague Hannah Garcia, who sat cozily on the sofa. They had picked them up earlier that day, a small but symbolic moment in the long battle the two had been waging for years against city council.
The keys unlock the fence bordering a large graveled piece of land on Railway Street in Splott, a space that holds their vision of building a community hub and green space.
"We've had this idea in our heads for such a long time," says Garcia, 33. "But there is still a lot of work to do before we can start growing sunflowers."
The pair of Splott residents form the "two woman band" behind Green City Events, a not-for-profit Community Interest Company that Clark founded in 2012 to encourage sustainable living through local workshops and events.
After being told in October that the 1400m² lot was being earmarked for development, they decided to launch a public campaign.  "We thought it would be too frustrating to walk past it every day and think 'it could have been ours,'" she says. Their petition gained more than 3,000 signatures, and and scores of people turned out to their community consultation meetings.
Hello folks – we have a promising update for you! @cardiffcouncil have agreed to assess the land in order to weigh up it's potential for profit versus the potential benefits our community project would have. They have promised us a decision BY CHRISTMAS! …..???? pic.twitter.com/HxYnkQMwed

— Green City (@GreenCityEvents) November 9, 2018
In early December, Clark received a message from city council. "We were working one night and we had a message saying, 'Actually, we're going to lease it to you,'" says Garcia. "We couldn't believe it!"
By listening to their community, Garcia and Clark were able to form the core of ideas around how the space should be spent. Among the concerns aired by citizens of Splott and Adamsdown was a lack of night time economy, a lack of community investment and a lack of green space.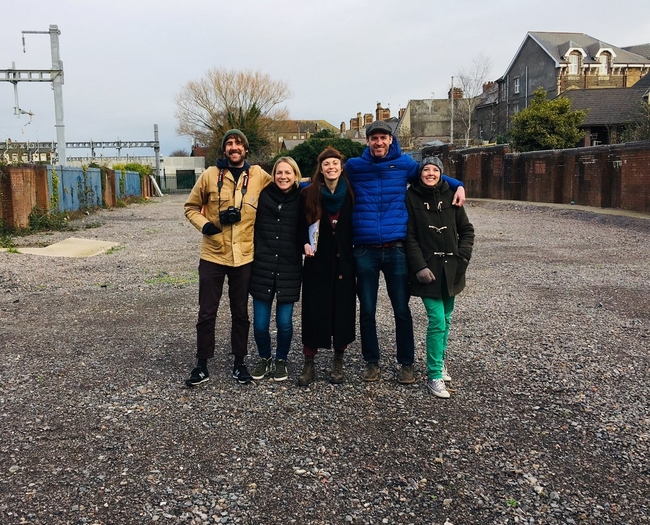 According to the 2014 Welsh Index of Multiple Deprivation, Splott and Adamsdown are among the most deprived areas of Wales, and both wards have an open space deficit compared to the standard recreational open space requirement for Cardiff.
"There's not as much investment as more affluent areas," says Garcia. "The knock-on effect of that is a disengagement from community life, and a lack of pride in community spaces."
"If there's one thing that would make a real difference around here, it's a sense of ownership and a sense of care. When you have that, you start asking questions like: how can we protect these spaces, and how can we protect the wider environment?" says Garcia.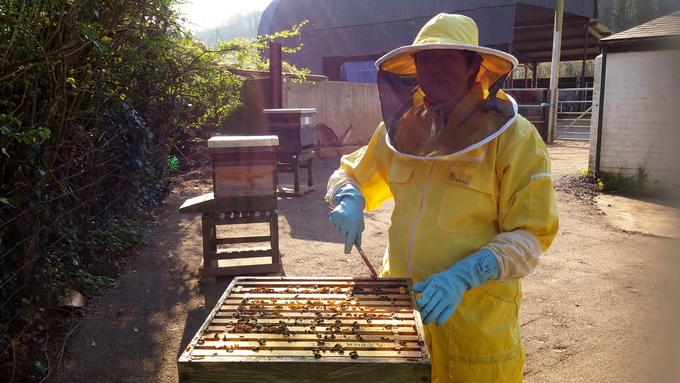 Green City hopes that by curating the land properly, they can foster that sense of pride by bringing people closer together through a shared community asset. Although their lease is still being worked out, potential uses for the space include bike repair facilities, a tool library, a seed bank, an event venue and shipping containers for local businesses. "I think this would be real boost for the local economy," she Garcia. "A place where people can kick start their businesses and keep them in the area."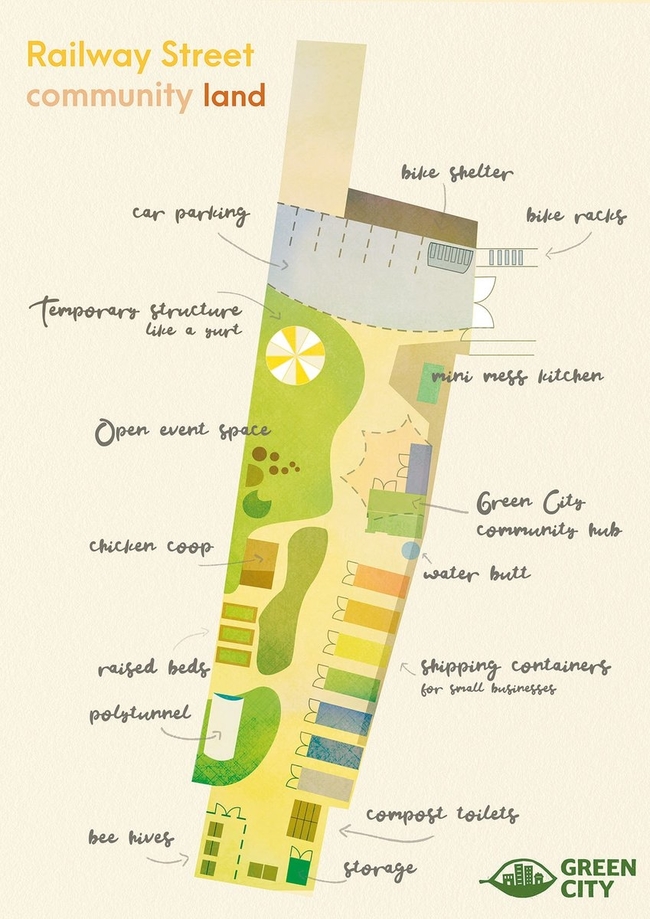 Among her favourite ideas for the land are beehives and a chicken coop, two pet projects that recall her introduction to environmental education.
"I was one of those kids that was falling in a river, or nursing a wounded bird back to health," says Garcia. "I had a house full of things I had collected from the outdoors, but it never occurred to me that I could make a career out of it." After volunteering at various conservation reserves and working on a city farm in London, she was hooked. "I was taking city kids out to nature reserves and spotting dragon flies," she says. "And I thought, this is great. This is what I want to do, this is the thing."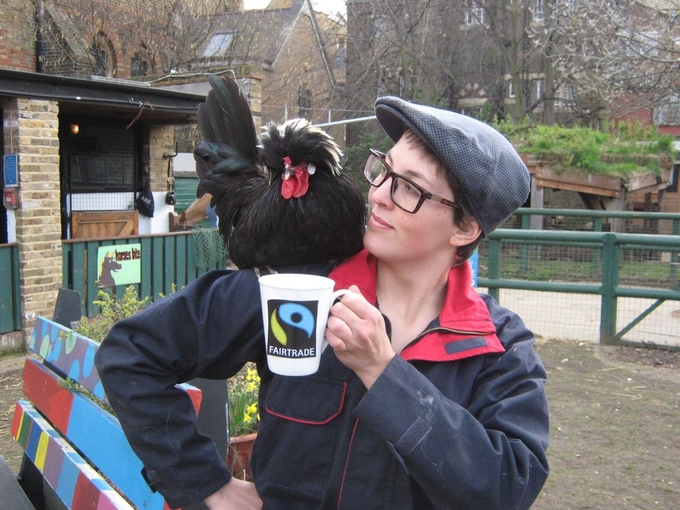 Her background in environmental education has led to a stronger understanding of how important green spaces are for people who live in the city, and hopes to bring those benefits to Splott.
"Being around a natural environment has enormous benefits for well-being," she explains. "There's the reduction of social isolation and sedentary lifestyles. It can break down barriers within communities; language barriers, or people's ideas of one another and not not knowing your neighbours. There can be a cultural exchange."
Hannah Garcia and Rebecca Clark have seen their own community grow in the workshops they host through their Green Squirrel project. "That's particularly true about the wasteless workshops we run," she says. "Some people come along and say they've been cutting plastic out of their life, or upcycling, and others come along and say they have no clue where to start. The whole thing turns into a bit of a skillshare."
Other Green Squirrel workshops, which are now funded by a grant from Big Lottery, include urban growing, carpentry, natural soap making and a popular spin your own yarn class taught by a Welsh shepherdess. The biggest challenge now, says Garcia, is finding funding for other areas of their work as well as staff time.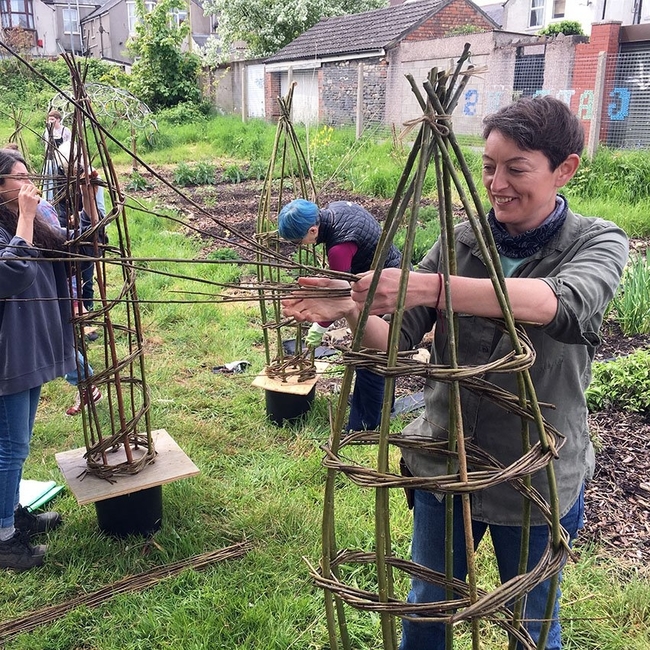 "We strongly feel that sustainable living shouldn't be expensive or exclusive," says Garcia, whose workshops cost £11. "People have limited time and limited funds, and we want to make sustainability accessible and exciting for them."
For now, the focus for Green City is on the logistics of their new land. "This morning we talked about flood lights, sewage, security and pest control," she says. Tedious work is ahead but Garcia maintains a strong vision of what the future could look like for her community.
"Once it's up and running, we'd love to see an intergenerational gardening group, for example," she says. "Youngner people working with older people. Linking up schools with nursing homes or dementia cafes. And linking up people from the refugee centre with long-term residents around here.
There's a lot of potential. If there isn't a space— a real shared space— it's hard to get those things going. We hope that this will provide that."