The music workshops have been instrumental in providing a space for people with learning disabilities to socialise and learn new skills that promote self-expression.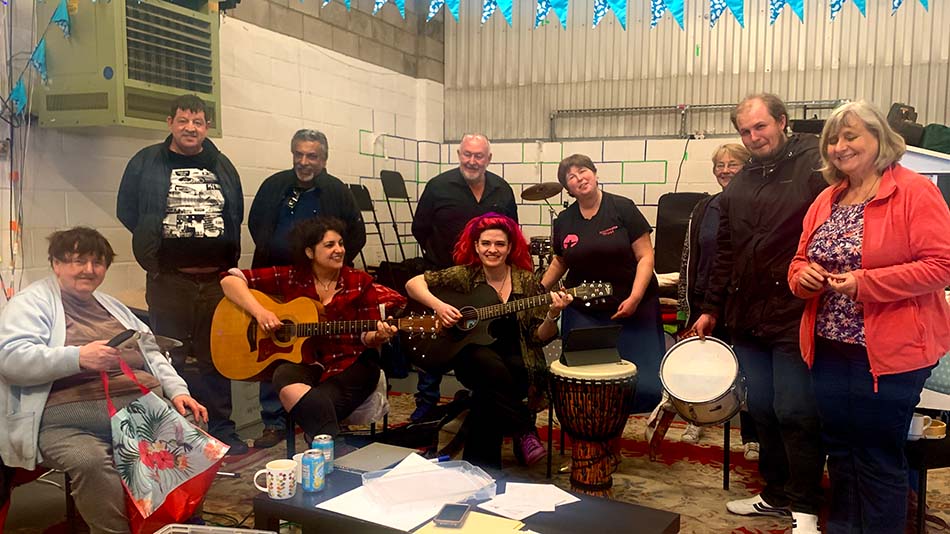 Free music workshops in Cardiff are helping people with learning disabilities who are battling post-lockdown loneliness, interact and engage in self-expression. 
The workshops that are being run by musician Francesca Dimech in Splott, encourage people with mixed abilities to socialise, play instruments and sing tunes ranging from Welsh classics to the hits of Elvis Presley.  
"I just think that music has the ability to include everyone. In this group of people with mixed abilities, we had people who couldn't play anything and those who could play. It doesn't matter because everyone's part is important." said Francesca, the project leader. "It doesn't matter if you don't know all the words, or you just bang the drum. Everyone adds something to the experience, and I think that's really nice. I think community music is a really special thing."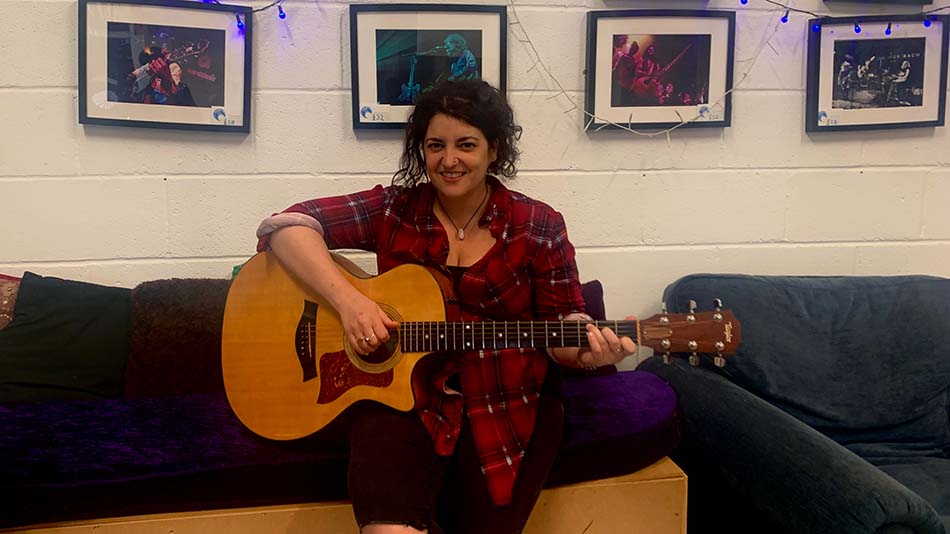 The workshops aim to help people cope with their mental health, especially as many of the attendees were struggling with isolation during the lockdown.
"As a musician myself, I think music has given me so many opportunities and been good for my wellbeing and mental health. I suffered during lockdown, when I couldn't play with people and couldn't work and play with my band, so I needed it," said Francesca, who received funding from Community Music Wales. 
Francesca, who conducted online workshops for Innovate Trust, an organisation that provides support for the neurodiverse community in Cardiff, said that many of the participants were combating loneliness and were unable to socialise. These music workshops have provided an outlet for people to get involved in community activities. 
"They were frustrated being stuck at home and annoyed that they couldn't have visitors, so it was nice for them to socialise and learn skills as well. It's nice that we can meet in real life," said Francesca.
She has observed that music has in fact, helped participants come out of their shell as well as develop their coordination skills.
"We had a participant who had never played an instrument. I brought my bass guitar with me and I just placed it into his hands and showed him how to play three notes, and he played the entire song on bass. He'd never played an instrument before but he played it really well. That was really nice to see," said Francesca.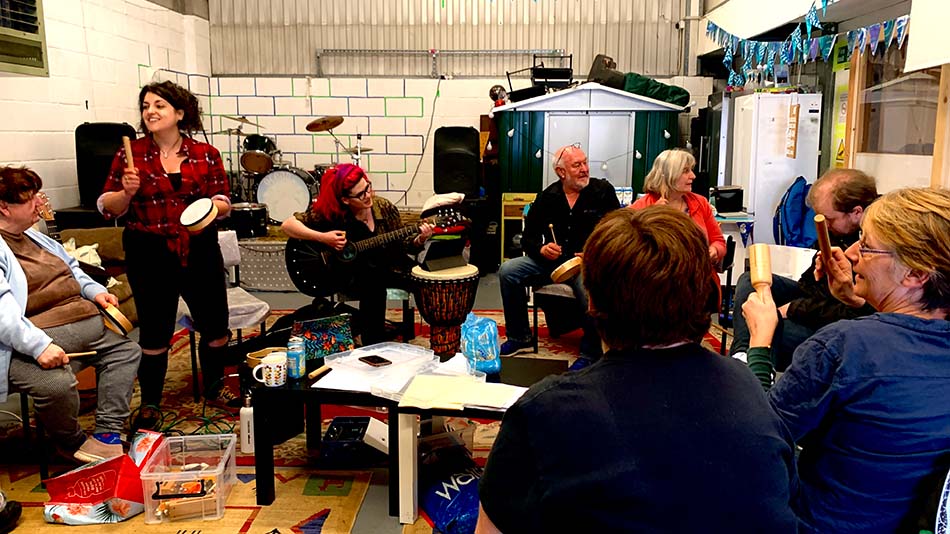 The idea isn't to achieve grades or qualifications, but simply for people to express themselves musically, according to Francesca.
She was taken by surprise when one of the non-verbal participants started singing in Welsh. "I didn't realise she was non-verbal until her carer told me that she doesn't speak, and she was amazed by it. She was full of confidence and was shouting the words. It was just nice to see people smiling and being happy," she said. 
The workshops which began on 15 February and go on till 29 March, take place at Oceans Arts Cardiff in Splott on Tuesdays from 2pm to 4pm. 
Francesca wanted to provide opportunities for people with learning disabilities in Splott because there aren't many community events that happen in that part of town, and most projects like these happen in places like Canton.  
Many of the participants were joined by their carers and friends, who were also involved in activities like coming up with lyrics for songs and picking tunes to sing along to.
Every week, a guest tutor assists Francesca with conducting the workshops. The session on Tuesday was joined by singer-songwriter and guitarist Maddie Jones, who got the participants to play instruments like tambourines and drums as they came up with a catchy four-stanza song about walking your dog in the park.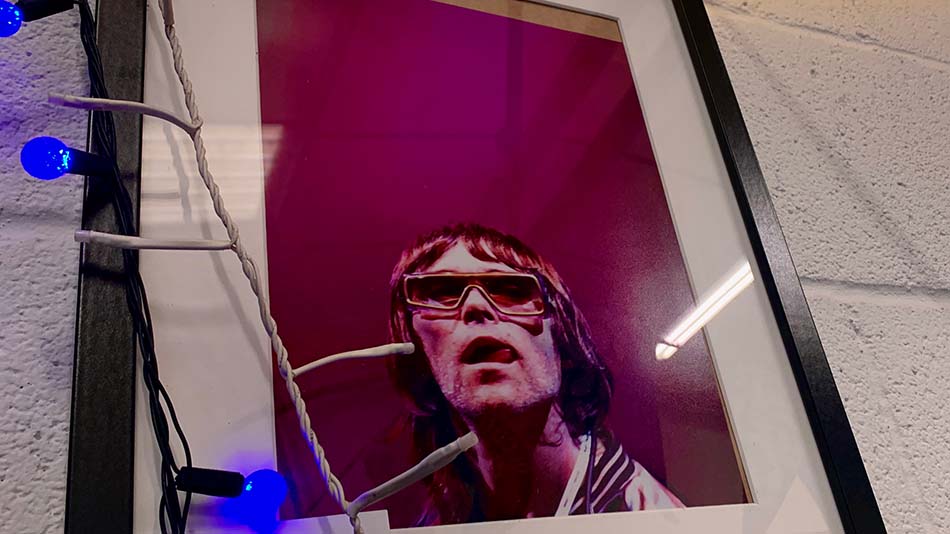 Francesca, who tries to keep each week different by adding variety to the activities, believes that it is important to make the sessions as interactive as possible.
"I came up with the concept, got the funding and asked some fantastic musicians to work with me. I wanted the participants to lead it. It's not school, it's fun, so it's not a syllabus we're following," said Francesca. "Like today, I had no idea that we were going to sing Elvis. We spent the first twenty minutes singing Elvis songs because one of the participants is a big Elvis fan. It was great." 
However, since there has only been funding for the six weeks, Francesca will return to taking music lessons over Zoom after 29 March. She hopes to obtain funding to carry on with these workshops as she has received positive feedback from participants about the workshops, particularly from those who have been here since the first session.
"I think more opportunities like this would be great. This space is ideal. It has got accessible toilets and a ramp for wheelchair users. It's perfect really. Ocean Arts is an amazing place for music therapy," she said, holding on to the hope that funding would come through to continue hosting these workshops that are making a difference for people in the community.