Around 1,000 people are expected to attend switch-on to raise funds for defibrillators
A NIGHT of Welsh entertainment at the Llandaff Christmas lights switch-on will raise funds for Calon Hearts Screening and Defibrillators.
The event starts at 5.30pm tomorrow (Wednesday), with the lights being switched on at 6.30pm. Many businesses on the high street are extending their opening hours.
The Llandaff Village Events Association teamed up with Calon Hearts to organise the ceremony.
"We are coming together because last year we couldn't," said Sharon Owen, director and founder of Calon Hearts.
BBC Wales's Lucy Owen will be switching on the lights and there will be performances from school choirs and Cardiff Rock Choir, as well as a visit from Father Christmas himself.
Halls of Llandaff, the gift shop, will be open until 7pm. Owner Peter Hall said: "I'm looking forward to the lights being switched on. They always look lovely. It is going to be buzzing compared to last year when there were six empty shops here."
Llandaff High Street will be closed from 5pm to 9pm on Wednesday, November 17 to allow residents to gather on the street to watch the spectacle.
Councillor Sean Driscoll said: "Hopefully the weather will be kind and it'll be a great success."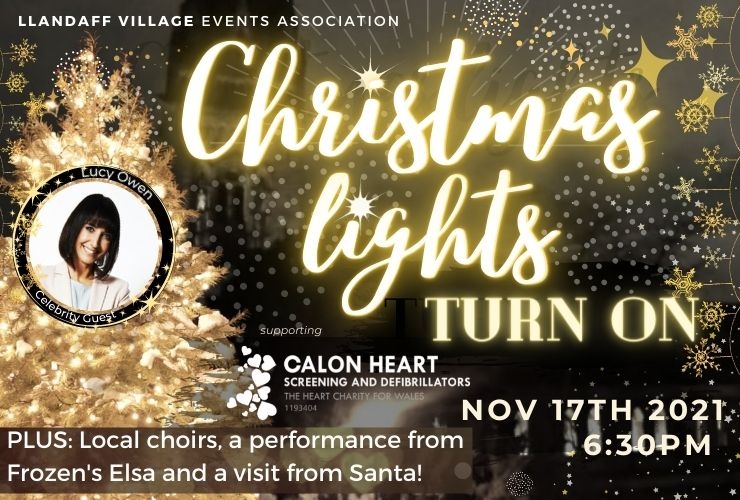 This event marks the beginning of Calon Hearts' Christmas campaign Hearts of Gold which will honour those who have passed away due to underlying heart conditions.
There will be bucket collectors at the event and the funds raised will go towards a defibrillator to be installed at the top end of Llandaff village.
Ms Owen said: "As a small charity, we rely on the goodwill of local people."
You can donate to Calon Hearts online here, or text HEARTS 5 to 70085 to make a one-off donation of £5.
Free tickets for the event are available here.
The lights will stay up until the first week of January.