Packing tissues, water, sick bowls and flip-flops the volunteers help keep the city's nightlife safe
FOLLOWING three Street Pastors as they push an unconscious man in a wheelchair through a closed St David's Centre at 1AM is not how I usually spend my Friday nights.
And this Friday night happened to be one of Cardiff's busiest. With masses of French and Welsh rugby fans emptied onto streets from the Principality stadium, I was neither celebrating nor commiserating as I accompanied the Street Pastors.
Set up in London in 2003 by Reverend Les Isaac OBE and run by the Ascension Trust, the Street Pastors organisation has trained over 14,000 volunteers across the UK with the aim of caring, listening and helping those who are out on the streets.
In the words of David Burrowes, former MP for Enfield Southgate and patron of the Ascension Trust: "Street Pastors is about Christians rolling up their sleeves and getting involved in practically responding to the problems of crime and safety."

Rolling up my sleeves and getting involved, albeit in a high vis jacket and at a distance, I accompanied three Street Pastors from 10pm to 4am as they patrolled the streets of Cardiff.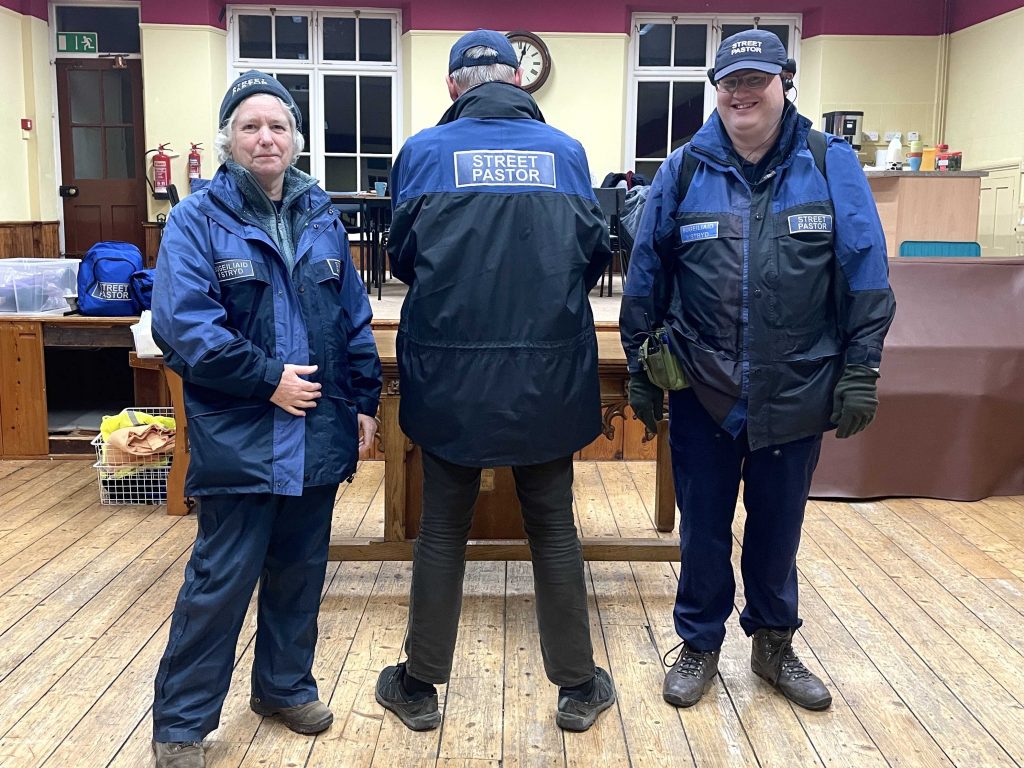 "You just dread to think what might have happened."
Carol, Mark and Tim greet me inside the Tabernacle Chapel on The Hayes. I watch as they pack their blue backpacks full of water bottles, tissues, cardboard sick bowls and flip flops (for women who can no longer walk in their high heels). We eat biscuits, Carol says a prayer, Tim fits a radio into his pocket – and then we set off.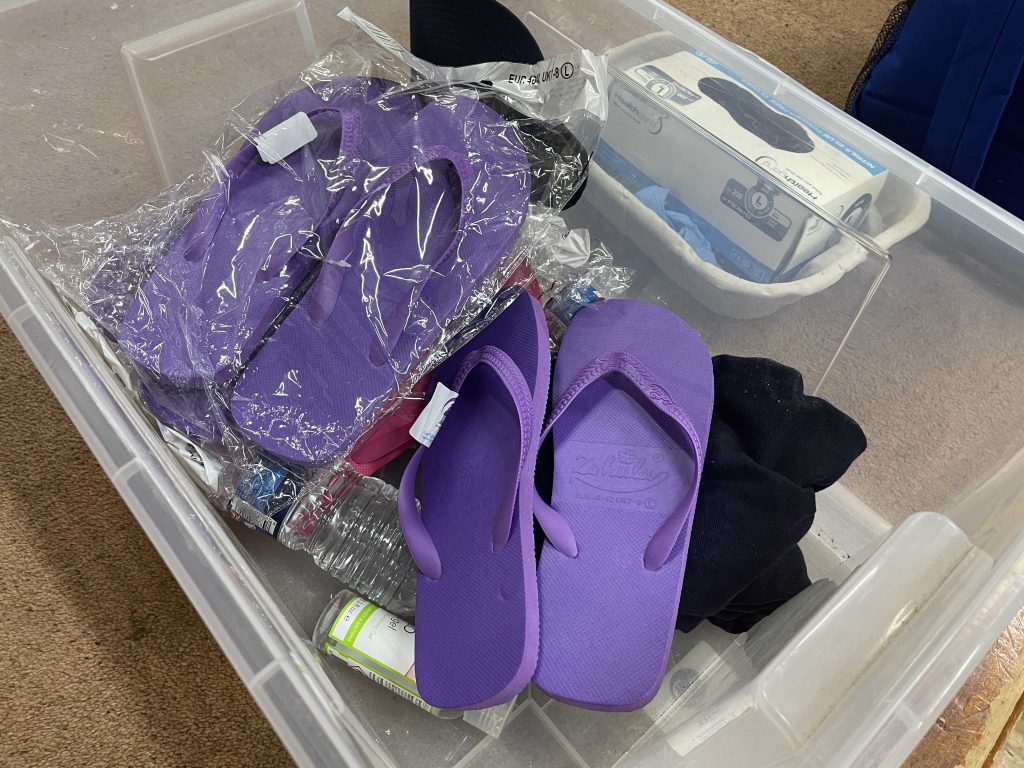 I have never seen Cardiff so busy. It's hard to stay together as a group of four and it's also hard not to feel self-conscious about all the rugby fans looking at our distinctive uniforms.
For the first two hours we make slow loops around the city centre and the Pastors chat with bouncers, club managers and police officers as we pass.
We hand out water bottles and tissues to people being sick and check they have someone to get them home safely.
As we walk, Carol tells me about a time when she saw two men trying to persuade a drunk woman to go home with them. After getting involved, Carol realised that she had become separated from her friends and didn't know the men.
"You just dread to think what might have happened," says Carol. "Luckily we were able to get her to safety, but that incident definitely stuck with me."
She tells me of another time when she helped a woman get back to her hotel but, upon arrival, they realised they were at the wrong hotel.
"Only then did it start to come out that her marriage had fallen apart, her child had died, and she had been diagnosed with breast cancer," says Carol.
"She had just wanted to come out for one night of fun. And, at that point in the night, I'm just glad that she had someone to talk to."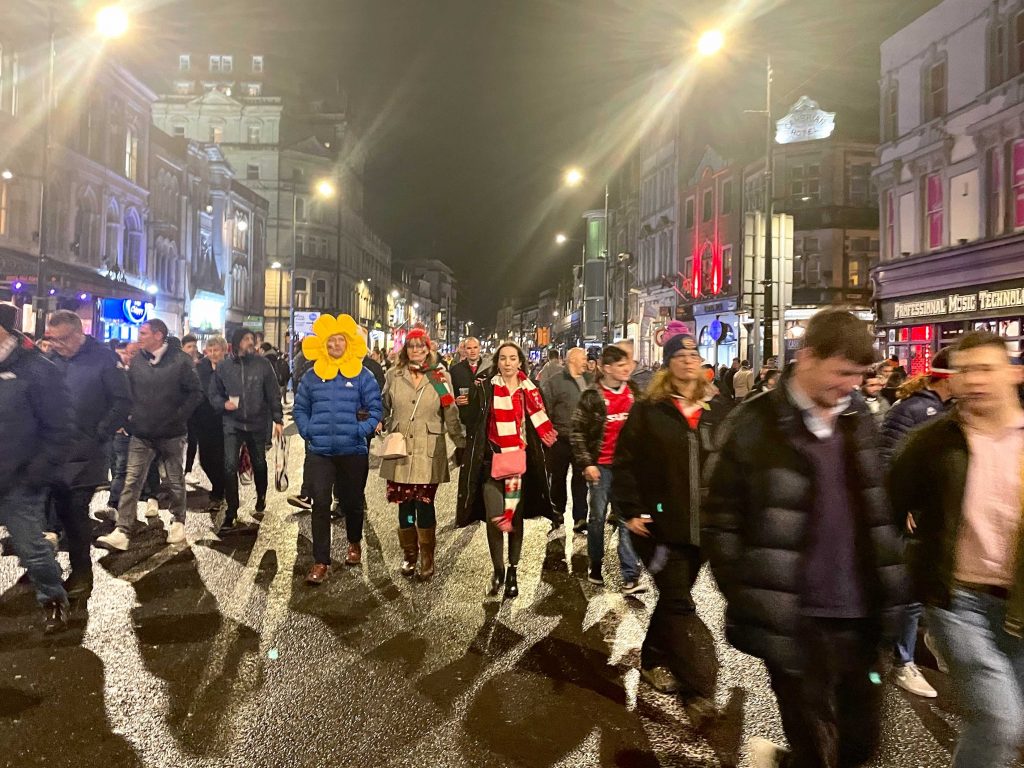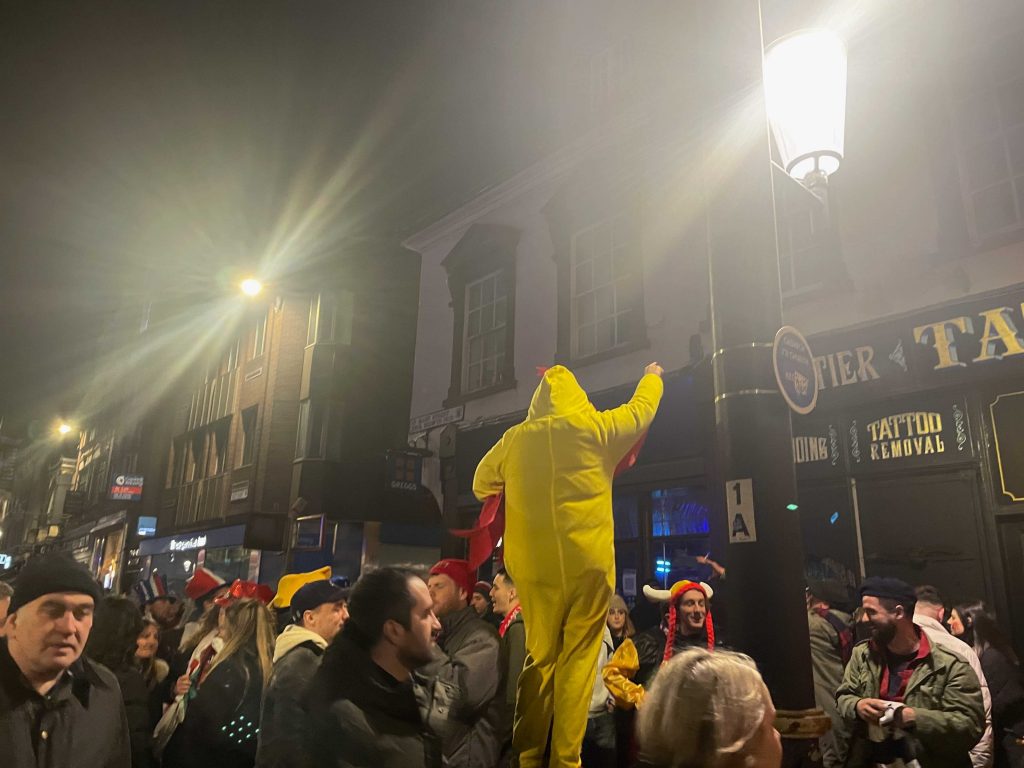 At half midnight we regroup at the Tabernacle Chapel for a quick break.
"It's been pretty tame so far," warns Tim, who has been a Street Pastor since 2013, "towards 1am is when things start getting busy."
Only a few minutes later, Tim gets his first call of the night. It's from PRYZM nightclub, they say they have a young woman there who has had too much to drink and needs collecting.
Tim gets us out the door and back onto the streets quickly. As we pace up The Hayes towards PRYZM, a security guard outside St David's Centre calls out to us. There's a man lying flat outside the entrance.
Earlier, I was told by Mark that the Street Pastors are not allowed to split up, meaning that Tim now must decide whether we go to PRYZM now or attend to this man instead. It's a tough call to make, but Tim decides to go to the club first and come back for him, as he has a security guard nearby to keep him safe.
When we arrive at PRYZM the bouncers let us straight in. I'm instantly disorientated by the crowds, the loud music, the lights – and I briefly realise that I have never been in a nightclub sober before.
We're led up the stairs into the club's welfare room where we find a young woman, slipping in and out of consciousness between quick bursts of vomiting.
Carol helps her into a wheelchair. Her friend tells us she's called Laura* and didn't eat any dinner before coming out.
PRYZM staff help us take Laura down the emergency elevator and back onto the street where we meet her boyfriend, Luke*, who has been called to meet us. Mark takes the wheelchair and pushes Laura across the city centre to the Alcohol Treatment Centre (ATC).
Tucked away on Bridge Street behind two unmarked doors, the ATC is run by doctors, nurses and paramedics as a place to look after the casualties of Cardiff's nightlife.
We are buzzed into a brightly lit corridor which opens out into a large room full of chairs and medical supplies. There's one young man already there, who slumps in his chair right after spewing onto the feet of a nurse.
"I do think I see it as a calling. It's putting faith into action and helping those who need it."
Laura is now shivering and dry heaving, and the nurses help her into a chair. She is safe and her boyfriend thanks the Street Pastors.
We're straight back out to pick up the man from St David's Centre. Once we've got him into the wheelchair, the security guards let us through the closed shopping centre and to the ATC.
It's now 2am, and we return the wheelchair to PRYZM. It's pouring with rain and we continue to walk, giving out directions, water bottles and phone chargers to those who need it.
By 3am, we're thinking of heading back but, at the top of St Mary Street, we find another young woman, slumped against the base of a streetlamp.
She can talk but she says she doesn't want to go to the ATC, she just wants to go home. Mark and Carol manage to get her standing up but after a few steps, she trips over her high heels and falls onto Carol's leg.
Sat on the ground, the woman starts sobbing and Mark covers her with a foil blanket while Tim radios for the Student Safety Night Bus.
"Doing this has been so much easier since the Night Bus has been around," says Tim.
"They're an amazing service who give free lifts home to students who need it."
The Night Bus soon arrives, and Carol helps the young woman in. Before she closes the door, the woman leans out, thanks Carol profusely and kisses her on the cheek.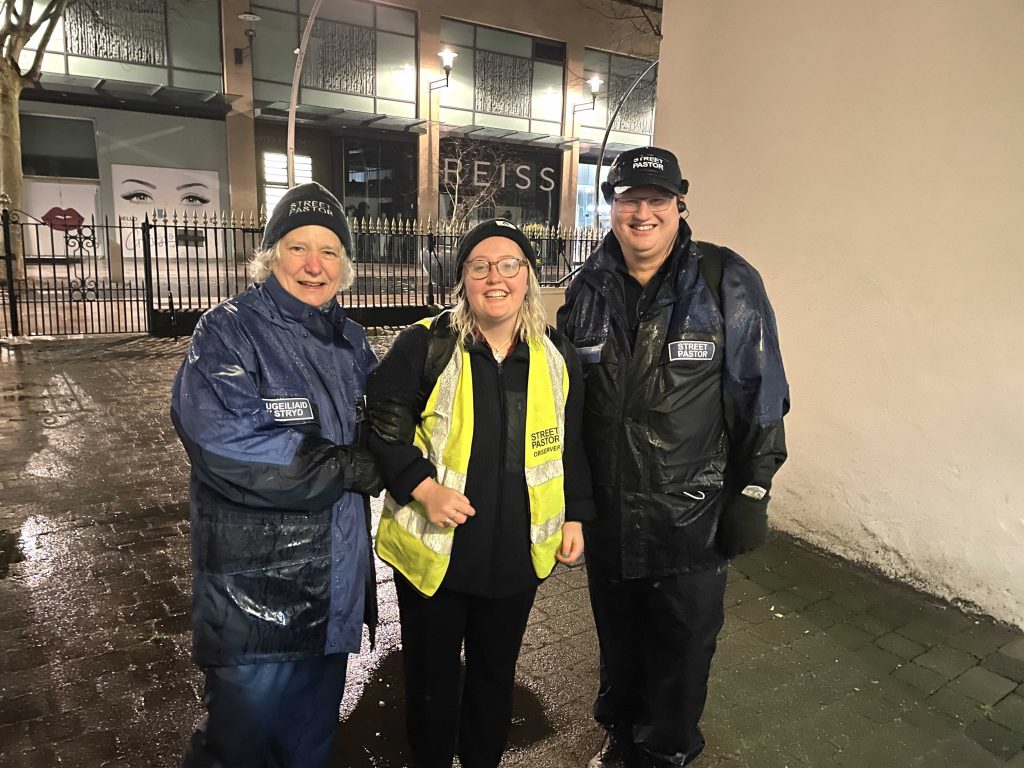 At 4am, Carol drives me home and I reflect on how important the work she does is, especially considering recent events and ongoing concerns about women's safety.
I ask Carol why she volunteers with the Street Pastors.
"I do think I see it as a calling. It's putting faith into action and helping those who need it," she says.
"We don't judge people, because we know that bad things can happen to anyone. We just want to be there to support people when those bad things do happen.
"I'm 66 years old and I never thought I would be spending my nights doing something like this, but although some nights can be difficult, I'm always given strength to see them through.
"If I've helped even one person get to safety and stay out of harm's way, then that for me makes all of what we do worth it."
*Some names have been changed to protect people's privacy
---
Interested in becoming a Street Pastor? Check if you fit the criteria and find your nearest base by watching the video and looking at the map below. You can apply here.