Big issues like food waste and climate change are impacting the way we shop. We decided to take a look at what supermarkets are doing to tackle such issues
Although the information can prove difficult to find, the big four and competitor supermarkets claim to be doing whatever they can to become more sustainable in how they operate – particularly in a culture where adopting sustainability techniques in what we eat is increasingly at the top of the agenda.
With this in mind, what are the long term sustainability goals of our supermarkets?
Aldi
Britain's fifth-largest supermarket has committed to a 20% reduction in food waste by 2025 and, in 2017, partnered with Friends of Champions 12.3, an initiative whereby Aldi can work directly with their supplier to half food waste by 2030. Aldi also supports the WRAP's UK Food Waste Reduction Roadmap, an industry-wide roadmap guiding businesses to target, measure and act upon food waste and ultimately achieve the 2030 goal. 
Lidl
Two goals have been set to combat food waste. The first: to reduce food waste in every Lidl store by 25% by 2020. The second: a 50% food waste reduction by 2030, corresponding with the Sustainable Development Goals (SDG) set by the United Nations General Assembly in 2015. What's more, the retailer has introduced Too Good to Waste boxes containing items considered to be no longer at their best, but still perfectly okay to eat. The boxes are available in all Lidl stores up until midday.
Tesco
In December last year, Tesco announced its partnership with World Wide Fund for Nature (WWF) to create the Tesco and WWF Sustainable Basket Metric for everyone to be able to access affordable, sustainable and healthy diet. Aiming to reach a 2030 target, the two organisations have outlined key areas of focus such as food waste, climate change and sustainable agriculture.
They've also promised to remove one billion pieces of plastic from products by the end of year. They will do this by removing small plastic bags, commonly used to pack loose fruit, plastic trays from ready meals and unnecessary lids and straws.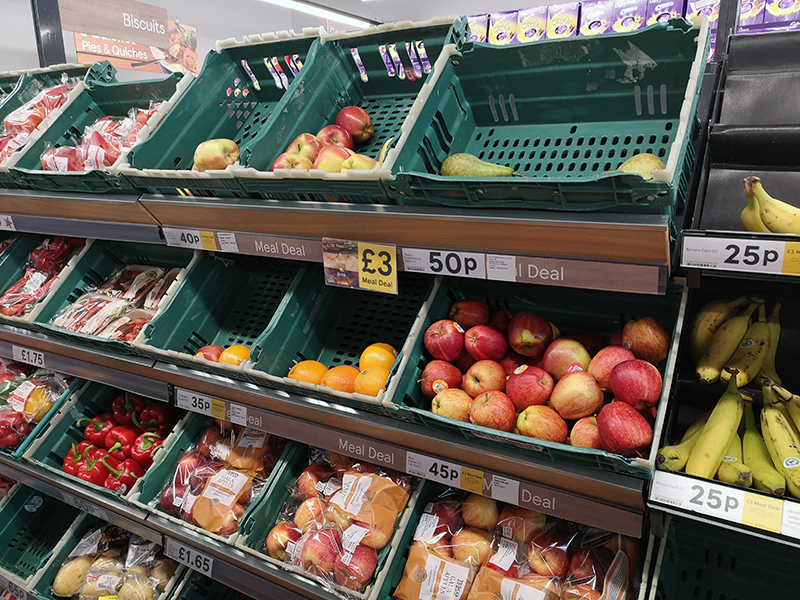 Asda
As a member of WRAP, the not-for-profit food waste charity, Asda claims to play an active part in reducing the amount of food waste. They have made the commitment to the Courtauld Commitment 2025 to reduce our food waste by 20% by 2025 and have also committed to halving food waste by 50% for its 2030 target.
Karen Todd, zero waste manager at Asda, explains in her blog post: "Although we know there is more to be done to tackle this problem, it's easy to forget that we are on a journey and we've already come a long way. We know that if we keep working with our colleagues and suppliers, together we will hit our target to half our food waste by 2030." 
Sainsbury's
Reducing the amount of plastic packaging by 50% is Sainsbury's goal for 2025, according to a statement made by the supermarket chain in September 2019. They currently get through a shocking 120,000 tonnes of plastic packaging every year and found the biggest areas to target plastic consumption are in products such as plastic milk bottles, fruit juices and packaging for fruit and vegetables. Furthermore, by 2040, Sainsbury's plans to reduce food waste by 50% and promises to redistribute more food to its existing 2,093 national food donation programmes. 
Waitrose
By 2021, Waitrose promises to reduce the amount of single-use plastic in their own brand packaging and will be made from 30% recycled content. They have already made some commendable progress by replacing 600,000 plastic straws from their cafés with FSC-certified paper alternatives; removing the 5p single-use carrier bags and polythene fruit and vegetable bags from their shops in 2019. They are even eradicating plastic toys from Christmas crackers and glitter from own-brand products, such as cards and tags, by Christmas 2020. 
Marks & Spencer
Reducing overall food waste by 21% in 2018/19, the topic is "extremely important" to M&S and it plans to half the amount they waste by 2025. A spokesperson told Thrifty Eats, "Our simple goal is to half our food waste by 2025 and we've made good progress to reduce our overall waste so far. If there is edible surplus, our priority is to ensure it ends up on a person's plate through our charity redistribution scheme." All M&S stores are connected with local charities through their food redistribution programme partnership with Neighbourly, launched in 2015.