Nearly 400 people have taken to social media to post their concerns
Households in The Vale can now only put two bin bags of rubbish out for collection, rather than four.
The announcement made on Monday led to a flurry of frustrated comments from locals beneath the post on Facebook, which was shared by more than 200 people.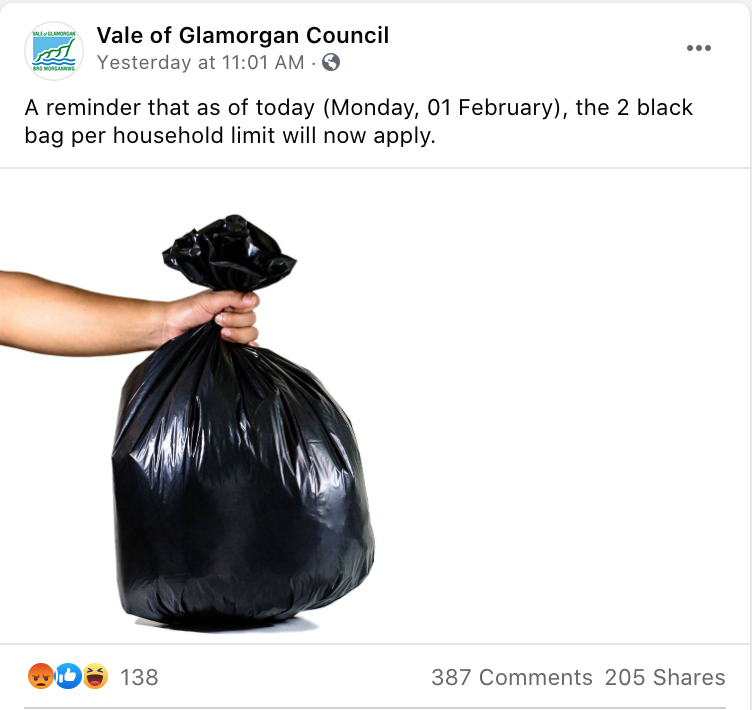 With so many more people working from home during the lockdown, the amount of domestic waste has naturally increased, meaning for some households, the two bag rule is simply unrealistic.

Debra Greenslade from Barry was not alone in calling the decision 'absolutely ridiculous', taking to Facebook to remind the council of all the 'people working from home due to Covid and children being homes schooled.'
Carinne Dee is a Childminder who looks after young children in the Vale and says the increased hygiene practices necessary in the pandemic have also made the two bag rule harder to follow: 'We have so much extra waste with my minders through their nappies, wipes, food packaging etc, not to mention the extra cleaning wipes, kitchen paper and other cleaning waste.
'It really is hard to keep waste to a minimum when infection is so high.'
The Vale of Glamorgan Council website says that they will lift the restrictions for those 'struggling with two black bag limit', but Johnathan Tippins said that two of his extra black bags were rejected, meaning he will have to make frequent visits to the tip. Many pointed out that this does not align with Welsh Government Guidelines to 'stay at Home'
In response to this, The Vale of Glamorgan Council has said: "As far as we are aware, trips to the Household Waste Recycling Centres aren't against the Welsh Government Advice. Their website states that they remain open for public use."
There are further worries that this will lead to an increase of fly tipping in the area. One local already reports seeing people decant their excess household rubbish into public bins in the area, causing them to overflow.
This, he says, is 'technically fly tipping' but admits that it's only happening because people are 'running out of options.'

Locals are also frustrated about the lack of consultation about the changes from the Vale of Glamorgan Council. Andrea Maxwell, from Barry said is angry that objection to the rule has been ignored by the council.
He says: 'They just change (the rules) and post it on social media. No one responds to anyone and it's negative responses to all of it and they do not answer to anything."
There are some locals who in the Vale who welcome the changes and call it a positive step for environmental change.
Linda Richards says that people should stop "blaming the council and have a look at what you're consuming and what changes you can make to cut down on all the stuff you throw away?"
While there are some, the resounding sense is that the middle of a long lockdown was not the time to increase restrictions on household waste.
The Vale of Glamorgan Council are yet to make a comment.