Cardiff and surrounding areas faced a red weather warning for the first time in decades.
People across Wales were told to stay home for their own protection as Storm Eunice made its way across the country.
Winds of over 90mph were recorded – with extreme weather causing significant damage to properties, vehicles and trees.
Trains and busses were cancelled and there were major road closures, including both severn bridges.
CJS covered the news and reaction as it unfolded.
---
15:58
Road Traffic update
Traffic Wales has reported that junction 48 on the M4 at Hendy has now re-opened.
---
15:45
Flights from Cardiff Airport are departing again
After strong winds caused delays and cancellations this morning, flights are beginning to take off.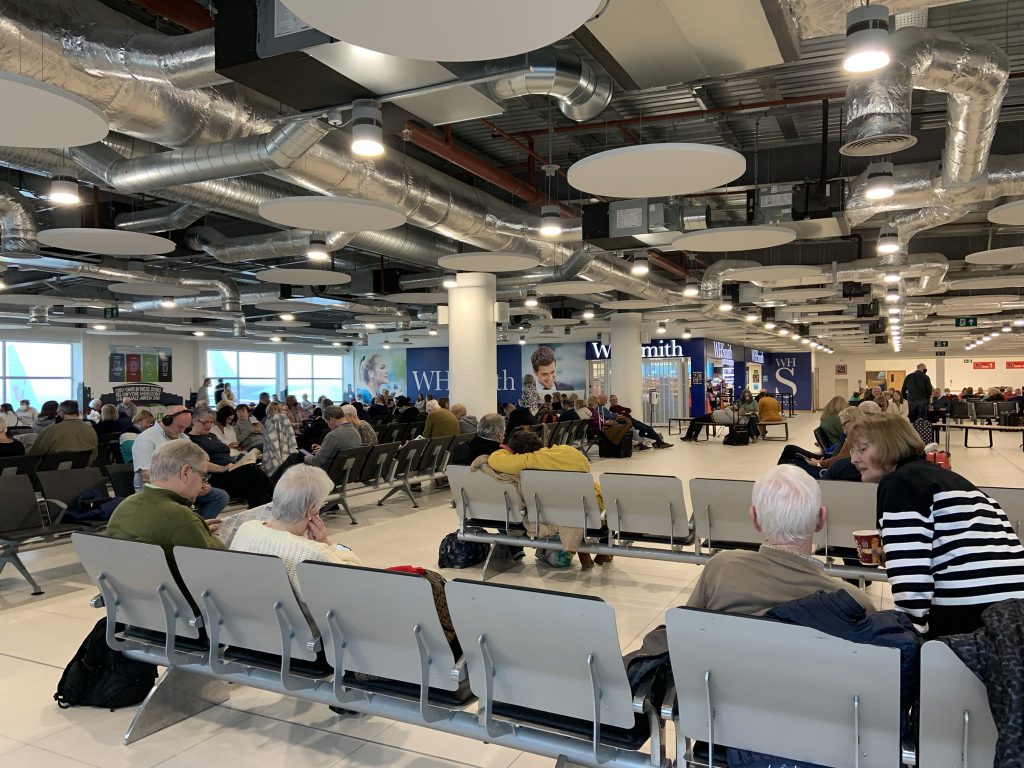 Some passengers have been given complimentary food vouchers after they were left waiting five hours.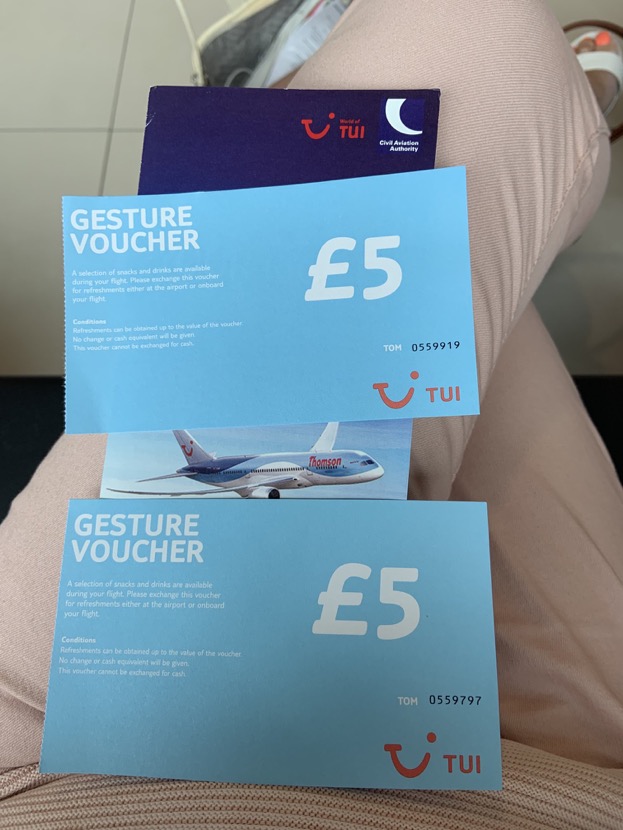 ---
---
15:13
Medicentre roof at University Hospital Wales has been damaged
The roof of UHW Medicentre has been affected due to Storm Eunice.
King George V Drive (East) bus stops have been closed for the safety of the public.
---
15:11
Newport road closures
Currently, two lanes on the A48 from Pont Ebbw Roundabout to junction 28 of the M4 are closed.
Other roads in the area are also shut.
---
15:07
Severn Bridge diversion
Drivers looking to cross either Severn bridge are being advised to divert to an alternative route.
However, this diversion is 90 miles long.
---
14:54
Merthyr school suffers serious damage
The roof of Bishop Hedley High School in Merthyr Tydfil has been significantly damaged.
Schools across Wales have been closed all day.
---
14:50
Severn Bridges still closed
Both M4 and M48 severn bridges remain closed.
Travel is still majorly disrupted across the rest of Wales.
---
14:40
Storm Eunice is moving away from Wales
BBC weather presenter, Sue Charles, says Welsh storm winds have peaked at 88mph in Mumbles.
---
14:24
Waves seen from Penarth seafront
CJS reporter Alys Masters captured powerful winds in Penarth.
---
14:20
Large tree falls on a house in Cardiff
A tree, estimated to be 70ft, has fallen on a house in Rhiwbina.
No one was injured but there is significant damage to property.
---
14:03
Car bonnet on the M4
A car bonnet is in the carriageway between junctions 32 and 33 on the M4.
This is one of many reports of road obstructions along the motorway.
---
13:57
Red Warning over but Storm Eunice continues
The red weather warning has ended for Wales, but the amber warning remains until 9pm.
Strong winds are still causing damage to properties and streets and police are continuing to warn against unnecessary travel.
---
13:47
More than 30,000 homes without power in Wales
Western Power Distribution have reported that thousands of homes are suffering from power cuts.
This map shows the most affected areas in South Wales.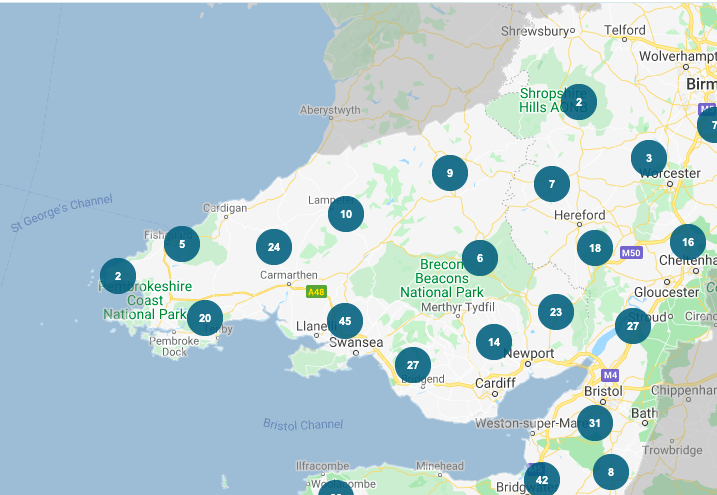 ---
13:40
Three houses suffer roof damage
Houses and cars have been damaged on Christchurch Road, Newport after Storm Eunice blew the roof off three houses.
---
13:07
Fallen tree on A4232 has blocked lanes into Cardiff
Two lanes between Culverhouse Cross towards Leckwith have been blocked by a fallen tree.
---
13:03
Red flood warnings for Vale of Glamorgan
Natural Resources Wales has issued a red flood alert for the Vale of Glamorgan.
Many other areas of Wales are also expected to be flooded.
---
12:53
All busses in Newport cancelled
Bus services in Newport have been suspended for the rest of the day.
All services are due to resume tomorrow.
---
12:43
Wind warnings for Saturday
The Met Office warns that strong wind will carry through to the weekend.
Yellow weather warnings for wind have been issued until 6pm on Saturday, affecting much of Wales.
---
12:41
Road closures throughout Wales
Though people are being told to limit travel, here's a link to a full list of all roads shut because of Storm Eunice.
---
12:38pm
Royal Mail not to deliver post in 'Red zones'
Storm Eunice is causing disruption to mail delivery.
"Services in the areas impacted by the red warning will be suspended today with delivery offices closed to protect our people and customers," said a Royal Mail statement.
"Severe weather risk assessments will be carried for Amber areas based on local knowledge".
---
12:27pm
What sets this storm apart?
Gabriel Morris from CJS News explains the significance of a 'Sting Jet'.
---
12:20pm
More than 1,000 homes in Gwent without power
Extreme conditions have resulted in power cuts across Gwent, affecting 1,078 homes so far – according to South Wales Argus.
---
12:10pm
Building collapses in Leckwith
South Wales Police has reported a collapsed building in Leckwith, as well as road closures and fallen trees elsewhere in Cardiff.
---
12:00pm
Roof blown off in Barry
The Co-Op petrol station on Pontypridd Road has had it's roof blown off by strong winds.
---
11:47am
Two lorries have been blown over on the M4
88mph winds have blown two lorries over between Porthcawl and Margam on the M4 motorway.
The closures could have a knock-on effect for traffic build-up all along the road.
Emergency services are at the scene.
---
11:34am
Cardiff parks closed today
Cardiff Council have confirmed the closure of Bute Park, Roath Park, Park Cefn Onn, Victoria Park and Thompson Park.
They will re-open to the public after the storm has passed.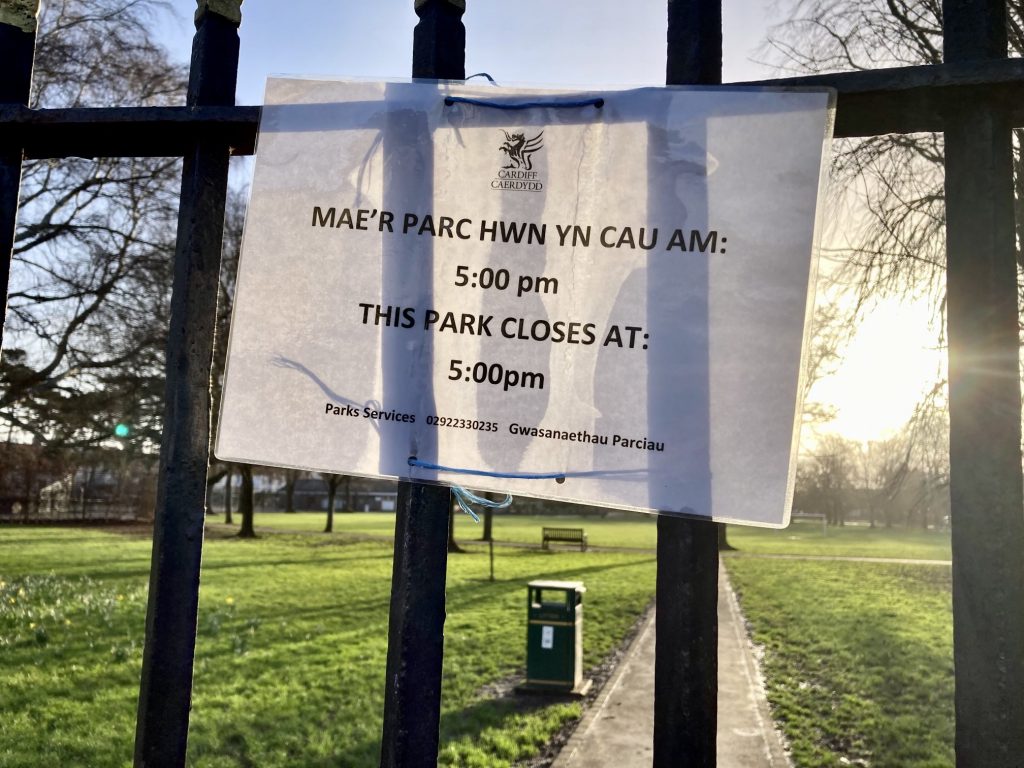 ---
11:30am
Both Severn bridges are closed
For the first time both Prince of Wales Bridge and Severn bridge are closed to traffic.
---
11:15am
Major disruption to flights from Cardiff Airport
With most transport in Wales affected by Storm Eunice, many flights have been cancelled due to strong winds.
---
11am
The Met Office warns of 90mph winds
The Met Office says there will be "damaging and disruptive" gusts particularly in coastal areas.
---