Youngsters are 'taking lives into their own hands' walking across roads in Cardiff Gate Retail Park, according to a worried father.
500 people from Pontprennau have signed a petition claiming two privately owned crossings are dangerous because of unclear road markings and signs.
The poorly maintained zebra crossings straddle a trunk road just off the M4 at Cardiff Gate.
While there are road signs, they face away from the road making them difficult to see.
There are no Belisha beacons.
The paintwork on the floor has worn and some of the street lights don't work.
There are also no zigzag lines next to the crossings, meaning delivery lorries can park there.
This obstructs the view of the pedestrians and motorists.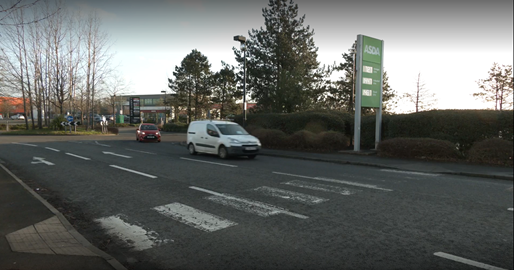 Peter Littlechild is the leader of the petition, and says more needs to be done to protect young people when walking around Cardiff Gate Retail Park.
"It's a matter a taking life into your own hands really. I always try and make sure that I stop and completely wait until all the other cars know I'm there and also stop, before trying to cross it," he said.
"But I'm an adult. You've got McDonalds across here, you've got ASDAs there. There are many teenagers and children that probably wouldn't have the same road sense."
Local councillors have had several reports about the problem.
But no action has been taken as the land is privately owned by ASDA.
Councillor Joel Williams of Pontprennau says the council will be stricter on private companies from now on.
"We need to set strong planning permission which make it absolutely clear to private owners that they have obligations and they have to ensure they provide safe facilities, which are renewed and upgraded as and when needs be, so road users and pedestrians aren't put at risk," he said.
We contacted ASDA for a comment but so far they've declined to comment.