A snapshot of a street in Cardiff where people from around the world own independent businesses.
People from all parts of the world come to City Road to establish their businesses making it a multi-cultural hub.
With people coming in from places such as Asia, Europe and Africa, the road has evolved into a place with a unique character after two centuries of migration.
Nuha, a waitress from Sri Lanka working at an Indian restaurant said: "People from Malaysia and Thailand, the Philippines, Brazil, and all over the world come into the shop. So, it's just very diverse.
There are a lot of jobs available. They're always looking for new employees, there's always something to do in this area. It's a large community, but everything is sort of independent."
Of the 165 occupied businesses on City Road, 93% are independent. The road is seemingly fully equipped to cater to the needs of everyone.
Yousef, the owner of a Turkish dessert shop said: "Everything is on the street, various types of shopping and leisure activities. I think it's a really good location for comfort.
Besides, compared to other places, the barbershops here are inexpensive. People from other places come here to get their hair cut."
Although there are numerous advantages to starting a business here, there are some disadvantages as well. Due to economic instability, businesses shut down frequently, leaving room for new ones to open.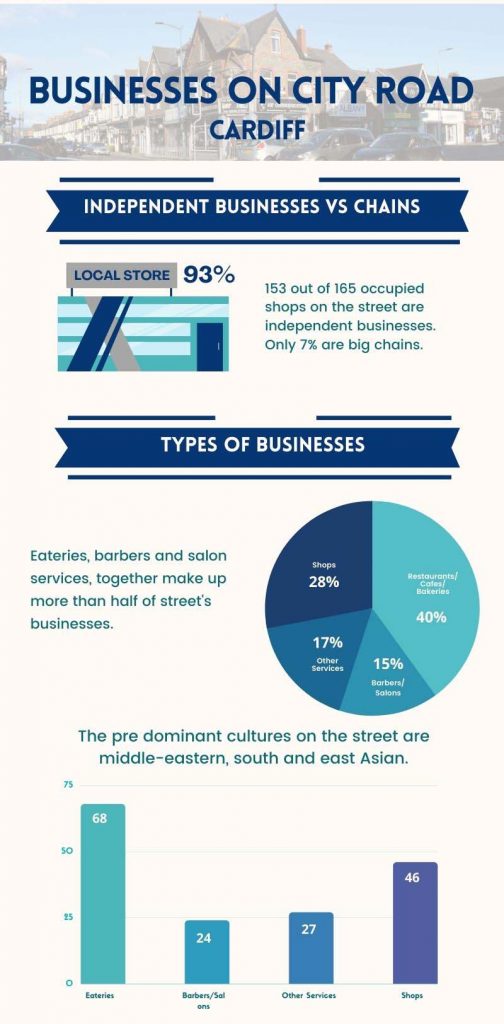 Wang, the owner of a Chinese restaurant said: "We chose this location to start our business because it is the only location that can provide us with space and a license.
But I'm aware that some people are always leaving, such as the Spin bar next to us, which didn't last a year. It's now empty, and another one is on its way. They've already started decorating the place."
Other issues on the street highlighted by those who work on the road include lack of parking facilities and safety at night. Some suggest that rent in the area is expensive alongside high utilities and business rates.  
He, a Chinese market owner also spoke about the issue said: "I only opened my shop here because I live here. I have properties here, but a newcomer doesn't have much in the way of savings. The high rent of their shops and places to live will deplete their savings. So, if the company does not make a profit, it will be difficult for them to survive."
Despite this, there are only 12 unoccupied spaces on the road and success has been possible for some. Swar Omer, originally from Iraq, is expanding his family business and opening a bigger grocery store which is due to open in January 2022.
According to Omer, there is a great deal of community spirit on the road and most people know each other. "I've been here from around 2001," said Omer. "City Road is better than most places."