Cardiff University Theatre society moved to the virtual world but is it the same feeling as being in theatre in person?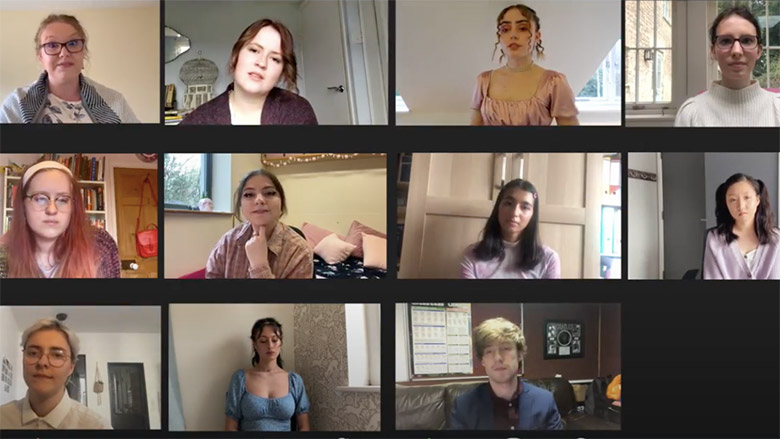 On the 24th of April, I found myself eagerly waiting for Emma to start over Zoom at 7 PM. Act One, Cardiff University' Theatre Society premiered Emma – based on Jane Austen novel of the same name.
During the course of the show, I could see that it was entirely shot over Zoom. Given the social gathering restriction that has been in place since last year – the students who got creative responded enthusiastically by embracing the online and digital world to create a unique theatre experience.,
Nicole Nachminovitch, Co-director of the play said, "Filming a play on Zoom was a challenge from beginning to end. But without it, we wouldn't have been able to do Emma! Did we constantly encounter WiFi problems? Of course. Was there a slight delay between someone's camera and their mic? Sometimes. But we managed! We rehearsed, discussed costumes and characters and music etc., and filmed it all, almost entirely on Zoom. Everyone adapted and made the necessary efforts, and we're very happy things went as smoothly as they did."
OneFurther, a digital analytics company – found out that when One Man Two Gunners by Richard Bean got a staggering 2.6 million views over a period of one week – which is far over the maximum seating capacity of the theatre!
The pandemic has also given rise to a virtual sub-genre of online plays emerging out of it, with one benefit – making arts accessible and affordable for everyone. The National Theatre's NT at Home scheme was one of the biggest virtual successes of lockdown; it screened 17 productions and garnered more than 15m views from audiences in more than 170 countries.
A report from UK Arts Council "From Live to Digital" also highlighted that pre-recorded performance have great access to increased access to theatre.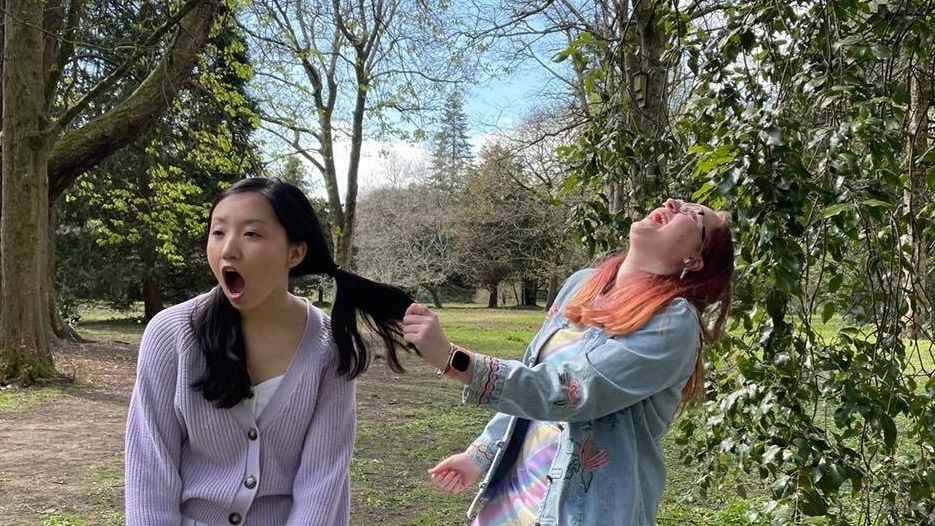 Erin Sullivan, a Shakespeare scholar said, "Streaming does appear to attract younger, less wealthy and more ethnically diverse members of the population."
Livestreams have the power to create their own sense of eventful connectedness among audience members, even when they are physically distant from one another.
The play stands as a testimony to that.
Emma Woodhouse, played by Alicia Pearson, is "handsome, clever and rich" attempts to play the part of a matchmaker and almost miss out on true love herself. Through the first act, we learn who she is and that Emma is about to dig her own grave and became acquainted with trouble – her own making as the play embarks on a journey of misguided adventures.
The story takes place in the rural village of Highbury – a fictional setting in London. Witty, charming and ambitious – Emma has never taken into account 'advice' offered by her father, Mr Woodhouse played by Maisie Granger and lives her life on her own terms. Emma at first glance looks like she knows she's an 'influencer' before Instagram was a thing and does the task upon herself to set up the social calendar of her town.
Emma is determined to 'polish' her friend, Harriet Smith played by Emma Williams, whose "good looks and humble eyes" should not be wasted in the "inferior society of Highbury". Emma ropes her into a good society and teachers her how to demonstrate confidence in her ability to rewrite her destiny. Although pretty and humble, Harriet lacks the creativity that just seems to flow out of Emma.
Emma takes control of her life, starts grooming her for Mr Elton, a handsome, young and unmarried vicar – who in his head is married to Emma. Despite his boyish charm, he is unable to impress. In the process, Emma convinces Harriet to let go of Robert Martin who she believes is "coarse, unpolished and unfit to be in intimates of Harriet."
What follows is a journey of heartbreaking, undoing harm and learning how not to meddle in other people's journey.
Alicia Pearson as Emma exudes confidence and overshadows the entire play with her uncanny performance – plus her voice modules effortlessly clearly depicting and setting the tone of what's to come.
A recreation of theatre on Zoom for all its advantages fails to lend the physicality of theatre and offers a limited selection of stage pictures. It also restricts how actors emote to neck up and perform to an audience a foot away from their faces.
The crew has just the right light touch, infusing humour, heart and sly gossip in a mix making it divide. You can revel in the brilliance of the characterizations, witty dialogues and satirical observations. The plot is fueled by gossip, misunderstanding, miscommunication, mystery and most of all romance. The audience would have to work hard not to be emotionally affected and impressed by this rendering being offered by ActOne.
Act One has been successful in unlocking zooms' potential with a few hits and miss – making it worthwhile for the audience and delivering comfort in difficult times
Nicole said, "I think it's apparent how much effort was put into this Zoomvie, from the very talented (and patient!) cast to the Cardiff Uni TV editors' and crew's phenomenal work. But even better, was the joy of everyone participating in the project. It was so much fun to make and I think this comes through."
So much of Emma, directed by Rosie Mullaney and Nicole Nachminovitch strikes a chord in everybody and offers a satirical insight into the class divide which is still relevant in our society. As the play progresses, we find ourselves loving the bratty and spoilt Emma. We can resonate so much of ourselves with the characters – we have the same fears and the same dreams.
Although driven by women in a very Austenesque style, the play does justice to the male characters too. We can see substance and souls that sparks out of the characters – maybe it is Mr Woodhouse who berates Emma on her matchmaking skills or Mr Knightley who is charming yet completely in command.
The production value of the play could have been better – there's only so much you can do when only your face is visible to the audience. As Maisie said, "They would have been very different, probably. But honestly, there's no point wondering because it is what it is! It was a different experience than the one we expected to do a year ago but we're still tremendously proud and happy of EMMA. Couldn't have asked for a better team to work with, they were all perfect, and we all had a blast doing it."
The cast and crew of Emma are as follows:
CAST
Emma Woodhouse Alicia Pearson
Jane Austen Georgia Leaf
Mr Knightley Lisa Bousquet
Harriet Smith Emma Williams
Niece One Rhiannon Evans
Niece Two Meg Shergold
Niece Three Anushna Tyagi
Niece Four Chloe Chan
Mr Woodhouse/Mr Martin Maisie Granger
Mr Elton/Mrs Cole Benjamin Southgate
Mrs Weston/Mrs Elton Lily Turvey
Miss Bates Kirsty Richards
Jane Fairfax Lauren Dittmer
Frank Churchill James Falconer
CREW
Set Managers Euan Prout
Vicki Merker
Sound Lottie Dunkley
Publicity Gareema Bangad
Costume Esther Buckton
Hair & Make-up Emma-Rose Durand
Set Designer & Props Natasha Davey
Lead editor Tim Marsh
Editors Amberley Steenhagen, Scarlett Reeder, Sahil Varia, Adam Newbound, Coby Barker, Tadi Matanda and Corrin Thulbourne