One of the more adventurous film-buffs out there in Cardiff?  Tired of watching Marvel heroes kick alien-butt and Mr. Bond battle villains in looping helicopters, then its time you took yourself to indulge in some foreign cinema.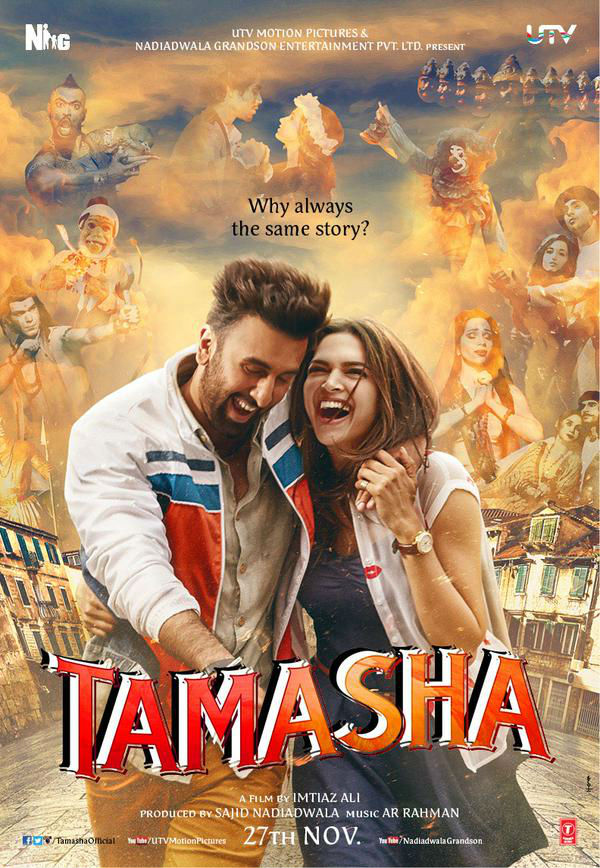 The international pretence with Bollywood has always been one of melodrama, flavoured with colourful songs and dances.  As a new generation of film-makers take over, here you have an opportunity to catch one of the more experimental offerings from Indian cinema.  Imtiaz Ali's 'Tamasha', starring Bollywood's leading pair of Deepika Padukone and Ranbir Kapoor is the director's sixth film, which follows his critically acclaimed 'Highway.'
'Why always the same story?' reads the tagline of Tamasha, cleverly hinting at the message the movie wants to convey, of creating one's own destiny and making a different kind of 'tamasha'(spectacle) of one's own life.  Ironically, whilst this writer-director tells us this age-old tale of 'self-discovery', we see him struggle ever so hard to make sure that the tagline does not hold true for the story he is trying to tell.  With the non-linear approach of storytelling, a script with heap-loads of metaphorical symbolism and some inventive direction Imtiaz clearly succeeds in conveying his core idea across to the audience.  However, this comes at a cost, with a screenplay that can be quite jarring and even contrived at times, which is simply disastrous for a movie so ambitious.
Tara (Deepika) and Ved (Ranbir) first meet in the beautiful island of Corsica, where they immediately hit it off.  Nevertheless, the pair decides not to tell each other their names and never to meet after returning from this holiday.  But as it happens, several years on Tara silently misses her friend – a sequence which is entirely choreographed as a happy-sad Punjabi song.  Innovative to say the least, it packs a hefty punch and the fact that the movie is sprinkled throughout with such powerful moments, makes one hate the bits that are so contrived, even more.  When the two meet again, Tara is sorely disappointed to find her dreamer reduced to the clichéd, tie-slinging, nine-to-fiver and eventually set to break his heart, Tara becomes the reason for Ved's journey towards self-discovery.
As expected, it is the brilliant performances of the two leads that leaves one invested in the film till the end.  Ranbir (Ved) shows immense maturity to pull it off, even with ridiculous scenes that have him reading monologues in front of the mirror as Ved tries to look within for answers.  However, even when Tamasha essentially tells the story of Ved, its Deepika (Tara) who practically steals the show with an impressive performance that leaves the audience wondering why her character was left unexplored.  The A.R. Rahman-Imtiaz Ali combo works magic yet again, with a stunning background score and tracks that stay with you long after the movie.  Cinematographer S Ravi Varman captures Corsica in all its glory and scenes like the one where the camera follows the lead pair chasing each other along the sun-kissed European landscape are honestly exquisite.
The movie, which ends on a beautiful heart-warming note normally, would have had anyone up and applauding but sadly, this one is a mixed bag and just leaves you torn-in-half.  With so much to
appreciate but also with a little too much to discredit, this 'almost-oxymoronic' Tamasha from Imtiaz Ali falls miles short on the 'Highway.'
Rating: 3/5
---
---