Performing arts students and young freelancers in Wales are continuing to fight for a career in the performing arts, despite being one of the hardest hit industries by COVID-19.
According to UCAS statistics, more than four out of ten young people applied for university amidst the pandemic, with many of the degrees being in the performing arts.
Despite the move onto online learning for universities across Wales, as well as theatres, recording studios and concert venues remaining closed, young performers have continued to pursue careers in the industry.
"I think the only thing everyone has in this industry is hope," said Aisha-May Thomas, a recent musical theatre graduate from University of Wales Trinity St. David. "I have friends in specialist colleges training now, and to think that all that would go to waste is a scary thought. So I feel that it will take a little bit of time but I think it will get there."
In her final year of university, Thomas had to adapt to drama classes and end of year shows carried out online. "The last six months were meant to be very very important for us because we had our final drama assessments, final music shows and our showcase at the end, and yeah it all came crumbling down."
Since she has been at home, hoping to start masters next year at Mount View Specialist College in London, with the aim of becoming a professional actor.
"Having to move home, there's less space to practice things. I can't be singing around the house when I have family working from home as well. I have had to be quiet so it hasn't been easy," said Thomas. "There is absolutely nothing that compares to the feeling of being on stage." "That's the only thing that is keeping me through, is that feeling."
Freelance musicians, which make up 70% of the UK music industry, have seen their careers come to a standstill. Freelance viola player Beth Woodford, 29, has been unable to play as part of an orchestra since March 2020, with the exception of one performance in Sweden during the Autumn.
"I do worry about the future of the industry and what might happen further down the line. It's really difficult to second guess what funding might come in, or you know with any of this."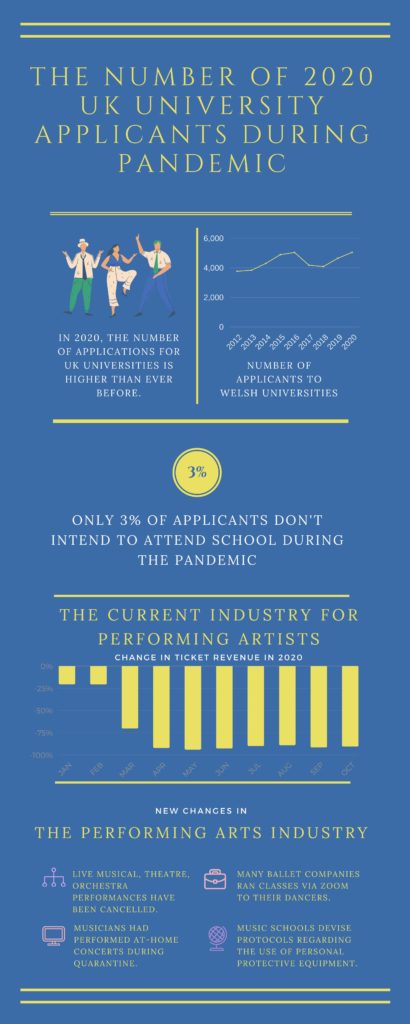 The love for the profession and what opportunities it usually brings, such as travel, have meant Woodford has avoided finding jobs elsewhere.
"Having these opportunities as part of my job makes me feel incredibly lucky. I suppose that's what keeps the fight going and why I'm not just retraining in something else, because income would be amazing, but I can't just give up on it after everything it's given me."