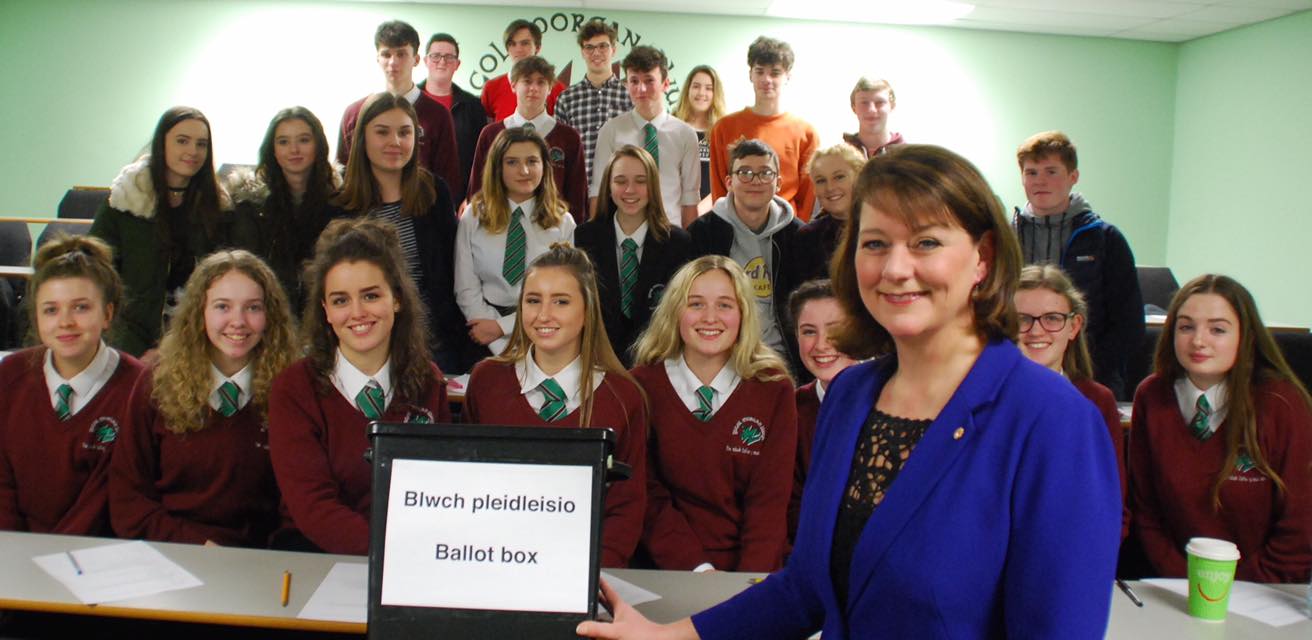 Going to lengths to make a difference, these women influence the political, social and economic life in Cardiff.
It is 103 years since International Women's Day was first observed. In commemoration of the day, we celebrate the work and achievement of women who are transforming lives and contributing to development in different spheres in Cardiff. These women's work has not just had an impact on the lives of ordinary people in Cardiff, but surrounding cities and UK as well. Their stories will leave you inspired to get up and make a difference in society. In no particular order, because each of them is great in their own right, we bring you the top influential women in Cardiff.
Leanne Wood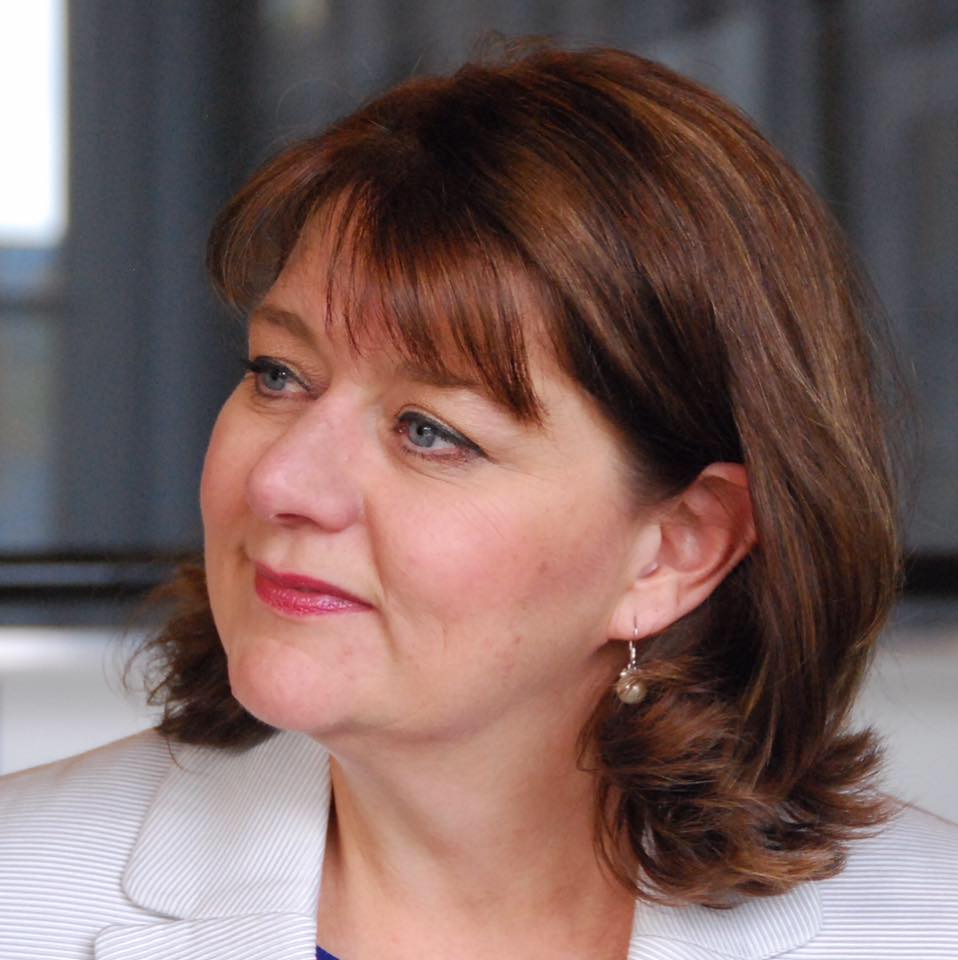 The 46-year-old Woman from Rhondda is the Plaid Cymru leader, whose influence is felt in every part of Wales, including Cardiff, the seat of the Welsh Assembly. She was voted an Assembly Member in 2012.
Wood, a feminist, has been a member of the Welsh party since she was 20 and worked her way up through the party's top position.
The former Cardiff University lecturer was one of those who were against Britain leaving the European Union. She always told Wales not to let one country decide the interest of four countries, stressing that the EU single market is Wales' largest export market and Wales is a beneficiary of the EU funding.
After the referendum vote, she urged Wales to consider pushing for Independence "to safe guard Wales' future". This Welsh Assembly Member has always been pro-independence and will take every opportunity to advocate for the independence of Wales. In her 2016 pre-election speech, she said: "We recognise Wales as a political nation in its own right,  which is why our country should have the tools to act like a nation, to innovate, to create jobs and to deliver world-class public services."
Considering herself a global citizen, Wood will go to lengths to fight for a cause. She once slept on the streets of Cardiff to highlight the plight of refugees and said Wales would not close doors in the faces of people who need help.
She recently lashed out at people who ridicule her Welsh accent. If you are an Internationalist who doesn't feel good enough because of their different accent, borrow a leaf from Wood, be proud of your roots and do not let anyone make you feel less worthy because you sound different.
Emily Blewitt

Emily Blewitt, a poet chats with a reader at the signing of her book, This is not a Rescue recently. Photo by Jennifer A. Okech
The 30-year-old author of the poetry anthology This Is Not A Rescue is widely published in print and online. She also writes blog posts and academic articles.
Blewitt's parents say she had always been writing. However, She did not concentrate on writing and publishing until she was about 23. This Is Not A Rescue is her first book.
Blewitt is very passionate about poetry and says her creative juices are highest when she is supposed to be doing something else. She also finds listening to other poets reading their work out loud inspiring. If you are still struggling with your writing and looking for the right inspiration. Well, look around you. Blewitt says she is also inspired by fine writing, the world, interesting facts and cats.
Praise
Her work has received different awards and recognitions. Still Life, a poem in her book, won the Cadaverine/ Unity Day poetry competition. The title poem in the same collection was Highly Commended for best individual poem in the 2016 Forward Prizes. She has also been Highly Commended in the Terry Hetherington Awards. Her other poem, The Walking Wed was recently shortlisted for the York/Mix Festival Competition.
The graduate of Oxford and York, also has a PhD in English Literature from Cardiff University, where she specialised in poetic representations of pregnancy in nineteenth-century and contemporary women's writing.
Speaking about her choice of poetry as a writing genre, Blewitt says: "Poetry chose me, I think. I never expected to be able to write it; I loved reading it and writing about it. But then I discovered contemporary women's poetry and I wanted to join in."
She adds: "The first contemporary poet I read was Kate Clanchy, at a university summer school. I was 17, and she was glorious. She wrote about love and sex and place and being a woman. That was the first time I got really excited about contemporary poetry – it reached out and held my attention. A few years later, I started trying to write poems."
Blewitt believes in poetry and Literature as a tool of change and development.
"I think all literature – and the arts and humanities more broadly – is what makes us human. It is how we express ourselves and reach out to others. It can cross all sorts of barriers. It can be a wonderful way of making us think – and that leads to change and development," she says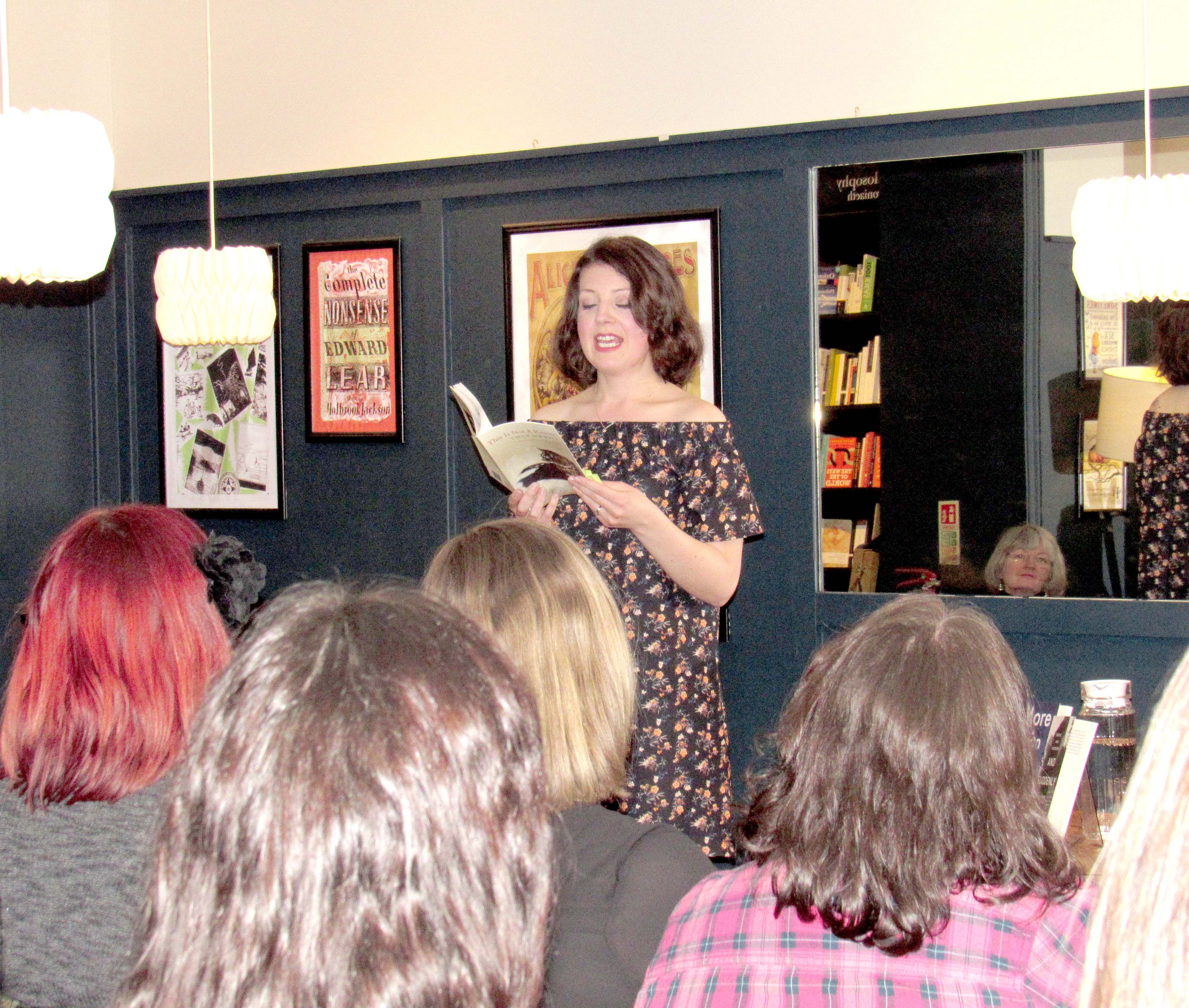 She has also worked with the poet Rebecca Parfitt on Enemies/Gelynion project in which they wrote a sequence of poems 'The Changing Habits of Women', which she says, was about the kinds of clothes and identities that women put on and take off.
If you are a writer looking for a writing community in Cardiff to inspire you, Blewitt says: "it's fabulous! There are so many writers in Cardiff that you're likely to trip over them! The Cardiff scene is very open and supportive."
To young women who aspire to be writers, she says: "Go for it! Join a workshop group, make friends, read your work at open mics. Read a lot. Keep writing and rewriting. Submit your poems to magazines and competitions – especially the ones aimed at young writers, like the Terry Hetherington Award and Cadaverine."
She adds: "Don't be disheartened by rejections: everyone gets them. Keep on practising.  Be inspired by other women writers. Don't think that poetry is not for you just because it's poetry. Own your voice. Don't hide it."
However, to those who want to excel in writing, Blewitt says, "Read everything you can. And don't be afraid to take or give constructive criticism: join a workshop group and share your writing."
When she is not writing, she is teaching poetry, baking, knitting, dancing, attending yoga classes or spending time with her cat. She says she has led poetry workshops for the local community and gone back to her old school to volunteer a few times over the years.
Hazel Cushion
Cushion is the founder and Managing Director of Accent Press, an independent publishing company. She also opened Octavo's Book Café & Wine Bar in Cardiff Bay last June.
She started Accent publishing house in 2003 after completing an MA in Creative Writing. If you are waiting to own a big five-star building to pursue your passion for publishing or see children as a barrier to your career, the mother of 21-year-old triplets, founded Accent Press in her front bedroom after graduation. She says: "I wanted to start a business that would work around my children and desk-top publishing software and the arrival of the internet had just made this viable."
She is not writing at the moment, but hopes to get back to the craft someday. Her publishing house mostly deals in mainstream fiction, non-fiction such as self-help and memoirs.
Before joining the creative writing industry, Cushion trained as a silversmith but has also worked on Cruise ships, run a wine business in France and a charity in Dubai.
"I didn't do a first degree because I suffered very badly from depression when I was young. I did my MA at Trinity College Carmarthen as a mature student – they accepted my published work in place of a BA," she shares.
Besides printing books, Cushion is also involved in community projects. She says, "We get involved in adult literacy with the Quick Reads scheme. I'm dyslexic so this is a cause close to my heart."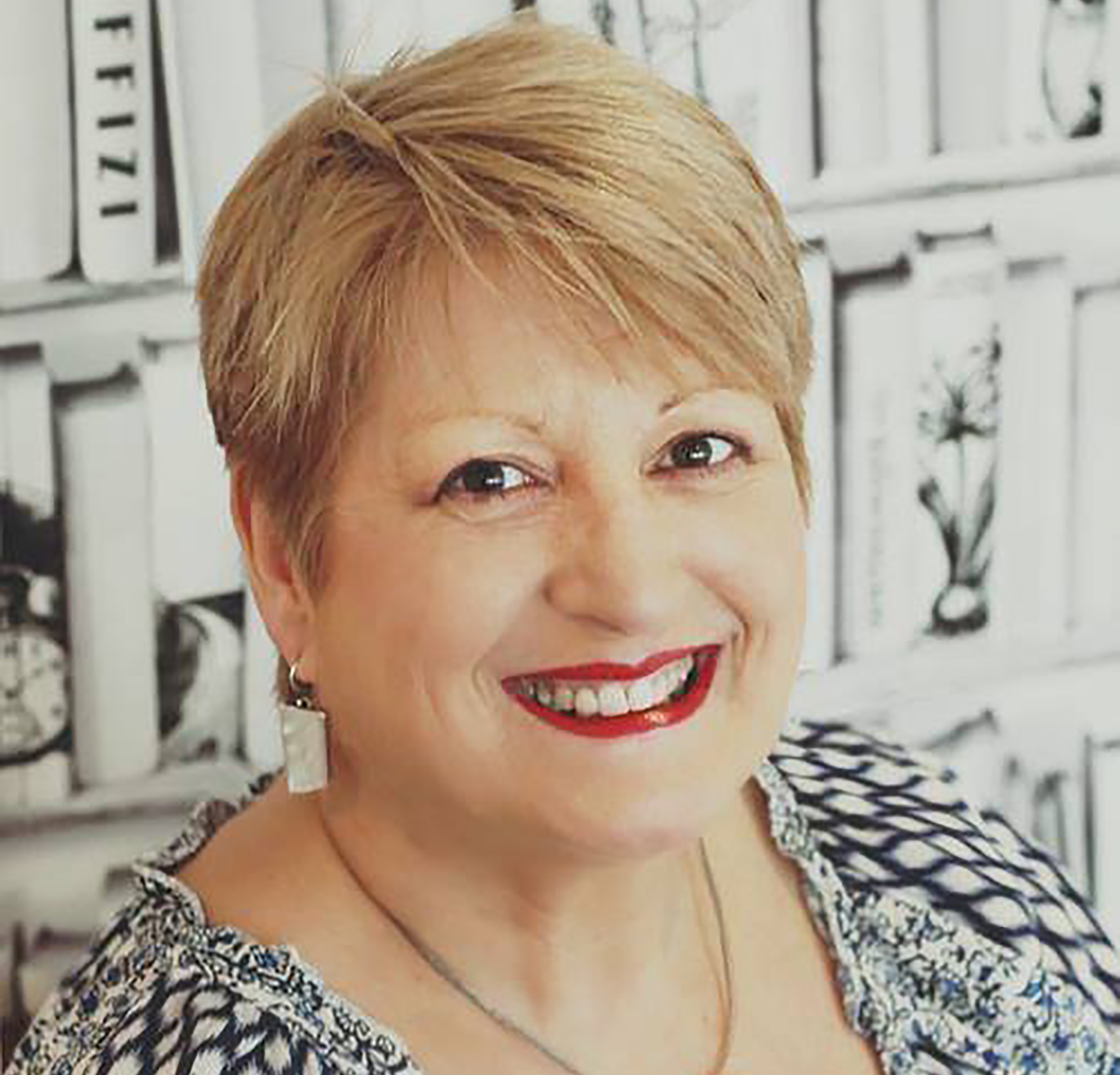 The 55-year-old says she is passionate about life, emphasising that: "You only get one stab at it and so I tend to try and make every day count."
She says lots of things inspire her. "I love reading about other entrepreneurs' journeys and enjoy working to make authors' dreams come true."
To people who want to start up businesses, Cushion says: "Running your own business has many highs and lows so ensure you surround yourself with people who understand your vision for your company."
Sr Aquinas Macdonald

Sr Aquinas Macdonald at the Newman Chaplaincy Fellowship dinner recently.      Photo by Jennifer A. Okech
The 79-year-old Sister of Nazareth congregation is an administrator at the Nazareth House nursing home in Cardiff. She graduated as a primary school teacher at University of Ulster before joining the Sisters of Nazareth congregation in 1960.
The Sister whose older siblings are a nun and a priest, says her siblings' religious life did not influence her to join Sisterhood. She says: "In a small way a religious calling is a personal choice to respond to God, adding that she became a Sister because: "I felt that God was calling me to join a religious order."
After joining religious life, she taught in schools in London, Bexhill, Belfast and Australia.  Since retiring, she has been involved in In-service training of staff in Sisters of Nazareth nursing and residential care homes running workshops on our ethos and core values.
At the University Catholic Chaplaincy in Cardiff, Sr Aquinas prepares students and people in the local community who feel called to join the Catholic Church for Catholic sacraments of Baptism and Confirmation.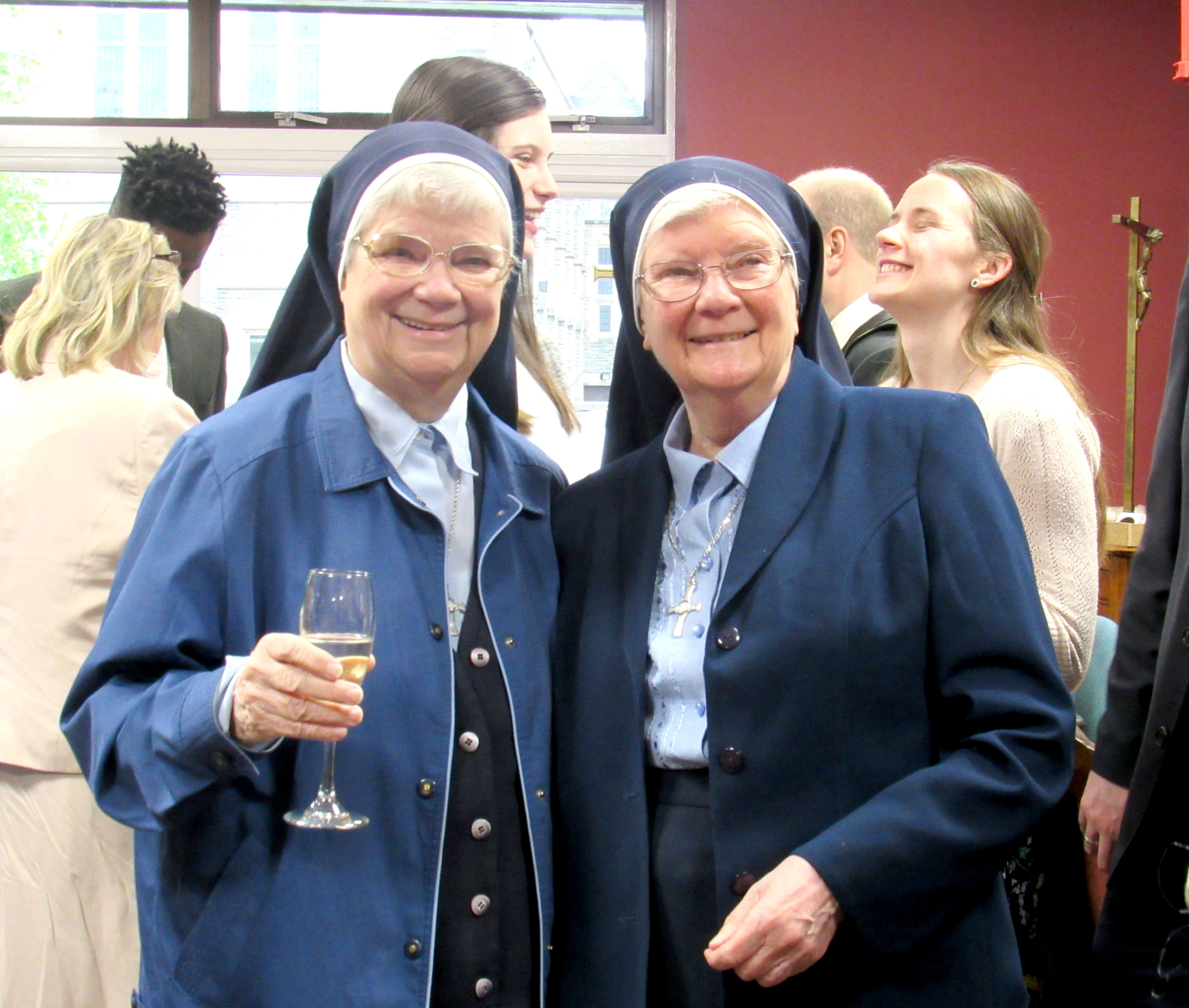 Sr Aquinas advocates for pro-life and says she prays for those involved in the pro-life campaign. "Life is sacred and every child is a gift from God," she adds.
She is passionate about her work at Nazareth House, which was founded more than a hundred years ago and says: "Being involved with the elderly is a privilege."
Besides taking care of the old residents at Nazareth House, Sr Aquinas visits the elderly in the local communities. She says: "I visit residents in a pastoral care role and I take our dog round weekly as dogs have proven to be a great calming influence and therapeutic for elderly people."
She adds that: "There is definitely a need for a place for elderly to end their days surrounded by love.  Our founder Victoire Larmenier said she wanted each Nazareth House to be a place where all are loved.  This we try to do by encouraging our Staff to care for the Residents through our core values of love, respect and compassion.   Training workshops are compulsory."
Haifa Maysmode Shamsan

Haifa Shamsan, is the director of Maysmode fashion brand. Courtesy photo
Shamsan is the chief executive director of Maysmode clothing brand. She makes clothes that appeal to both Muslim and non-Muslim women. She loves the hijab, which she believes is a sign of modesty. About her idea of starting up a clothing brand for hijabs, she says: "I always loved to dress fashionably and be unique in what I wore, so that started off by me making clothes for myself. Until the idea of starting a brand grew and people loved my style. Also, Fashionable clothing that was modest enough for us Muslims girls to rock wasn't always easily found on the high street."
The fashion designer once run a short summer non-profit project in a local community centre.  The project involved teaching women how to sow and confidence building workshops.
To aspiring designers, the 28-year-old says: "What I always say to young women who tell me they want to become designers and how to start off, is to go for it and not to be afraid of the outcome, I tell them how I started and my journey in hope that they can do the same and that there can never be too many designers!"
Shamsan started her fashion brand in 2013, a year after graduating with a combined degree in Business, Marketing and Education.
She has two daughters and is focusing on raising her children and building Maysmode brand.
Frances J Beecher

Frances J. Beecher, Chief Executive Officer of Llamu. Beecher is very passionate about helping homeless people. Courtesy photo
Beecher is the Chief Executive of Llamau, Wales' leading homeless charity for young people and women. Llamau works with homeless young people and women across Wales. Last year, they worked with over 8,000 people.
The Cognitive Behavioural Psychotherapist says Llamau is a psychologically informed organisation whose models of support are tailored to the issues people face. She adds that her team understands the trauma and issues faced by the people who use their services.
"I'm constantly blown away by the tenacity and achievements of the people we work with. I'm impatient for change and true equality and in Llamau we live our Mantra- those who say it can't be done are overtaken by those doing it," she says, adding: "I loathe sanctimonious attitudes and procrastination- Llamau is lively innovative energetic passionate and effective – things I can only aspire to be."
Beecher's organisation is running a campaign to fight housing restrictions for 18-21-year-olds. To people struggling out there, Beecher says: "…you are not alone, you are not weak, you are not useless and there is hope. I think the stats show that most folk are about two pay cheques away from homelessness. All it takes is the loss of a job, family breakdown or for our mental or physical health to take a turn for the worse."
She adds: "There is help out there whatever your age. Whatever the situation, get help. If you haven't got family to turn to, it's much, much harder and that's often the reason people come to Llamau."
Celebrating milestones
Under her leadership, Lamau won an award last year for its Knowledge Transfer Partnership with Cardiff University. Beecher has worked for Llamu for 15 years.
Alongside colleagues, Beecher started Cymorth Cymru, Wales Umbrella Organisation for Support Providers. She is also on the boards of Institute Of Welsh Affairs and Children's Commissioner'  Advisory Board  in Wales.
Beecher is not new to the world of community work, has been volunteering in Women's Aid for several years. She says she was inspired by one of the speeches of Jane Hutt, a Welsh Minister and Assembly Member.  She has worked in a few Women's Aid groups across England and Wales in the Housing Association world as an Auditor.
Sharing her plan for homeless pay, she says: "My intention …. is to develop a system that ensures young people are not homeless in Wales – there is no need to be homeless if we put the right systems in place – my hope is that we can also develop a culture that violence and abuse of women, children and men is eradicated – we simply will not tolerate it."
Away from work, Beecher is married with children and has grandchildren. She loves labradoodles and owns three.
Fiona Munnelly

Fiona Munnelly, the founder of Dignity Caerdydd, is running a campaign to provide free sanitary products for poor girls and women. Courtesy photo.
If you think you are too young to make an impact in society, well, Fiona Munnelly, a Second-Year student at Cardiff University is running a campaign dubbed "Periods in Poverty" to provide sanitary products for homeless people across Wales.
Munnelly's pads campaign was inspired by her grandmother, who as a young woman was unable to afford sanitary products, and suffered the shame that came with it. With a desire to end this shame and restore girls' dignity, Munnelly started the Periods in Poverty campaign last year.
"This is unacceptable, and an issue which is still happening today…There is currently no funding for menstruation products for people in hardship…Recent news articles and reports are highlighting the impact of this, such as pupils missing school, people who are homeless having to use inadequate solutions, and people having to choose between eating or being dignified. These all have consequential factors, risking health, education and wellbeing for the most marginalised individuals."
Through her charity, Dignity Caerdydd, Munnelly says: "We promote dignity for everyone, and install donation points for sanitary products such as tampons, sanitary pads, and moon cups for people in hardship via donation points."
Munnelly says the donations will be distributed to local charities, such as homeless charities, domestic violence survivor hostels, and refugee charities.
With four donation points in the late stages of installation, one at Local Arts Centre (Chapter), Cardiff Student's Union, and two at the University Hospital of Wales, and more to be ready by September, Munnelly's campaign is making great progress. She also plans to introduce an education element to the campaign.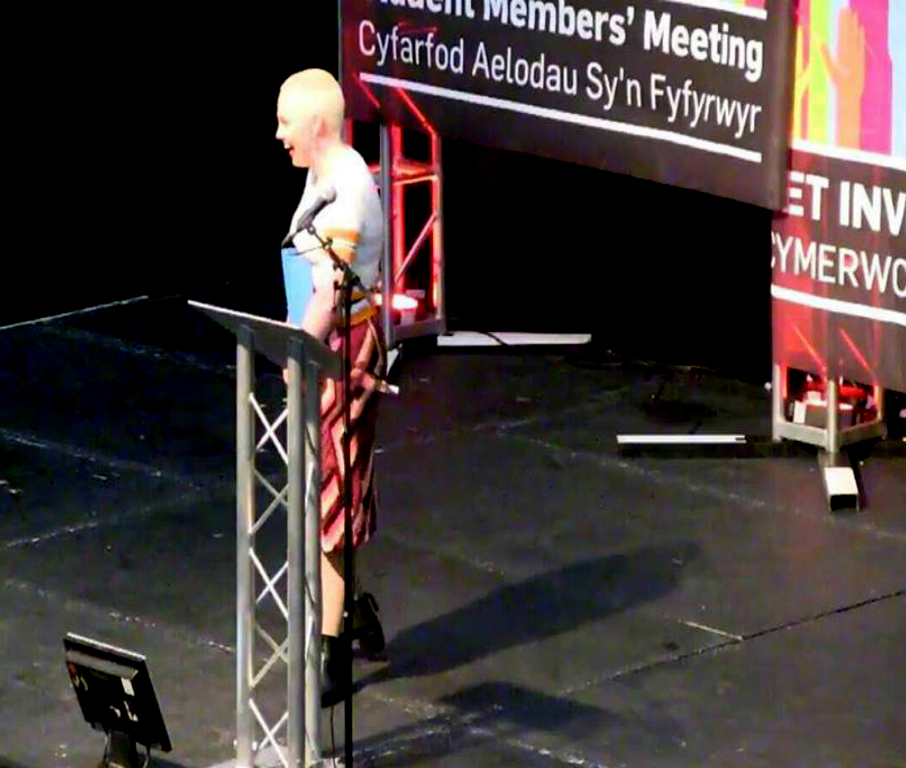 "With more funding and volunteers, it could be possible to continue to develop and serve the Cardiff community," She says.
The 26-year-old Occupational Therapy student is working with student volunteers to realise her dream of pads for all in Wales.
Munnelly says: "Government needs to provide funding for sanitary products for people in hardship. Measures should be put in place to break down the taboo of menstruation."
The feminist is also anti-racism, ageism, ableism, transphobia, homophobia, and sex worker exclusion. "I personally believe any discrimination is an attack on equity," she says.
To people fighting for their place in society, Munnelly says: "Take care of yourself, try and be as compassionate to others as you can, but don't stand for anything which makes you uncomfortable. There are communities, safe spaces and friendships out there to help."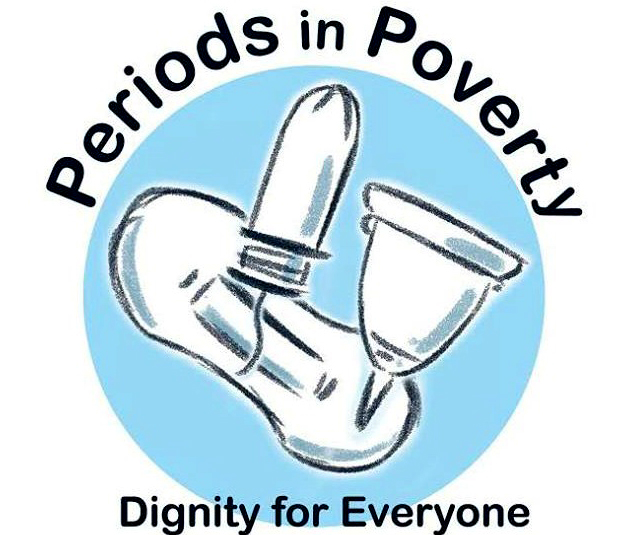 Fiona Munnelly's appeal:  "If you would like to get involved or learn more about Periods in Poverty campaign, want a donation point, to help out or have feedback or ideas, have a fundraising or product donation idea, we are on Facebook as: https://www.facebook.com/PeriodsinPoverty/ Or email:periodsinpoverty@gmail.com"
Sharon Owen

Sharon Owen, the director of Hearts for Wales (C) at a function recently.           Courtesy photo

Children perform CPR at a Heart for Wales Workshop. Courtesy photo
The director of Heart charity for Wales, raises funds for defibrillators and CPR training. Her charity is dedicated to saving people from cardiac arrests, offering screenings for heart conditions, trainings and distributing defibrillators in schools and workplaces.
Surprisingly, Owen is a graduate of History, English and Drama. After losing some of her relatives to her disease, she decided to find a way to save people from dying of heart conditions.  She is passionate about fundraising to help people and has been doing that since she was 11.
After working in the charity sector, Owen decided to start up her own charity in 2013 to save people from heart conditions.
On what inspires her to fight for this cause, Owen says: "I want to give something back to Wales and it's a cause so close to my heart as I have also lost both my Nan and Pops, aunties and uncles and many friends to heart disease. It's been hard work and quite a challenge at times but thanks to everyone who has helped and supported me on my journey I feel that Welsh Hearts is finally on the map – however there is still so much work to do."
Shazia Awan

Shazia Awan, an Asian entrepreneur. Courtesy photo
Born in Wales, Shazia Awan is a passionate feminist, writer and broadcaster.  A presenter of the Big Debate show on BBC Asian Network, Awan attained her Master's degree at Cardiff University aged 21. She then moved to work in public relations and advertising before starting up her own business. This won her various awards in business and entrepreneurship. She was also listed in the Management Today/Sunday Times '35 under 35′.
Passionate about women, LGBT, young people and British Black, Asian, and minority ethnic (BAME), Awan is an active equality campaigner. Awan does not just speak of love for the minorities, she puts her words into action – she runs Women Create, an enterprise which consults on issues around women, young people and BAME groups. She is also the vice-president of the Council for Voluntary Youth Action and an ambassador for "Show Racism a Red card".
Thanks to her business acumen, Awan is one the judges for National Apprenticeship Awards and the Entrepreneur Wales Awards.
When not at BBC, running her business or managing one of her campaign projects, Awan writes for the New Statesman, the Huffington Post and The Independent.
Kate Woolridge and Dr Rosie Tope

Kate Woolridge's Forget-me-not Chorus at a fundraising performance.                         Forget-me-not photo

Kate Woolridge, the founder of Forget-me-not-chorus. Net photo
Woolridge and Thope are leading a fight against dementia through their charities. Woolridge, a lecturer at the Welsh College of Music and Drama, fights dementia through music. Through her charity Forget-me-not-chorus, she organises music performances to raise funds to support people with dementia and their families. Her charity runs five choirs – four in Cardiff and one in New Port to help in its fight against dementia. Woolridge works as a lecturer at the Welsh College of music.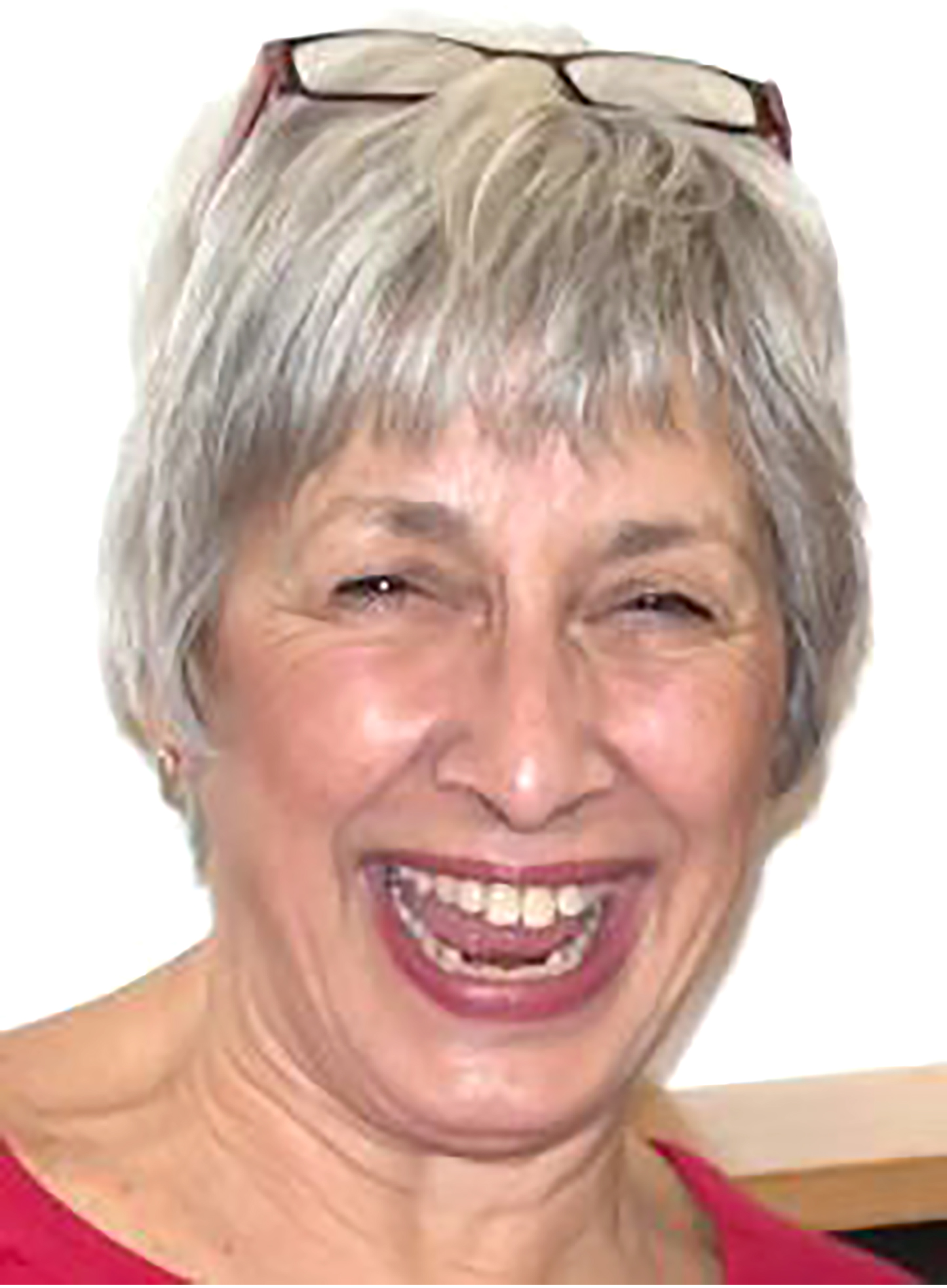 Meanwhile, her colleague Dr Rosie Tope, a board member of Forget-me-not-chorus, is also actively involved in the fight against dementia, working through her charity Watch my needs.org.uk  which deals with communication needs of people with dementia. She works in partnership with Makaton charity and Nazareth House care home, to help people with dementia learn how to sign so that they can communicate with their caretakers and relatives.
Before starting up Watch-my-needs, Dr Tope was a nurse and later a university lecturer. She holds a PhD in inter-professional learning.