Cyclists in Cardiff appeal to improve cycling lanes to protect their safety. What do officials say on this issue?
Cardiff Council aims to invest £10 million for cycling, six million are going to be used to build new cycling lanes in order to keep cyclists safe.
The local council also agreed to establish six miles of segregated lands on strategic routes to insure cyclist's safety. The actual work will be launched at the end of this year early till to the year 2019.
"The plan includes a new cycle rental scheme starting with 500 bikes in Cardiff for tourists and commuters. There will be 20mph zones in Canton, Cathays and Riverside which will come over soon,"  said councilor Stephen Cunnah.
Cunnah said that the current cycling paths are not enough to provide for the rise of bicycles. As the number of bikes on the road rises, problems regarding cyclists' safety emerge.  
Last year, from January to September, 321 accidents involving cyclists happened. About 25 percent were seriously injured and/or killed.
According to Sam Rees, a mechanic at Evan's Cycles, two or three broken bikes are sent to the local biggest bike shop once a week due to traffic accidents. At least one of them is seriously damaged by a car.
It is common to see cyclists and drivers run on one-way, which increases the conflict between these two groups. But, "there is no excuse for car drivers to get angry. If the council is putting the separate cycle from car drivers, that will make cyclist feel safer," said Cunnah.
Besides, the current situation of the roads is not very suitable for cycling. "The cycling lanes on the roads are not wide enough for cyclist turning effectively or passing and they are not continuous," says Ken Barker, of Cardiff Cycling Campaign.
Today, we asked the people of Cardiff to tell us how safe they think are cycling lanes in the city.
James, 28, Mechanic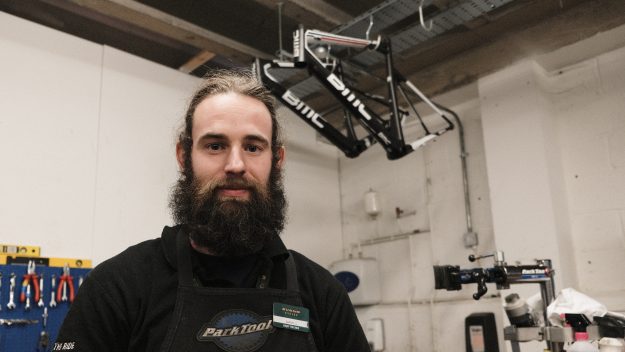 I probably repair at least one bike a week which is damaged by a car. Often completely destroyed, sometimes with  smaller issues, but generally they are damaged by cars quite seriously. The quality of the roads could be improved certainly. I think that if the measures of planning and putting in the place would encourage people to use their bikes more.
Mathaniel, 23, Acrobat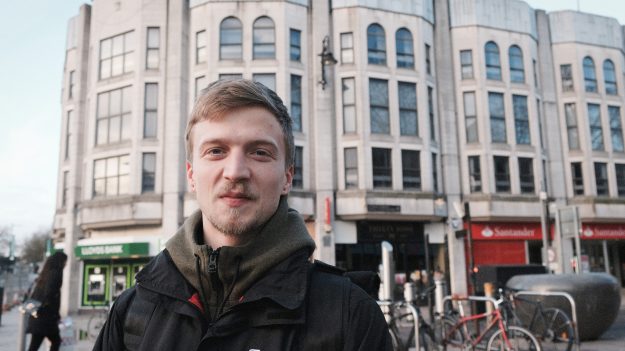 I probably ride every day. It's my main transport means. In Cardiff, there are not many cycling lanes but there are quite lots of bus lanes which are quite useful for cyclist. The paths on the town are pretty good. I lived in a lot of cities, I quite like Cardiff because the roads are quite big that means you don't have to share with cars. I had issues a few times. All kinds of things if you just cycle on the road, you are going to encounter people who don't like cyclists. You can't pass people too closely.
Ewa, 27, Accountant
I ride every day. Sometimes people over take me very closely, and a of couple times when I was around the bus, people cycle to cut me off as well.  I think the cycling paths are better in some areas like the town and bay but other areas could be better, definitely. The council could probably do more cycling paths or maybe separate them from the road as well.  
David, 62, Train Operator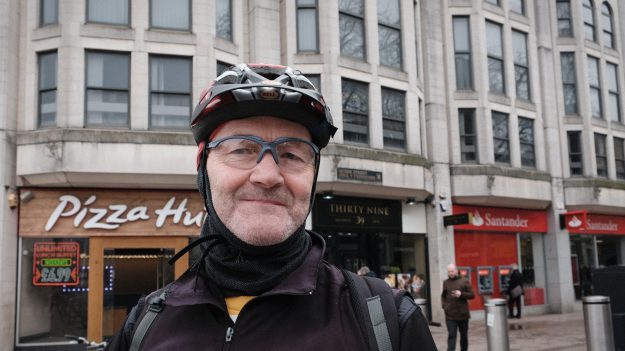 I ride my bike everyday. The cycling path is not enough for me. I've been nearly killed by accidents and was hit a couple of times by cars. There is no cycling lane as such. I think in London, they do have special cycle tracks and really good cycling systems. We've got the taff trail. But if we commute to work, it's not very good. I think it should improve much better because it's very dangerous. I know lots of people want to ride but they are scared to ride.
Ignacio, 51, Spanish Teacher
I ride my bike everyday, for work. I think the cycling paths are not enough but to be honest, I don't mind because I cycle through the road with cars. I have been using my bike maybe for the last two years, but I haven't been hurt by any accident.
Shane, 29, Bicycle Carrier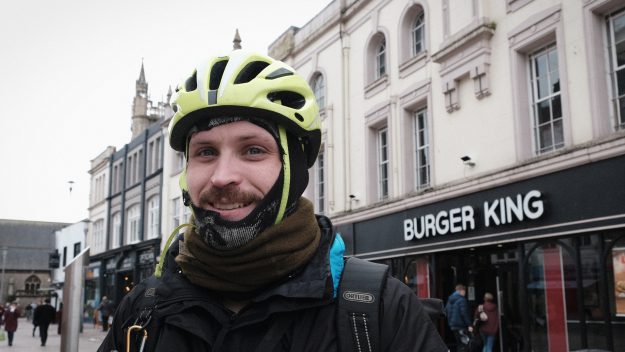 I use my bike everyday because of my job. I use it everyday. For me, (the cycle paths) are enough. I mean, on Queen Street, there is not a cycle path but lots of people create their own cycle paths. I think the council just needs to make them into actual cycle path. I have been hit before when working. People open in doors, like I go alone and then they open the door.