The Indian festival that celebrates the triumph of good over evil is an important day for Indians, but how does it compare for those living in the UK?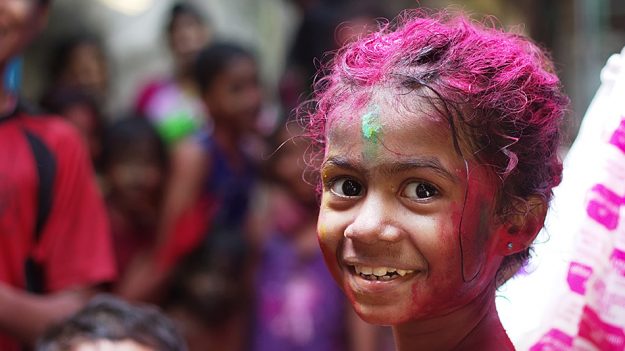 It's the only festival where kids wake up at 7 am willingly to play with gulal (powdered colour) and water balloons before being called in by parents to eat homemade sweets and delicacies.
The streets are mostly empty by 3 pm, and then it's time for that heavenly post-Holi nap. It's the very definition of the big fat Indian celebration.
Holi has a mythological meaning behind it, symbolising the victory of good over evil.
Technically, Holi marks the end of winter and the start of spring according to the Hindu calendar but for those who like elaborate stories, the mythological bit follows a ruler Hiranyakashyap.
Hiranyakashyap thought he was the ruler of the universe but his son turned his back on him and followed Vishnu, a Hindu deity. His father wanted to have him killed but Vishnu came to the rescue and saved him, thus reinstating the 'good over evil' value in the story.
Holi today is celebrated for two days in a row. The first day is called Chhoti Holi which is more to do with the religious part of it. The second day is called Rangwali Holi, where people play with coloured powders and eat traditional foods.
The dates for Holi keep changing because of the Hindu calendar. This year, the dates for Holi are 19-20 March.
Holi in the UK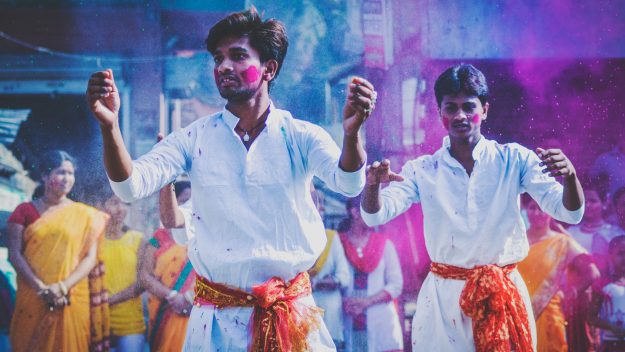 A lot of things change when you move from your home country to another especially if it's an Indian moving to the UK.
However, no matter where you are in the world, some things will never change.
The kind of food you eat evolves and the way you interact with people may also change, but one thing that does not alter is how you celebrate Indian festivals.
However, this is not to say that it's easy celebrating a festival such as Holi here.
"It's an effort to celebrate Holi here and we are painfully aware that even after everything you do, you don't get the same feeling of Holi back home. We always miss that madness and crazy colour riots," says Deepa Sinha Narang, who has been living in Cardiff since 2013 now.
Deepa also says that the biggest hurdle in celebrating Holi in the UK is the weather. No surprises here given that one of the main elements of Holi is water and water balloons.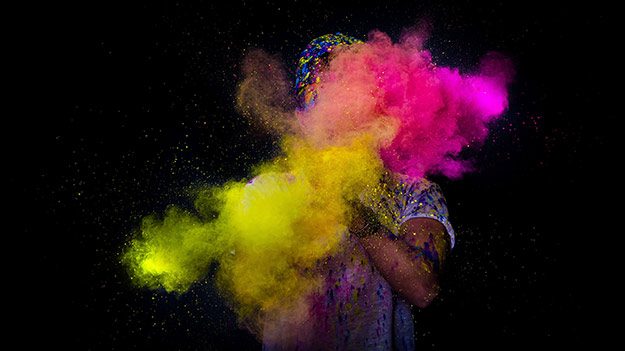 "We meet in [an] India centre or try to gather at friend's places and play dry Holi. The biggest hurdle in celebrating Holi to its actual swing is the weather condition. We cannot just go out in our backyards and play with water and colour as it's freezing and windy and rainy, contrary to India as it's now a bit warm, sunny and pleasant and perfect for playing Holi!", she added.
What's more difficult during the time of festivities is being away from home and your loved ones.
Holi is a festival where everyone comes together and tries to celebrate the day as a family. Being away from that feeling can be really hard for someone who has moved away from India to come to settle here in the UK or any other country.
Ankita Sahay, who has been living in the UK for 12 years and works with Cambridge University says, "Fortunately in places where there is a substantial Indian population, one feels connected to home as we can all meet up and celebrate together. I miss my parents and my home on Holi, but like most people, I have also learnt to make the most of what we have here."
There are a few things that you just can't replicate here in the UK and that's one of the key things that people who move here miss.
"Holi is different here in the sense that it's more about playing with colours at a convenient date and time, which is mostly the weekend. So, although we catch up but we aren't usually able to celebrate on the day. There are community centres which hold events and it's nice to catch up there," says Ankita.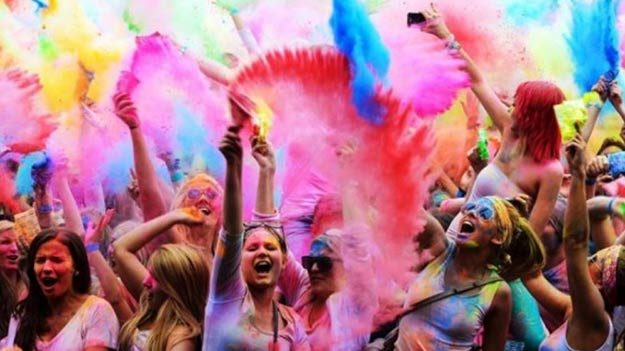 "However, I think it's not possible to beat the Holi celebrations back home! We are going to be spending the actual Holi working and in school and then maybe see friends on Sunday.
"I plan to make some traditional dishes but not as elaborate as my mum's. I do secretly hope that one day we will be able to host a party like my parents did back home", she adds.
However, people across Cardiff and the UK have taken a liking to the celebration of Holi. The splashing of colours, the lights and the 'feel good' vibe that it comes with has created a special place for people who are not from India.
"I have to say that in recent years Holi and its tradition of playing with colours and water has found [a] renowned place in the UK popular culture… Holi themed parties are not difficult to find in and around the UK," says Mithun Rane, who works as a consultant in Cardiff.
Holi is the kind of festival where anyone can come and celebrate it if they have an old t-shirt they don't mind ruining and a good aim with water balloons.
For those who want to know more about Holi and it's origins, here's a fun interactive video for you to watch and immerse yourself in the Indian culture everyone loves!