Cardiff Council is spending £4.4m to install more than 13,000 new streetlights in Cardiff in order to, amongst other, reduce crime and the fear hereof. But are we getting our money's worth for our taxes?
Twenty-four crimes happen everyday after dark in the Welsh capital, according to UK Crime Statistics.
So now Cardiff Council has taken action against the crime rates and the fear of crime, and has spent £4.4m on replacing 13,608 streetlights in order to get better lighting on all of the city's main bus routes and high ways.
"Not only will the new streetlights be good for the environment and save the residents £800,000 a year. According to a study, street crime will be reduced by 7 % in areas with better street lighting. So this new initiative can also lead to reductions in crime rates and the fear of crime," says Cardiff Council Cabinet Member Ramesh Patel, who is advocating for the new streetlights and planning their placements.
But is this really true? Will new streetlights in Cardiff help reduce the crime rates?
The streetlights' placements – why?
In 2014, Cardiff Council replaced more than 24,000 streetlights with the new LED lights. The new streetlights were placed in residential areas across the city.
"The streetlights are a key initiative to reduce crime and the fear of crime. I have spoken with a lot of students, who have felt uncomfortable walking alone at night due to the lack of good lighting," says Hollie Cooke, the Vice President of Welfare at the Student's Union.
The Council claims that the success of these streetlights have led to the 13,608 new streetlights on the city's main bus routes and highways. The replacement began in December 2016, and the Council is replacing around 1,000 LED lights a month. The replacement will be finished by the end of 2017.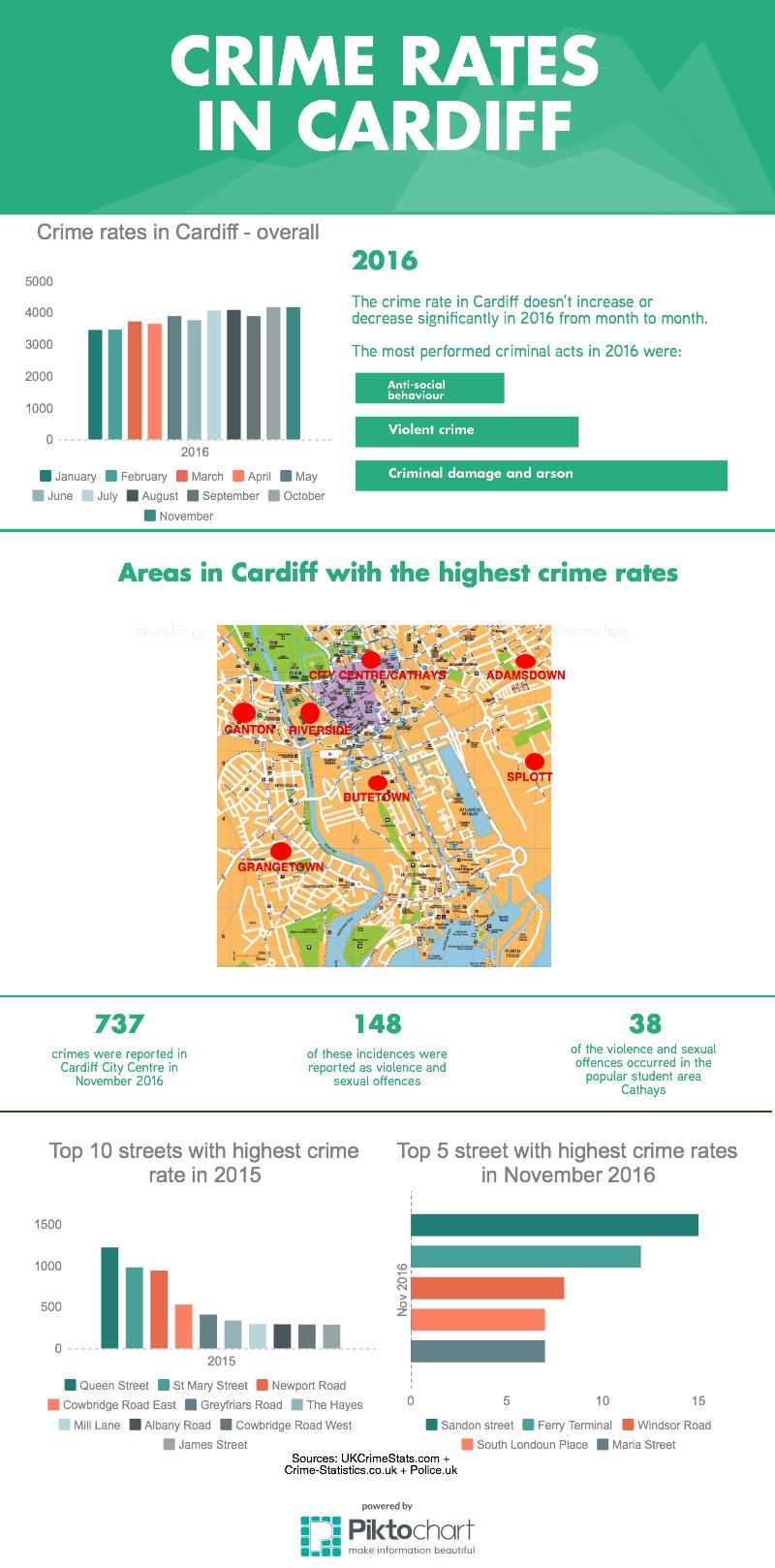 "The residential areas were chosen as the Council wanted its residents to feel safe – also at night. There is nothing worse than being stuck at home or being fearful every time you walk out of the door after 8 o'clock in the evening," says Ramesh.
He adds: "The city's main bus routes and high ways were chosen as a lot of people are travelling on these roads."
Broadly speaking, the Council has put up new streetlights in a lot of areas in and around Cardiff. Though there are still areas to be missed, such as the city centre.
"I think the city centre needs to be well lit as it should deter crime," says Street Pastor Coordinator Jackie Bradshaw, who is coordinating volunteers to walk around Cardiff at night in order to help and prevent crime.
She adds: "It is a large amount of money to be spent on lighting when perhaps they could have used some of it on other areas to prevent crime, or checked which areas have the highest crime rates in Cardiff."
By looking at crime statistics from different streets in Cardiff, it is easy to find the streets with the highest amount of crime after dark. Most of these streets are in or surrounding the city centre, in which there has not been put up new LED streetlights. In fact, amongst the top 10 streets in Cardiff with the highest crime rate more than half are placed in the city centre and not streets where the Council has chosen to put up new streetlights – neither in the first or second round.
"Currently, we have no plans to put up new streetlights in the city centre. We believe that both the police and volunteers are doing a great job in preventing crime from happening after dark," says Ramesh.
The question is then, why are the crime rates still so high in the city centre, and would new LED streetlights even help if they were to be put up?
Lights and crimes – is it even helping?
Even though surveys state that better lighting can help deter crime, crime statistics show something else.
In Canton and Grangetown new LED streetlights have been put up but when comparing the years before and after the lights were put up, 2015 and 2016, there is no decrease in crime rates after dark. Surprisingly, there is a significant increase in the crime rates.
And this is not only the case in Canton and Grangetown. The crime rates in Riverside and Butetown have also seen an increase. The only residential area where it might have worked seems to be Adamsdown. Here there is an increase in some months, but also a decrease in other months.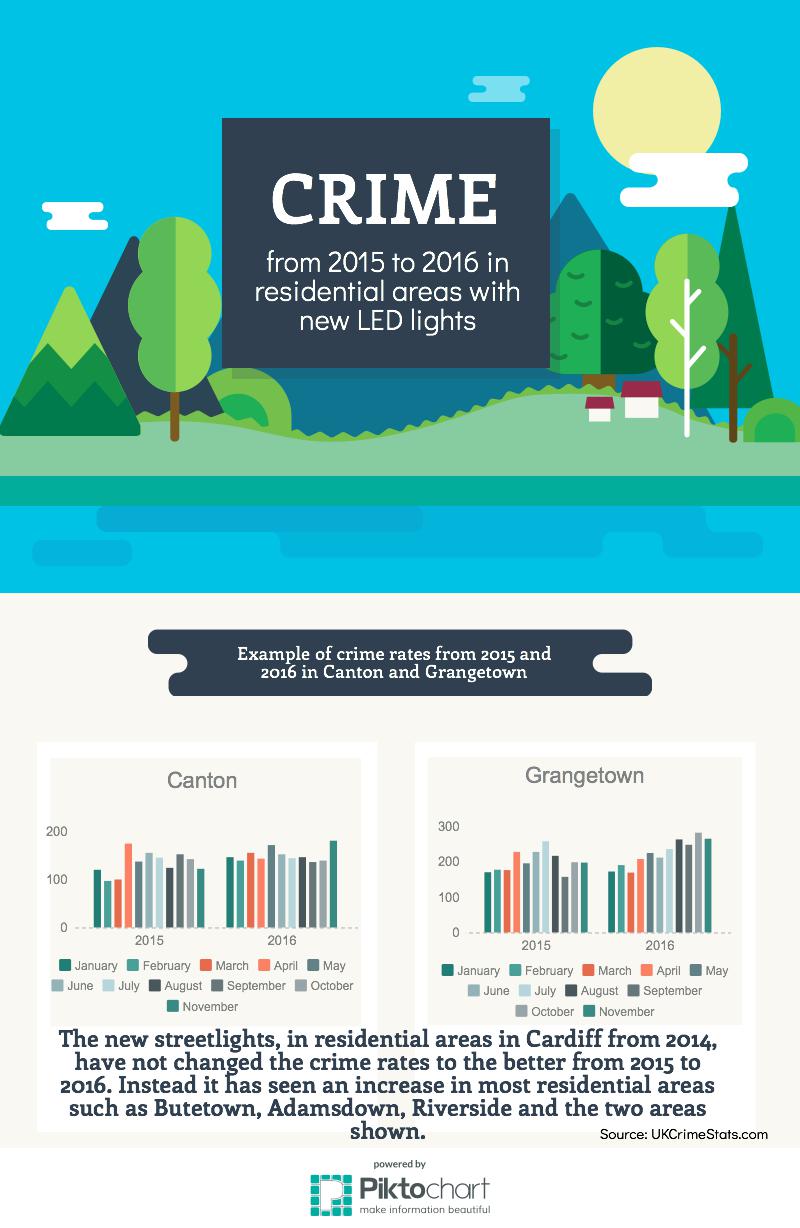 South Wales Police have been unable to comment on the significant increase in the crime rates in these areas. But Community Safety Student Liaison Officer Michael Neate says:
"Some areas will always have crime, whether there are streetlights or not. In the city centre, we see a lot of crime, even though there are a lot of people around, lights and life. Yes, good lighting can help – especially to make people feel safer – but I don't believe it helps everywhere."
So what are we actually getting for our tax money when the new lights are not helping to decrease the crime rates in the areas where they are put up and also not put up in the area with the most crimes?
Other cost effective crime preventing alternatives
Instead of spending millions of pounds on an alternative that doesn't seem to prevent or reduce crime, some people have other ideas on what the Council could have spent the money on:
"A great Police presence in the Cathays areas at night would be good, you see many officers strolling the city centre but not the actual streets," says Hollie.
Jackie agrees with Hollie, but also has some other ideas on what the money could have been spent on: "Providing safe and efficient transportation to ensure people are able to get home safely. And continue to provide training – i.e. vulnerability training and alcohol awareness."
Though there is a consensus from both women that the new street lighting is a good alternative and that it has helped a lot of people.
"From what I have heard on the streets, a lot of people are pleased with the new lighting. It makes them feel safer, where before they felt uncomfortable at night," says Jackie.

Hollie adds: "In the past there were definitely areas where I felt uncomfortable walking at night due to the lack of lighting. So if anything, this has helped in making the city feel safer. That's what I have heard from other students as well."
So all in all it seems like the new streetlights are only doing half the job they were intended to do. According to statistics the new streetlights aren't having a decreasing effect on the crime rates, but they certainly do make the residents and students of Cardiff feel a lot safer walking alone at night.
"The streetlights might not prevent all crime. But the good thing about it is: the better lighting, the easier it is for the police to solve crimes. It is definitely worth the tax payers money – including my tax money," says Michael.
.embed-container { position: relative; padding-bottom: 56.25%; height: 0; overflow: hidden; max-width: 100%; } .embed-container iframe, .embed-container object, .embed-container embed { position: absolute; top: 0; left: 0; width: 100%; height: 100%; }