Explore an antique shop located away from daily passers and few walk-ins to find a wide range of Cardiff brought from various parts of the world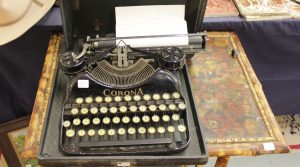 Though Cardiff remains very much explored for its famous places, a few location have managed to stay unnoticed for public view. Jacob's Antique is one of those.
Located, behind Clayton hotel, the shop remains quietly hidden along the pathway.
The antique shop has a very modest entry, but is a treasure on its own with all the items can be imagined contained in three floors.`The place is shared by number of dealers, owning sections on each floor and have a wide range to display of various items from world war period guns, grenades, hand of mummy, lighters, crockery, mannequins, clothes, chandeliers, chairs, posters, music albums, gramophones and many other pieces all stacked up in every corner of the three floors.
Apart from the assistant manager on the ground floor, the dealers of these conservers are antique as well but will greet you with a very friendly smile and be most eager to share stories of their valuable collections. The place has music playing through antique music players across all floors.
Mr Tony Hunter is one such person who believes that the antique shop is secretly given its location. "There have been visitors in this building who have been living in the city for the past 20 years, coming to me and saying they did not know such place exists."
Tony says very few people frequent the place and popularity for antiques is dying.
He has a collection of guns belonging to world war era and some rifles used during civil war. He proudly boasts about a hand of an original mummy from 200 BC which he managed to get with great difficulty. "There are swords from Japan and other places brought from dealers and other collections sourced from different parts," he says.
Another Sean Lacey has an original collection of antique arms and military. A wide range of world war era uniforms, gas masks are prominently displayed in the store. Ceramic bottles, minerals, fossils, medical and scientific equipment are among other collectibles at his store.
About sourcing these valuables, Sean says on many occasions, antiques come directly to him. "Many people enter the shop showing some rusted or an antique item found in backyard or garage which they want to sell it for a good price," he says.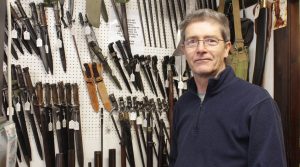 Apart from the characteristic of place being lesser know, dealers also share a common view of visitors coming from all strata of society. They fancy many things and all depends on the fashion. It is the customer who decides the price, if he feels it's worth it, he'll buy, the dealers feel.
About changing tastes and trends they believe the demand of antique to have it as memorabilia has gone down. The choice of customers have changed over the years and they look for something that relates to their generation.
Middle aged people usually come asking for antiques like a VCR or DVD player and also video games serve some examples of it.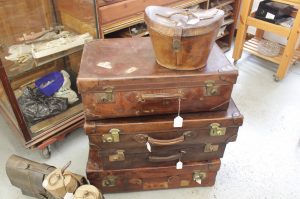 Michael Coolng, assistant manager at the shop says most of the items in the complex are genuine antiques while some of them are reproductions. "One can buy an antique from a quid and can go as high as few thousand quids. You never know what might catch the fantasy of the customer," he says.