Host UK seeking more volunteers for international students to experience British Christmas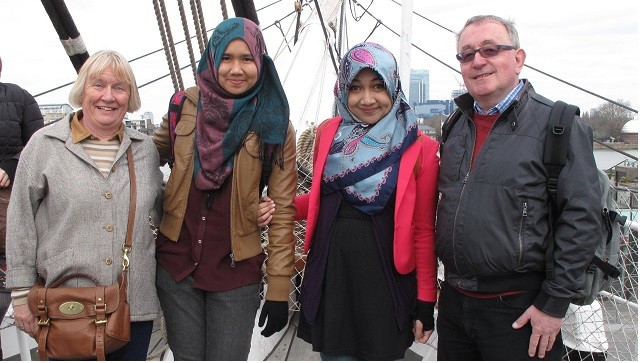 More overseas students who feels lonely staying in Cardiff during December could have a opportunity to experience British Christmas with host families.
A charity organisation Host UK is arranging visits for students at British universities to host families and looking for volunteer families who can invite international students for a few days over Christmas.
Lynette Chappin, a voluntary regional organiser in South Wales, 72 from Cardiff has been inviting students since 1991. Her guest students have come from nearly 15 countries ranging from US to East Asia.
"Lots of international students are in the universities in Cardiff. I'm usually busy to do other thing, but enjoy having visitor and enjoy to get in it and manage to fit it," she said.
She invites students two or three times a year. She takes her guest students to Roath Park, Cardiff Bay and St. Fagans National Museum to enjoy the atmosphere of Cardiff and Welsh history.
"Two years ago, one student visited me after quite a long break. She came with her mother and brother and show them Cardiff Bay and St. Fagans! It was lovely, very exciting."
---
Q: Who can be a host?
– Anyone can be a host, but it means inviting students from different countries and you don't know them before, so a hospitality and an interest in others are needed.
Q: Is there an age limit?
– No, there are quite a lot of people in their 70s and 80s who still invite, and students have a wonderful time with them. Majority of South Wales is over 50 years old, and some families are younger.
Q What have hosting experiences brought to you?
– When we invited the first students, my son tried to find Hong Kong in the encyclopaedia and compared with Wales. That's the beginning of the learning. For me, students' home countries are not far away from me anymore. When I watch the TV news, sometimes I say "Oh, it is his/her country, isn't it?" and listen carefully.
For further information, access Host UK .