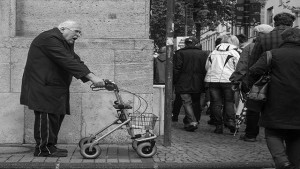 Culture difference could make international students great volunteers with old people's charities that are currently facing big cuts to their budgets.
With many old age day care centres facing closure in the city charities are on the look out for any volunteers who want to help out.
Age Connect's Gloria Yates, who has seen the funding cut for one of her projects, says that students from overseas would be very welcome at their centres.
"I had students there from the university. They were all pharmaceutical students. They came alone to sit and talk to old people their medication and their experiences of the chemic or the doctors", says Gloria.
She says that international students would be great if they'd like to come and talk to the old people. She won't think culture difference is a big problem for students as long as their English are good enough. In spite of the language problem, if students from other countries talk to the old people, it could be a lot fun for them.
Gloria Yates also mentions that they cancelled all the founding of her project two years ago. She used to have her own building at the other side of the union and her team were there for 25 years.