The International Women's Day 2017 marked the new advance in creating a gender-equal world. Under the theme #BeBoldForChange, people from different groups in Cardiff called on change with immense enthusiasm.
It's 4 pm on March 8 and the crowd gathering in the city center started to stir. A cheerful group full of women dressed in red and black, children with their face painted, as well as the peopple in wheelchairs, started the International Women's Day march called Carnival of Resistance.
After a diverse set of speakers and music, the parade group organized by Cardiff Sisters of Solidarity, with all kinds of banners and posts held high in hand, marched from Cardiff Castle down the Queen Street and up the Hayes to their destination, the Central Library.
With the theme for this year's International Women's Day as #BeBoldForChange, it brings together organisations and groups in not only Cardiff but also the whole world to recognise the social, economic, cultural and political achievements of women.
On the #InternationalWomensDay I speak up against sexual violence #BeBoldForChange #SpeakUp & #BeHeard #IWD2017 https://t.co/oKRSCR9XnU pic.twitter.com/VdH2ZzWcuj

— Ewelina Ochab ن (@EwelinaUO) March 7, 2017
Calling change on budget cuts
Claudia Boes, co-founder of the Cardiff Sisters of Solidarity community and main organizer of today's celebration event, said: "In the women's march on Washington after Trump's inauguration on January 21, 2017, there were 600 marches on the road and Cardiff had one of them. And there we found that there's lots of interest of women wanting to organize and wanting to get involved in things. Lots of women rights have been rolled back at the moment and been threatened. So that's why we founded it."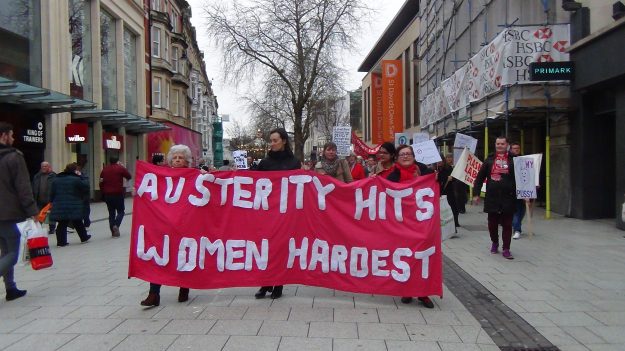 "Today's also budget day. Women are hit hardest by austerity.I would say I believe there's a big link between budget cuts and some social issues like poverty, domestic abuse, mental stress, mental lunes etc. We want to raise awareness and show the impact of budget cuts and austerity on women."
Budget cuts can have very different impacts on women and men because of their different situations, needs and priorities. The seemingly neutral policies may result in an increase of gender inequality and lose potential impacts and effectiveness they were intended to achieve. Here in Cardiff, people gathered together, male and female, youngsters and the elderly, fighting for gender equality and women's rights.
Calling change on transgender discrimination
Women's rights are not only for those who are born as a woman but also for ones who choose to be a woman.
One of the speech makers in today's celebration parade, Helena Evans, is a transgender woman.
"I just want to say: do not go down the pathway of exclusion," said Helena Evans, "There's a small section of feminist movements which is very anti transgender women. They're fairly indifferent about transgender men. There's no discussion about transgender men, yet they suffer from exclusions as much as anyone else.
"I'm here to remind people to be aware that we're a collective home. We don't all have to agree or love one another, but we do have to understand that there are basic rights that everyone has."
The showing up of Helena Evans was greatly welcomed by the public as it is not an easy thing for a transgender woman to actually stand in front of a crowd and make a public speech.
Helena Evans added: "Half of the members in my community think it's horrendous that I'm out, you know, being visible. But I think that for the next generation is coming up and the whole gender issue is getting more and mote complex, you need that level of visibility for everyone to begin to understand."
Calling change on feminism misunderstanding
The speech of Helena Evans has got the total support from Shahla Khan, a Ph.D. student who's been active on Youtube for a long time as a feminist.
Shahla Khan explained her understanding of feminism: "For me, feminism is about equality of human rights at the very basic level no matter we're men or women, transgender men or transgender women. But it's also about recognizing that since not all of us started equal, there're some people left behind and they need extra attention and care.
"Someone says that being a feminist means you have to dress in a certain way and look in a certain way. But feminism is just the very idea that you can choose whatever you want, right?"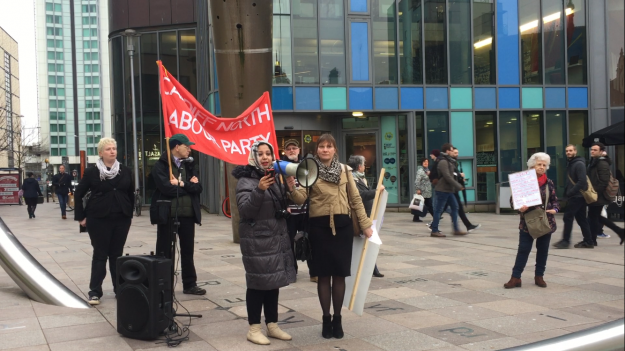 On her Youtube channel, Shahla Khan is determined to change people's understanding of feminism: "Being a feminist on social media means that every day there are people being misunderstanding feminism. They don't even have time or energy to google feminism and see what it means. It means equal rights for men and women."
This year's International Women's Day call on every change that every woman is capable of making in advancing gender equality.
Remember, #BeBoldForChange!
.embed-container { position: relative; padding-bottom: 56.25%; height: 0; overflow: hidden; max-width: 100%; } .embed-container iframe, .embed-container object, .embed-container embed { position: absolute; top: 0; left: 0; width: 100%; height: 100%; }