With Nazanin Zaghari's return to the United Kingdom, we take a look at Cardiff's vibrant Iranian community, their stories, hopes and aspirations, and their memories of home.
In 1978, Saeed Farde Moghadam came to the UK to study at Oxford University. His plan was to complete his studies and go back home but the revolution broke out in Iran and Saeed's life took an unexpected turn.
"I was advised by my parents not to return home. The situation in Iran was bad. So, I had to stay back here and I have been here ever since."
Saeed has more than warmed up to the United Kingdom in the last four decades but initially, he was reluctant to stay here.
"Six months after my stay in this country, I returned home and I didn't want to come back. Because, believe it or not, back then, it (The UK) was a bit backward compared to my country. Before the war, Iran was a very modernised country and I had the privilege to be brought up under the reign of the Shah of Iran. But my parents forced me to come back here."
That was 1979. It was Saeed's last ever trip to Iran.
He came to Cardiff in 1985 after completing his education and eventually decided to settle here and run his own business.
"Cardiff is my second home, in fact almost my first home. Because when I came to this country, I was just 17 years old, so I have spent most of my life here. It's been absolutely brilliant. I have no complaints at all. It's a wonderful country, these are wonderful people."
Saeed is also happy about Nazanin's return home but worries about what it means for the political situation in Iran and Iran-UK relations.
"On one hand, I am really pleased that she has returned home to her family but on the other hand I am quite disappointed with the British Government negotiating with a terrorist country (Iran)."
According to the US Department of State's Report on Terrorism for Iran, 2019, Iran was designated as a State sponsor of terrorism in 1984 and has continued to support terrorist-related activities throughout the middle-east.
"And it's not going to be the last of it, this one incident. It's going to happen over and over again. You can not negotiate with these kinds of people. There are hundreds and hundreds of other people still in Iran and their fate is in Iranian hands."
There are other Iranians like Saeed who feel similarly about Zaghari's return.
Firouz (name changed on request) came to Cardiff in 1979 but also had to stay back because the of the revolt in Iran.
"Revolution came in 1979 and my mum said 'stay there' because the situation in Iran was bad. So I had no choice in a way. Once I was finished, I wanted to go back. But If I had to go back then I would have had to go and join the Iraq-Iran war."
Firouz hasn't seen his family in sixteen years and wonders if he will ever be able to go back home to see his sisters.
"It's a rogue government. They are using people as bargains. If you kidnap someone and get paid to release the person, then you will do it again. Because nobody cares."
"I am not sure if I can go back. Its chaos. You can be detained or arrested for any reason if you go back. And nobody can do anything about it.
He feels a sense of regret as he reflects on how the situation in his country has deteriorated over the years.
"The country was vibrant. It had a GDP of 9.3 during the Shah's reign. It's not going to be the same again. Workers from other countries were coming to Iran. Now everyone is leaving Iran. All the young, intelligent people are leaving the country. It is the best asset of any country. And it's really sad to see that happening to my home country."
After a long moment of reflection, he cheers up, "Tomorrow is the Iranian New Year so I have to do my Haft-sin. "
This time of the year is a cause of celebrations for Iranians all around the world. The spring equinox that takes place on the 20th of March every year is celebrated as the Iranian New Year or Nowruz. The origins of this celebration date back three thousand years. The celebration lasts for thirteen days. Haft-sin is a traditional table setting with seven sacred items, around which the family members get together to celebrate the new year.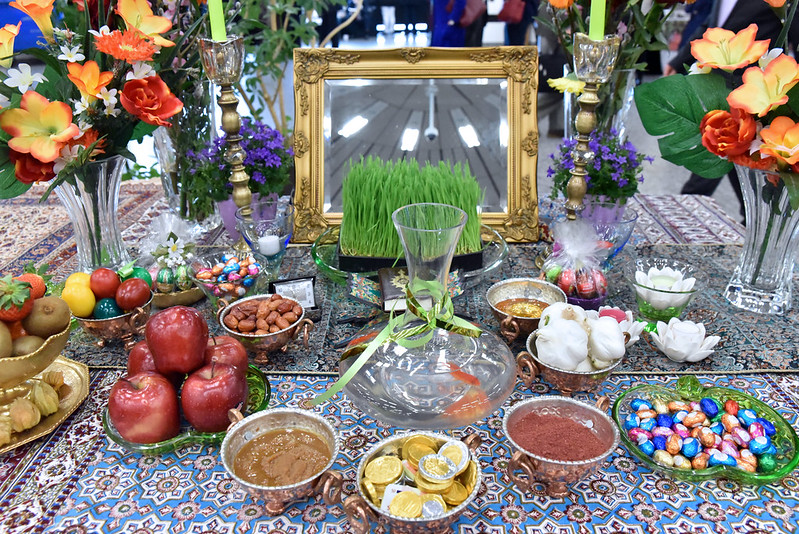 "Its much like Christmas here," said Amir Khusravi, 41, who came to the UK in 2008 as a refugee and has been living in Cardiff since the past twelve years.
Amir recalls his memories from back home and longs to see his loved ones. "Not being able to spend time with my family on this day for fourteen years, it's not a very pleasant experience."
Amir's status as a refugee prevents him from going back home to see his family. He says that if he goes back even to see his family, it would imply that he is safe to be in Iran which would mean that he does not need to be a refugee.
"All my family lives back in Iran. I haven't seen them for almost fourteen years. If I travel back to Iran, it will put a question on my refugee status."
Amir also feels that Nazanin was used as a pawn for negotiation and is not sure if it's a positive development politically.
"For Nazanin, it's a good sign that she was released after six years of uncertainties but there is no doubt that she was used as a bargaining pawn. It also does not indicate a better relationship between the UK and Iran."
"What would improve the relationship however would be the UK government taking a more moderate stance in the immigration policy towards Iranians."
He fears for his aged parents and feels guilty about not being able to look after them.
"If something happens to them, if there is an emergency, there is nothing I can do, I cannot go back. It's a very huge emotional burden to carry on your shoulder on a daily basis. But it's, unfortunately, a part of the choice we make when we have to leave our country and seek refuge in other places."
He hopes that one day his family will be able to come and visit him in Cardiff. "I would really like to see my parents. They are really old now."
There is also a new generation of Iranians like Maria, 38 who has come to the UK in search of better opportunities and prefers Cardiff to London.
"The people here are more friendly. When I talk to the local people here, they smile and answer. Because I am from a small city in Iran so I prefer smaller cities in other countries compared to capitals."
Although Maria is not a refugee like Amir, she also feels unfairly treated in one aspect.
"If you come here officially, then it's not easy to change your job but other people who are refugees, can change their job easily. There are plenty of people here who told us that we should change our position from visa based to refugee based but I don't want to do that. I am an educated lady; I have two post-doctorates. I want to work and live on my own."
There are also people like Sayyed Ahmed Reza who are very happy about their life in the UK.
"I love how multicultural this city is. People come here from all parts of the world," says 60-year-old Sayyed, who works as a night-shift guard at a student accommodation and has been in Cardiff for twenty years.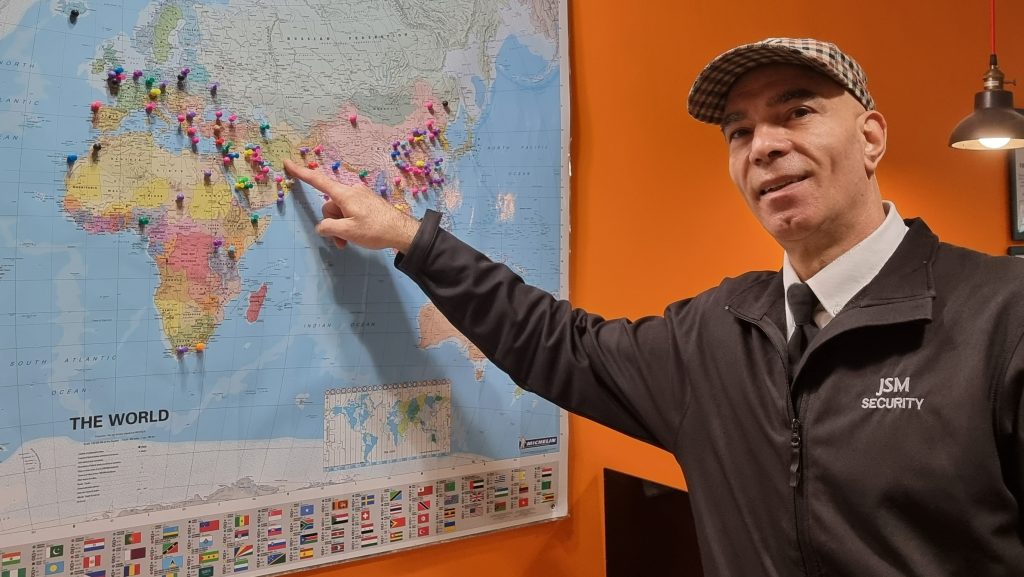 Sayyed has also not been able to see his family back in Iran for many years but hopes to be able to go back to meet them this year.
" I hope I get to go home this summer and see my beautiful mother."