On November 15th, a young woman went out in the rain to distribute envelopes to unsuspecting neighbors. She slipped one envelope into a mail slot across from her home. That pink envelope came through my mail slot with two notes with candies attached. The messages inside were signed with a hashtag: #payitforwardcdf (Pay it Forward Cardiff).
I searched the hashtag on Twitter and came upon two tweets by Anis Najwa Nazari with photos of the letter-making process. She, along with others of her faith group, had gone out that Wednesday to distribute the messages in the Cathays area. After some back and forth on Twitter and through e-mail, we'd agreed to meet at her home. As it turns out, we are neighbors on the same street.
[<a href="//storify.com/InterCardiff/payitforwardcdf" target="_blank">View the story "#PayitForwardCDF" on Storify</a>]
Anis is from Malaysia, studying law in her third year at Cardiff University. She and seven others of her Islam study group, Khawlah, got the idea from a film.
"We watched the movie Pay it Forward and we discussed the purpose of charity and it's relation to the Qur'an," she says.

"A week after, I talked to the girls [to say] that we need to manifest it into deeds," Anis says. "We thought about making the world a better place but in an affordable way and a practical way. So, that's why we came up with the idea to distribute [notes] to the neighbors." Because they were shy to go up to people face to face, they opted to place the letters in mail slots. "
The group's name, Khawlah, comes from the name of a powerful feminine iconic, Khawlah bint al-Azwar, who was a Muslim Arab warrior with a legacy of astonishing acts of leadership during the lifetime of the Islamic prophet Muhammad during the Seventh Century C.E.
Jon Tanner, a neighbor of Anis, received one of the messages.
"One of my housemates must have picked it up from the door but it's a little letter that said a nice little message in it with a chocolate and a sweet. It gave me a little smile. It was quite rainy outside so it was nice to come home to a surprise," he says.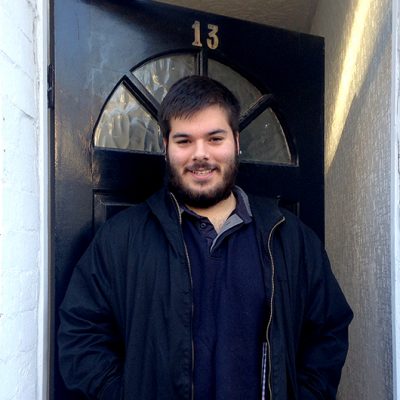 "I would like to [pay it forward] but whether I get around to it would be another thing, to be honest. It's a nice idea, though. If everyone did that, I suppose the world would be a better place," he says.
#PayitForwardcdf has continued with more local actions by the group. "Last week we [went to] Winter Wonderland and bought tokens and gave them to the kids," Anis says. "It's not a really long-term effect but as long as it changes something it will be effective."
The project has also spread on a small scale to Bristol. Anis says that a friend of hers has taken up the charge by making sushi for her neighbors. "It's not about paying anyone back but to literally pay it forward. Even in small ways," Anis says.
"I just want people to do good to each other because we are living in a very cruel world now so, that little act, if it can make a change then why not?"