A new bus interchange will open in summer 2018 and the costs of the ambitious scheme will remain confidential.
The interchange's concept design includes bus station, airport style lounge, bike repair shop, restaurant and café with a glass canopy linking the train station to bus station.
It is regarded as one of the most ambitious regeneration schemes the city has seen in decades, the council say they will bring in a consultant to assess the multi-million pounds cost of the scheme, but until the final design is signed off, any costs are estimations.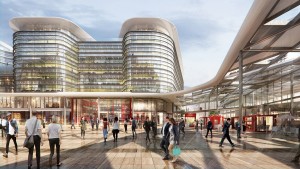 Peter Piper, a worker who lives in Cardiff, says: "What a joke! A very bad one at that. Illustration of a high rise multi purpose drive through building. Cardiff, the capital city of Wales, will have a 'transport hub' housed under a corner of the new capital square. For a city striving to eliminate car traffic from its centre, this will do nothing–an inadequate scheme that cannot possibly cope with bus routes into and out of the city. It very much looks like a purpose built bus station will have to be built sometime in the future."