Wrestling may not be something you would typically associate with Cardiff, but Mark Andrews AKA Mandrews AKA White-Lightning is a world-renowned professional wrestler and hails from this great city.
Mark started training just before his 13th birthday and has spent over a decade travelling all over the world performing and honing his skills .
An entrepreneur from the start, he "bought a boxing ring for £100 off Ebay, set it up at Cathays community centre and put on some backyard wrestling shows", many shows and many years later and that same location would be the venue for what was originally billed as his farewell show "Mandrews Goes to America".
He has been a regular fixture in the US ever since winning the second series of the show British Boot Camp in 2014, bagging himself a contract with the second biggest wrestling organisation in the world, Total Nonstop Action (TNA Impact) Wrestling. "When they did the second series of British boot camp they decided to make it a lot bigger than the first, so the announcer from TNA went around loads of shows in the UK scouting talent and who they thought were the best British wrestlers, and I happened to be one of them."
The programme followed 12 of Britain's most promising wrestlers and Mark came out on top, "It was weird because everybody kept saying that it was rigged, so I thought even if it is then at least I get to go on TV for a bit, and when it came down to it I ended up winning the whole thing, so if it was rigged then I was the last to know."
It's a bird…It's a plane…No, It's @MandrewsTNA! A shooting star finish to defeat @AidenOSheaTNA! #IMPACTonPOP pic.twitter.com/1QXgyl4QEw

— TNA WRESTLING (@IMPACTWRESTLING) December 9, 2016
"It was essentially a reality TV show, an X factor for wrestlers. It was a really fun experience and it sort of put everything into perspective, wrestling is essentially reality TV, it is quite obviously fake but it is all about suspending disbelief". He is a man of truly profound insights considering he gets thrown off ladders for a living.
"It's not about believing it's real, it's about forgetting it's fake, there is a big difference between the two!"
I was surprised to hear how much of a rich history there is for wrestling in Britain as it is something people tend to associate with the US. "In Britain, back in the 60s and 70s there was a huge wrestling scene, when World of Sport was on ITV it was mainstream Saturday night tele, then the Americans came along and made it into something that we couldn't really compete with. That's why for so many years there has been a real lack of wrestling here, but now it is just starting to build up again."
Back home in Cardiff Mark helps to run Attack! Pro Wrestling and despite their achievements could never be accused of taking things too seriously "I've been doing this sport for nearly 12 years now and it is a huge part of my life, but at the end of the day it's just guys in tights hitting each other in the head."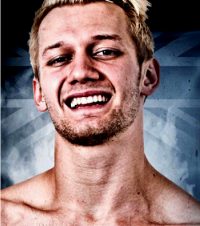 Mark puts the resurgence in independent wrestling in the UK largely down to social media, while I suspect he underestimates how much their popularity has grown because of his success. ""The internet has changed everything, when we did our first show in Cathays obviously the internet was around but social media marketing wasn't as big then, we went round the area and handed out about 5,000 flyers and would still only draw 100 people, now we don't produce any flyers and can sell out shows in less than 15 minutes."
After attending a couple of Attack! Pro Wrestling shows it was clear that they have a loyal following "The crowd is relatively split, half of them we see every weekend, there are a few real cult fans that I see all over which is great because they are so supportive, but the casual fans who just come to the occasional show are some of my favourite fans because it is new and exciting for them."
Between regular trips to the United States and putting on shows with independent wrestling groups across the UK, Mark also finds time to tour with his pop-punk band 'Junior' and is the co-founder of the clothing brand 'Defend Indy Wrestling'. The influence of what I guess most generally would be called alt-rock is clear in the style of the merchandise, and certainly promotes the feel of a legitimate subculture. "It is not that the band is a backup plan in any way, I'm trying to push both, obviously wrestling is going very well at the moment but if it the band all of a sudden was doing particularly well then I could dabble back and forth."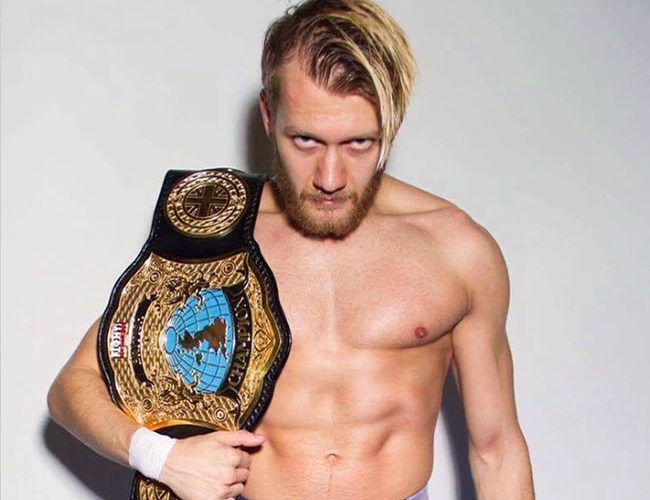 The subject of retirement may seem a bit premature until you consider he has already been doing this for 12 years and has wrestled in 10 different countries, "Wrestlers do tend to go on forever, they come back when they're 50, 60, it just goes on and on. I never want to have a final match but that doesn't necessarily mean I want to go on after I'm 30."
Still unsure whether he is trying to convince me or himself, he talks himself out of retirement remarkably quickly "if in five years-time I am about to headline Wrestlemania then obviously I'm going to keep going!"
See Mark in action here:
.embed-container { position: relative; padding-bottom: 56.25%; height: 0; overflow: hidden; max-width: 100%; } .embed-container iframe, .embed-container object, .embed-container embed { position: absolute; top: 0; left: 0; width: 100%; height: 100%; }