Activists call out government for secretive bird shooting in taxpayers' land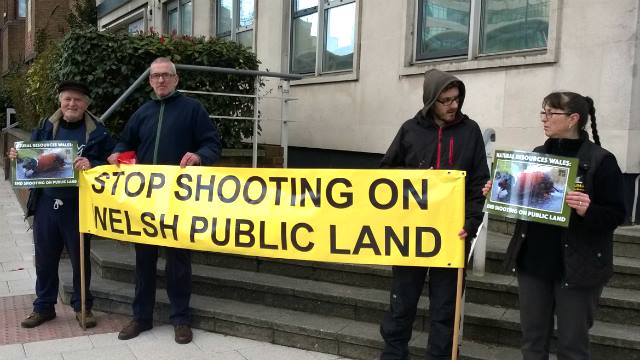 Bird shooting should be banned on all public land in Wales, defend animal activists protesting in Cardiff this week.
The group are against unreported license renewals that allow shooting pheasants and partridges in government owned land, says demonstration organiser David Grimsell.
"Bird shooting is widespread throughout Wales, but it is unreasonable to allow taxpayers land to be used for this when so many oppose. It causes unnecessary suffering," says Grimsell who is a long-time animal rights activist.
One of the group's main complaint is the secretiveness around the issue by the government's environmental branch, Natural Resouces Wales (NRW).
While shooting is a popular sport in the UK, bringing around £2 billion to the economy, activists want to show NRW that many dislike the killing of animals for fun. Grimsell plans to organize several protests around Cardiff ahead of the organisation's meeting to discuss the issue on the 17th of March.
The protesters' efforts are being supported by Animal Rights UK, the world's largest animal group. Campaign manager Fiona Pereira explains they first uncovered NRW's actions through Freedom of Information requests.
"We are working hard to expose the full extent of shootings on NRW land because, as far as we know, there has been no public consultation over this issue. It is important to back demonstrations and groups talking about it," says Pereira.
So far, Animal Aid UK's own e-activist's campaign against NRW has been extremely successful online. Over 1700 people already signed the petition.
Now, Pereira hopes the recent Cardiff movement raises awareness towards other problems with shooting for sport.
"The problem isn't limited to birds. Animals such as foxes, that are labelled by the shooting industry as 'pests', are also being illegally killed in thousands to protect game birds until it is time to shoot them," says Pereira.
South Wales's Fauna Wildlife Rescue has also actively written about the unreported permits on their Facebook page.
"Pheasant shooting is environmentally destructive. Large numbers of captive pheasants released into shooting woods cause a strain on food availability for native wildlife," says representative Vikki Fauna.
Natural Resources Wales insists their leases protect wild birds.
When talking to InterCardiff, NRW's marketing team quoted leader David Edwell, "Managing woodlands for such species can actually be an incentive for nature conservation and be of benefit to other woodland wildlife."
The British Association for Shooting and Conservation (BASC) also sees no reason for the activists' indignation.
"Public land should be available for all to use, without any discrimination. There are many forms of use and shooting is one of the few that pays," says Gary Ashton, the director of BASC's Welsh sporting services.
He adds that there are other activities on public land that need to be better managed. "On heavily frequented trails, mountain bikers and walkers cause damage and erosion to our mountain and coastal paths," says Ashton.
However, Harry Llewellyn from Royal Lisvane High Bird Shoot, a privately run shooting venue, understands protests against shooting in public land as it is not an activity everyone enjoys.
Llewellyn's main concern is that recent campaigns misrepresent all shooting.
"There are benefits to our sport. Family run businesses like ours can introduce birds to the local area. We plant extra crops and grow extra trees to give better places for the birds to flourish giving them good places to rest and keep warm," says Llewellyn.
Meanwhile, Grimsell sees no good in killing animals for sport.
"I hope the NRW don't renew or increase these licenses," says the head of Cardiff's demonstration, whose movement already got the attention of the Welsh Minister, "The Minister says he will not directly intervene on the grounds that NRW has a certain degree of independence, but he has asked for the issue to remain under review."
Grimsell will present a report on the harms of bird shooting to NRW board members this month. As it is, shooting on public land seems too controversial to be decided without citizens' input.