Cardiff Council backs a part of budget cuts to art after massive protest by artists and residents.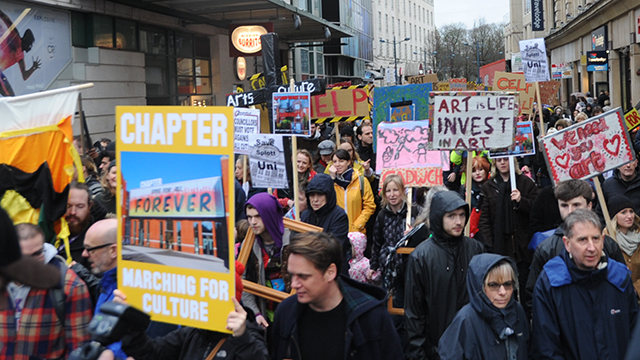 Artists have welcomed the recent move by the Cardiff Council to partially roll back the funding cuts to institutions supporting arts and culture, albeit with caution.
The Council had presented its revised budget proposal on 12 February, including cancellation of cuts to three art institutions and community art grant.
Ms Laura Drane, one of the organisers of the protest campaign Cardiff Without Culture?, said, "We welcome the apparent good news from the council about them continuing to invest in Artes Mundi, BBC Cardiff Singer Of The World, and the community arts grants.
"Importantly, we know this is only a one-year settlement and none of us want to be back here in 10 months."
In December, Cardiff Council had announced a budget cut of £641,000 to arts and culture as a part of the savings proposal.
Artists and residents are petitioning the Council to stop the cuts, claiming that they will have a negative impact economy and tourism of the city. More than 6,000 people signed a petition urging the government to roll back the cuts. On 6 February, nearly 500 people marched in the City Centre to raise public awareness.
The Council had also invited suggestions from the citizens, which revealed that 40.9% of respondents disagreed the reduction in community arts grant compared to 38.9% who agreed. There was more of a consensus on the cuts for other fields.
Reflecting on these responses, the Cabinet withdrew a part of cut for institutions that organise international competition and exhibition.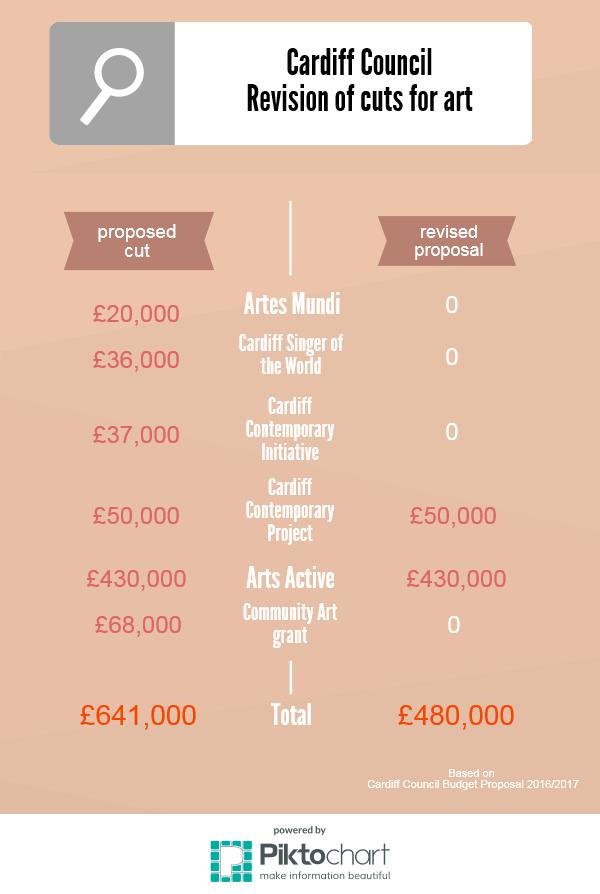 But institutions like Arts Active – considered important for community in providing education and audience engagement projects – continue to face budget cuts.
Councillor Peter Bradbury, the Cabinet member of Community Development, Co-operatives and Social Enterprise, said at a Economy and Culture Scrutiny Committee meeting, "Those things are vitally important to cultural community in Cardiff. We all keep trying to same level alternative services as close as possible."
A resident who attended the Committee meeting said, "It's not only about money [but] the attitude of the Council to art and culture."
Ms Drane says: "The council should see us as a force for good, an asset to be mobilised.
"Our medium-term aim is a more collaborative approach to investing in the arts in Cardiff, with a better relationship defined between the arts and cultural sector and the council."
The budget for 2016/17 will be discussed during the Council meeting on 25 February.