Cardiff citizens held a virgil not only to mourn the 27 people died attempting to cross English Channel but also to condemn the UK government's refugee policy.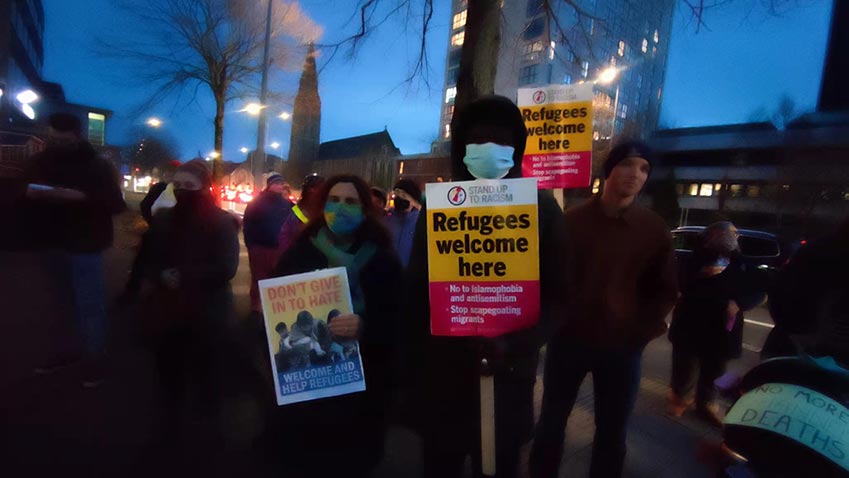 Cardiff citizens held a vigil for 27 refugees who drowned in the English Channel last week, demanding that the UK Government stop penalizing refugees based on journeys they made.
Around 50 people gathered outside the Home Office building to pay tribute to 27 people who died at the UK's boarder as well as to protest against the UK government's refugee policy.
"We need to say no deportation for any refugee. We need to say it aloud and clearly that refugees are welcome here," said the female social worker Helen Osullivan, "27 refugees are dead in our oceans. Let's protest regularly before the UK government stop such tragedy from happening again."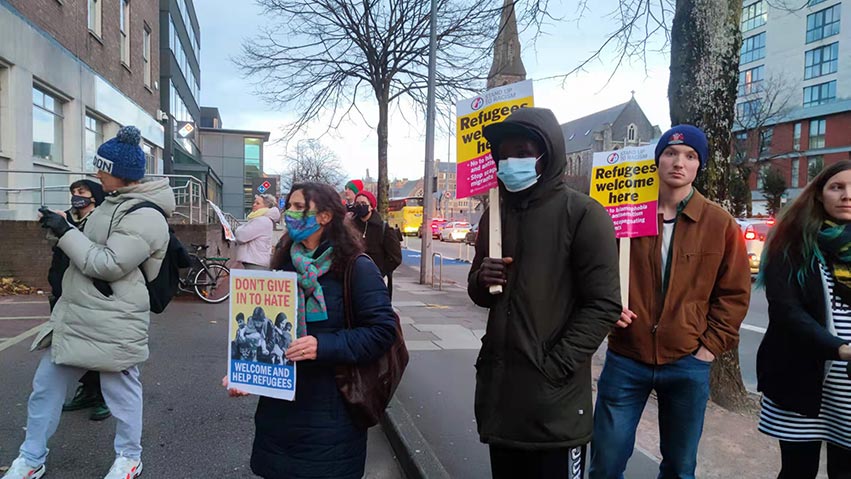 Last Wednesday 27 people, including three children died when their boat capsized while trying to cross English Channel from France. It was the deadliest shipwreck in the English Channel since record keeping began in 2014, according to the International Organization for Migration.
Participants took turn to made speeches at the vigil. Local citizens of different age and occupations as wells as immigrants voiced their opposition to British policy of treating refugees and immigrants.
Anyone who arrives in UK via "irregular" routes (aka on an unexpected boat, lorry, or flight) will be criminalized and punished, according to the UK government's Nationality and Borders Bill.
The Senedd tabled a statement-Opposing the Nationality and Boarders last Thursday to call on the UK government to stop penalizing refugees based on journeys they make and work collaboratively to build a more humane asylum system.
This campaign was an echo of the Senedd's opposition to the UK government's way treating refugees and asylum seekers, according to Helen.
Participants lit candles and placed flowers and signs on the steps of the building in the vigil for the refugees who died in the English Channel.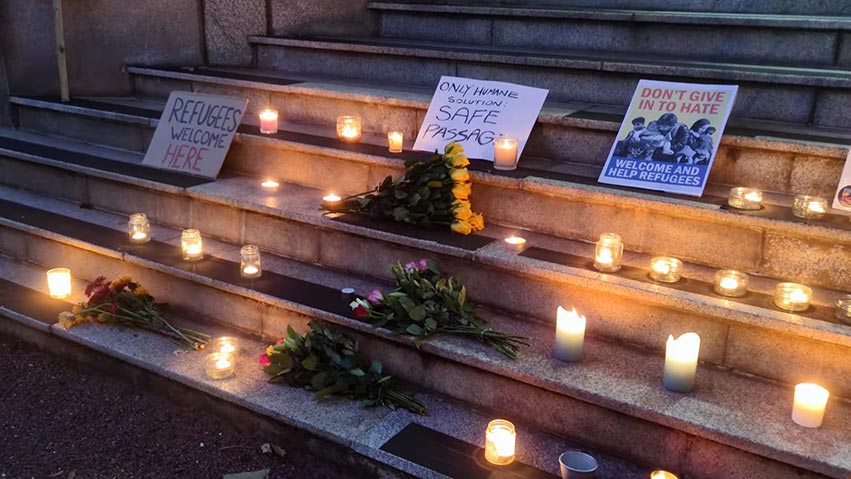 Hussein Said, a local asylum lawyer, said the government's treatment towards refugees is dehumanizing people. "It's just basic questions like why should a woman in the Iraq worrying about dying and her children dying in five years because of the dangers of society, when rich and powerful people here criminalize the asylum seeker trying to get in the way of legally claiming asylum," said he.
"We can't stand by and allow that happen!" he shouted.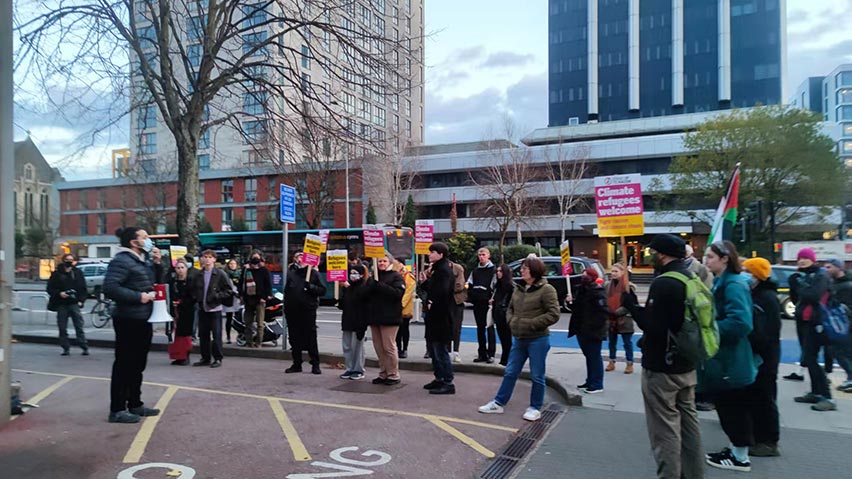 Hussein emphasized the role of campaign in changing government's decision-making as public opinions does matter in UK society."They rely on people's vote. Their pressure was the public opinion. At the end of the day, these people know that they've been voted in by people, and they don't want to look too bad," said Hussein.
Maggie Morgan, a 57-year-old teacher came up and led the crowd in a shout of "CROESO" which means "Welcome to Welsh".
Maggie has 30-year teaching experience with unaccompanied refugee children. She found they were very gifted students and she had great affection and compassion for refugees.
"I was heartbroken and vigilant to honor them and to show support to refugees and asylum seekers," said Maggie. "My refugee students are amazing young people, and they're an asset to this country. I want to tell the world we need refugees."
Yayhi Al-Faifi, 62, a retired worker, shared his experience of seeking asylum in UK after being exiled from Saudi Arabia. However, he was overburdened with work by the capitalists here and earned only £70 a week for his family of six.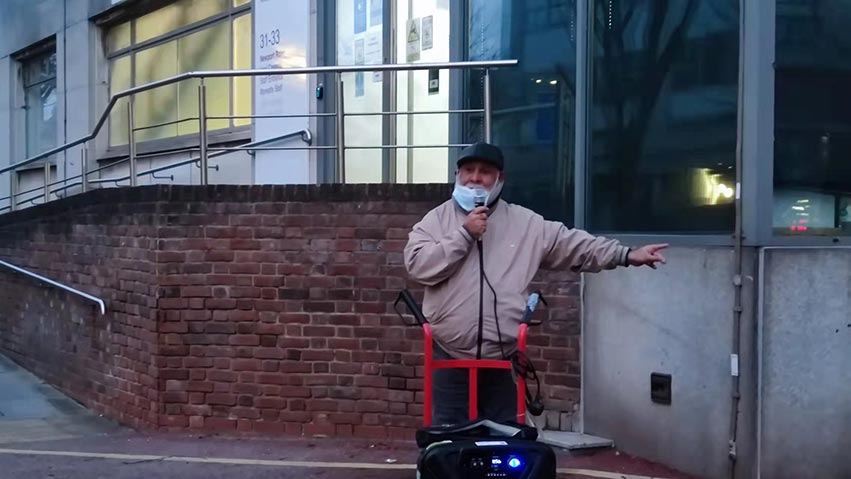 Tia Roach, 19, a member of Black Lives Matter Cardiff, said that refugees' causing social instability is the propaganda lie of British government. "Our enemies are not desperate refugees who are in need of shelter, and housing, food, etc. Enemies are the people up above who don't feel like caring for the people in their own country," said Roach.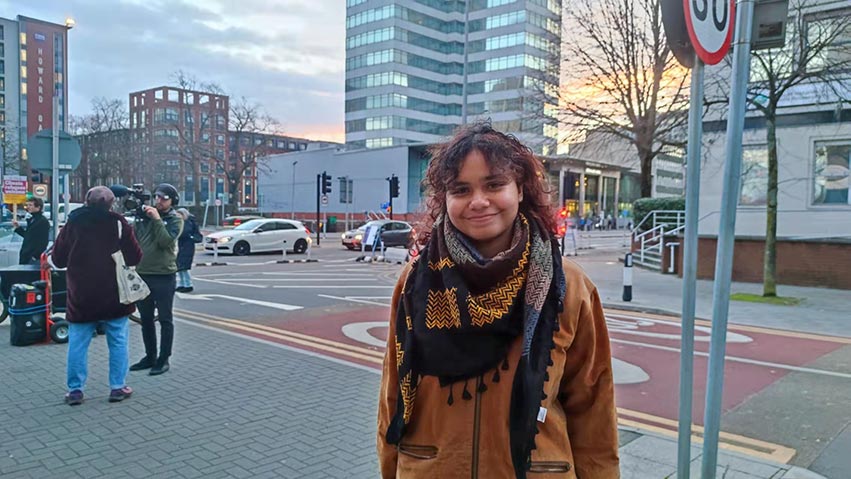 "They refuse to give housing to unhoused people. They basically refuse to feed poor children in this country. All they care about is profit," said the girl. "I think a great step in the right direction for them must be accepting refugees from borders."