While the protesters demand scrapping of Britain's nuclear weapons programme, the government says it can't risk national security
Hundreds of protesters from Cardiff joined the national demonstration against Britain's Trident nuclear weapons programme in London last Saturday.
The demonstrators, along with Labour leader Jeremy Corbyn, opposed the renewal of the submarines carrying Trident nuclear missiles, calling the programme unethical and a waste of public money.
"Trident is a world destroying nuclear weapons programme that puts the future of humanity at risk," says Ross Saunders of Socialist Party, which led a delegation to the London protests from Cardiff. "This is an obscene weapon. This weapon can never be used ethically. It can't only hit the bad people. It will hit all."
"We are also opposing it for massive expenses. This is a time when there are cuts in almost every sector," says Jeff Hurford, an anti-nuclear activist. The spending budget announced last November had cut down expenses worth £20 billion across governmental departments.
The UK government's Security and Defence Review 2015 puts the total cost of manufacturing the submarines at £31 billion with an exigency fund of £10 billion.
"It is a question of priority. In place of spending money on nuclear weapon, it can be spent on languishing sectors like housing, National Health Service and also on education," says Adam Johannes, Secretary, Cardiff Stop The War.
The UK parliament will debate and vote to ratify the renewal of the Trident programme by 2016 for the procurement of the new submarines by 2030.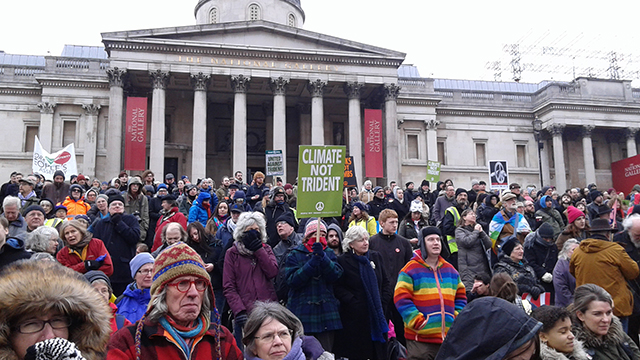 Rallying behind the demonstrators, Labour Party leader Jeremy Corbyn told the gathering, "It's a weapon of mass destruction. Nuclear weapon was used only once in Japan in 1945 and we can still see the consequences and signs of destruction. I think the decision makers should think about the humanitarian effect of using the nuclear weapons anywhere in the world."
Leaders from other political parties, including Green Party, Scottish National Party and Wales' Plaid Cymru, have also showed solidarity with the Stop Trident demonstrators.
The anti-nuclear activists have been lobbying with the Welsh MPs and Assembly Members and appealing for opposing the programme.
"We will talk to the Welsh Assembly members again to make Wales a nuclear-free zone," says Marie Walsh, organiser of Wales-based anti-nuclear campaign, Trident Ploughshares. "So if Scotland decides that they don't want Trident, it should no way come to Wales. We don't want nuclear weapons on the Welsh shores."
The Cameron government has ruled out any possibility of going for unilateral nuclear disarmament risking national security.
Welsh Conservative Party leader Andrew RT Davies says, "Let's be clear, Jeremy Corbyn's world view is dangerous, rather than naïve. We have to accept that the dangers we now face as a nation are growing in complexity. We can't predict the threats. That's why disarming now and abandoning our nuclear deterrent would be a reckless gamble with our national security that would play into the hands of our enemies."
The coalition of campaign groups in Cardiff is planning to organise more anti-Trident protests ahead of the final debate in the parliament later this year.
Cami and Jerry share some facts about Trident