For the last three months, women have been able to buy eco-friendly menstrual products in supermarkets across the UK.  Ella Daish explains how she helped to achieve this step and why she is fighting to eliminate plastic from these basic items.
A few months ago, Ella Daish (26) had one of the most surprising conversations in her work as post-woman in Cardiff.
One morning a co-worker of Daish, a man in his fifties, showed up to tell her about the discussion that he had with his wife the night before. He couldn't wait.
"They had a long discussion about period products and reusable products like menstrual cups. He spoke so openly to me about this, which I never expected to happen. It was brilliant!" says Daish with a big smile in her face.
Daish co-worker knew that she is one of the loud voices campaigning against plastic. Last year, she started a campaign at Change.org to put an end to plastic in all menstrual period products, which already has 106,000 supporters worldwide.
She plans to reach 150,000 people. Then, she will knock on the door of big manufacturers in the UK, among them, Procter & Gamble, to demand they remove all the plastic content from products like pads or tampons.
"My dream is all menstrual products and all packing to be plastic free. The whole product. That's my ultimate goal," says Daish.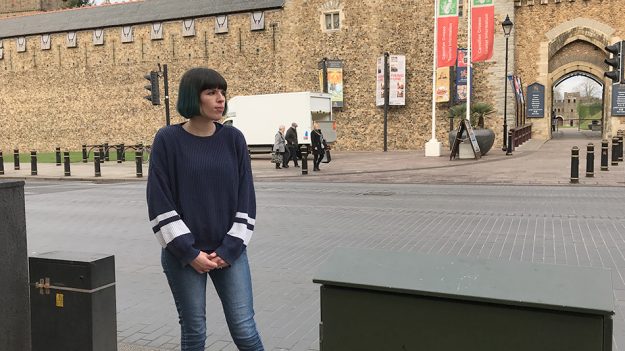 For Ella Daish, the road to eliminate plastic from period products started walking the streets of Cardiff.
During her job as a post–woman, she noticed the increasing number of bags with rubbish week by week. To help, she decided to look how she could reduce and cut down her own plastic consumption.
But the real revelation was when her period started. "I was really surprised how much plastic was in the products," says Daish, pointing out that is something that is going to happen every month for 30 years.
A regular female period product can be quite toxic for the environment. They can be made from to 90% plastic. Plus, most of them end in the ocean.
"This not only affects the individuals that are using the products," says Daish. "Affects other people, like those who are swimming in the ocean or walking along the beach. Is affecting wildlife on the planet. Something that we all care about, men and women."
According to the Marine Conservation Society, almost two billion of these items are flushed every year in the UK.
But the biggest problem for the campaigner is the way that the plastic is produced.
"It has been used for products that you are going to be using for seconds, minutes, or an hour. Such a short lifespan is because the way that the product has been designed," she explains.
For example, Daish says that tampon applicators used to be made of cardboard. Now, most of them are made of plastic because it is cheaper for companies. These applicators are used for seconds and can take more than 500 years to breakdown.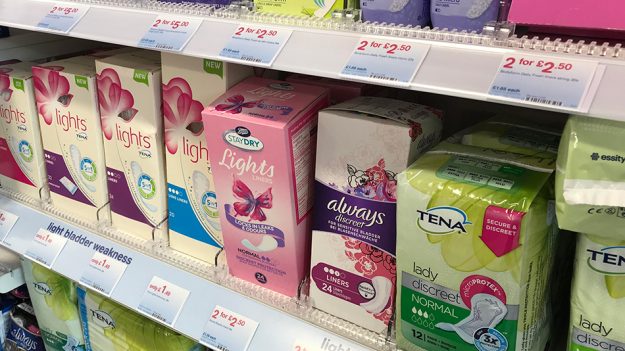 That is why she is targeting big manufacturers and supermarkets to take responsibility for the plastic that they are selling or using in their products.
On October of 2018, her movement achieved a big step. The retailer Tesco decided to sell eco-friendly period products as a consequence of the campaign.
"Even though they haven't changed their own products yet, which is what the campaign is predominantly calling for, they are taking a step in the right direction. Before, the only thing that you can buy in supermarkets was plastic period products," says Daish.
But the price of these products is still an issue. Usually, the consumer has to pay more for the eco-friendly options leaving without choices women who cannot afford the difference. "It should be something that is cheaper to do because it is not having an impact the way the plastic is," says Daish.
"I am not complete plastic free yet, but I want to be."
A woman uses an average of 11,000 disposable menstrual products in their reproductive lifetime according to the Women's Environmental Network.
These facts led Daish to talk openly about this problem with her friends and family, "but no one really knew much."
That is when she decided to start the campaign to create awareness and change. "I started as an individual, and I am still doing it as an individual, but I am not really an individual when I have 106,000 supporters behind me on the campaign."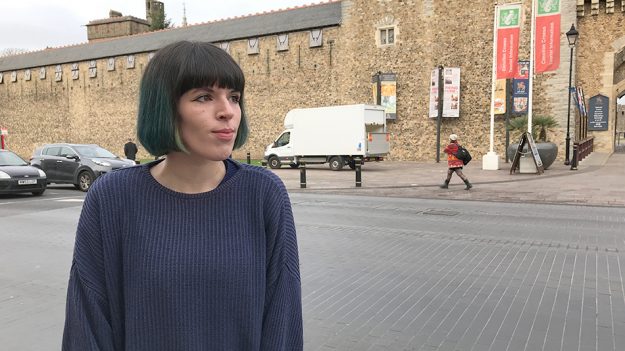 She knows that it is going to take a while to make the significant changes mainstream. "I reduce as much as I can, but I am still learning. It is something that takes a while for everyone" says Daish.
For example, she uses shampoo in bars; buys flour or detergent in containers and then she refills at Ripple, a new zero waste shopping in Cardiff. "I am not completely plastic-free yet, but I want to be," says Daish.
She knows that one of the biggest obstacles for people is time and the key will be to make recycling easier.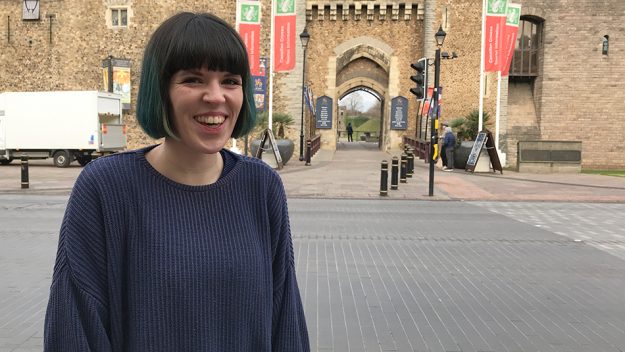 "Everyone is busy and has somewhere else to go or do," says Daish. "But we have a real opportunity to drive change. We can even make Cardiff plastic free, we can make Wales plastic free!"
Read more about Ella Daish's campaign at change.org.