Cardiff University missed the national three-day strike, the next step depends on the re-ballot which starts next week.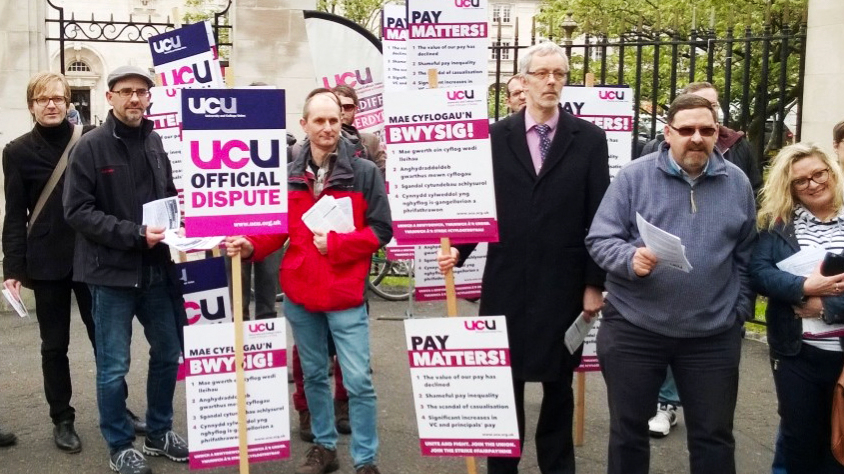 UK universities have gone on strike over pay and pension for three days, but picket lines have not been seen in Cardiff University.
That resulted from the fact that the union at the university didn't reach the turnout legal threshold to go on strike and the re-ballot is set to start next week.
"We've been already in touch with members. We are running campaign to remind people to vote. We have a lot of volunteers, more people came in saying they're gonna help," said Renata Medeirous-Mirra, the Vice President of Cardiff UCU and a lecturer in Statistics.
"I'm very hopeful that we're gonna get the threshold."
Staff from 58 universities who join the movement are set to end their strike today. Cardiff UCU, the union representing academic-related staff at Cardiff University, with unions at 41 other universities, will start the re-ballot from 6th December to 14th January aiming to reach the 50% turnout threshold.
The last ballot period lasted around two weeks, which was from 18th October to 4th November.
Cardiff University and other four Welsh universities had a majority vote for a strike, but none reached the 50% threshold.


There were a variety of reasons to explain why the ballot didn't reach the threshold, including the short ballot period, staff felt it's difficult to go on a strike and the high threshold itself, according to Dr Medeiros-Mirra.
Around the UK, some universities have been striking over pay and conditions, others over pension, and most over both.
UCU said there had been 35% cuts to the guaranteed pensions of staff in universities. UCU demanded employers revoke it.
UCU also demanded to improve the pay and working conditions, including a £2.5k pay increase and action to tackle the unmanageable workloads, pay inequality and insecure contracts.
UCU said that staff pay has fallen by 20% in real terms since 2009.
The working environment for researchers and lecturers has to be improved, otherwise, there would be a domino effect which in the end would harm the students, according to Dr Medeiros-Mirra.
She said it made a world of difference to secure teaching staff's conditions because they would feel much more valued and part of the organisation.
Dr Medeiros-Mirra is now having an open-ended contract before working on hourly-paid contracts and casual contracts.
Orla Tarn, Vice President Postgraduate Student at Cardiff University, said, "They (postgraduate researchers) don't have a right to their own working hours, so when they are then trying to plan things like their rent or their food bills, or their bills going out for their houses, or things they do outside of work, they can't necessarily rely on the money that they receive from teaching."
There had been a lack of communication between the university and its postgraduate researchers over their working conditions, but it was now working precatively to ensure the right people were in the right seats to ensure the conversation would be effective.


However, Universities UK (UUK), an organisation representing 140 institutions, said the pension scheme needed to be reformed to keep it affordable.
The Universities and College Employers Association (UCEA), which has 174 member organisations, said the industrial action aimed at harming students.
On the first day of the strike, UCU wrote: "If they (vice-chancellors of universities) continue to ignore the modest demands of staff then we will be forced to take further industrial action in the new year, which even more branches will join."