The exhibition underlines the importance of listening to communities.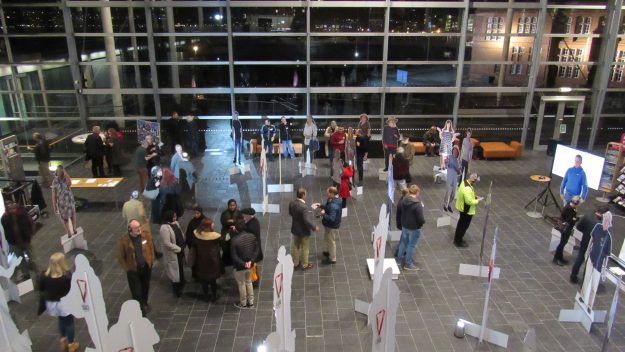 Community voices were heard last night, as an interactive art experience was launched at the Senedd in Cardiff Bay.
The gallery of the Welsh national assembly building was full, with 30 towering audio equipped cardboard portraits, all representing real individuals from Riverside and Merthyr Tydfil.
Labelled The Peoples' Senedd, the artwork is an attempt to highlight the importance of people and institutions working in the community in an era of austerity.
Allan Herbert, an innovator in community development and co-producer of the event, made this point clear. "Listening to these voices, the main call is where funding needs to go, it needs to go into people," he said. "So that anchor organisation like ours can continue."
The exhibition tells the story of two community partners in South Wales – South Riverside Community Development Centre (SRDC) in Cardiff and 3Gs Development Trust in Merthyr Tydfil – created by local people 30 and 40 years ago, and how they have been under pressure following the withdrawal of the Communities First anti-poverty scheme.
The Artstation creation, commissioned by Productive Margins and curated by Christopher Coppock, powerfully illuminates the huge disconnect between government policy and organisations in these deprived areas.
The design underlines the voices often unheard, within the increasing bureaucratic conformity and indifference of institutional regulation and control.
The immersive experience combines the striking visuals of the huge cardboard cutouts with sound, as you could enjoy either a steady narrative as you walk around the gallery, or stopping at an individual portrait and scanning a QR code on their back, then listening to that specific voice.
The five-year research programme known as Productive Margins, led by Dr Eva Elliott, is a Connected Communities collaborative effort between Cardiff and Bristol University involving community organisations and social enterprises in Bristol and South Wales.
The final stage of the project, labelled 'Weathering the storm' assessed the immense pressure people anchored in the community have had to labour under, and inspired the production of the innovative art exhibition.
Following the launch, the installation will be upstairs in the Atrium of the Senedd until Friday 14th December and will provide a forum for conversation and debate on key issues affecting these local communities.