The new pop-up cycle lane in central Cardiff is the Council's most recent effort to create a safe cycling city. But is it enough to make cycling more inclusive for everyone?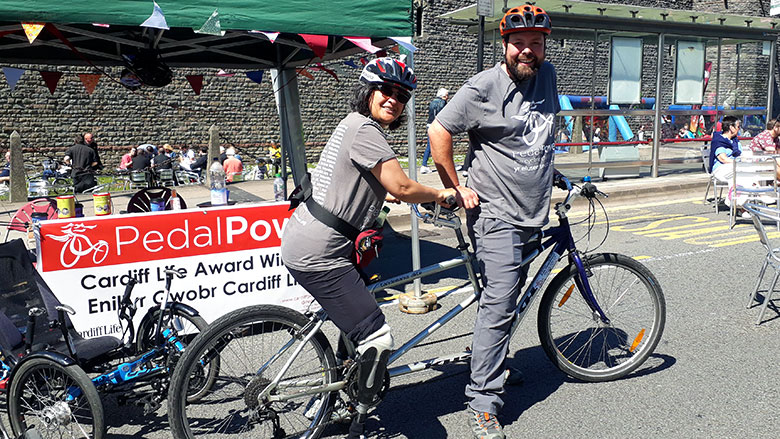 How many times, cycling along the National Route, have you had to interrupt your ride to dismount due to a neverending barrage of barriers, stiles, and gates along the way? This can be a little annoying if you are riding a two-wheeled bike but for those on adapted and non-standard bikes, it can become almost impossible.
"Access to suitable cycling facilities is one of the main issues, however the list is extremely long," says Sam Farnfield senior officer at Cardiff Pedal Power, a Cardiff-based charity that encourages people of all ages and abilities to get cycling.
The organisation is just one of a handful charities across the country trying to solve these problems and make cycling more inclusive.
Sustrans, the walking and cycling charity custodian of the National Cycle Network, is working to remove all 16,000 barriers on the Network. Where the removals and improvements have been made, the organisation has reported an increase in usage and satisfaction.
However, Christine Boston, Sustrans' Cymru Director, says that many are still in place and represent a major obstacle for people with disabilities. Pavement issues also make people's life difficult and solving these problems requires more engagement with representatives to understand their needs.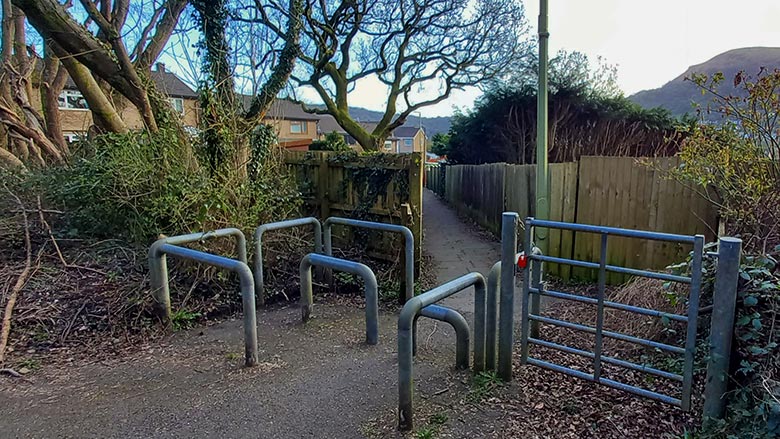 It is estimated that 28% of disabled people who do not cycle would like to do so. The main reason people don't ride bikes is that they find it too dangerous. Narrow cycle paths, gradients, accessible signage, junctions, lighting, or bollards are just some of the obstacles that discourage people from riding.
Sam, says that despite some improvements being made in Cardiff, like the new pop-up lane running through the city, when it comes to accessible cycling infrastructures routes need to be comprehensive.
For example, a short route that is accessible but does not connect to safe cycling spaces will not encourage large-scale behavior change when it comes to inclusive cycling. Furthermore, costs are another big barrier.
Bollards, narrow bike lanes, and busy roads are not the only challenges people with disabilities face when they want to start pedaling. "Buying a trike or accessible cycle is expensive and cost-prohibitive, there is not VAT relief for these purchases as mobility aids," says Sam Farnfield. Moreover, challenges are also faced when it comes to public transport.
Although disabled people rely more on public transport, with 53% of them using them at least once a week, space for large and adapted bicycles does not exist. Booking spaces on these forms of transport can also be difficult.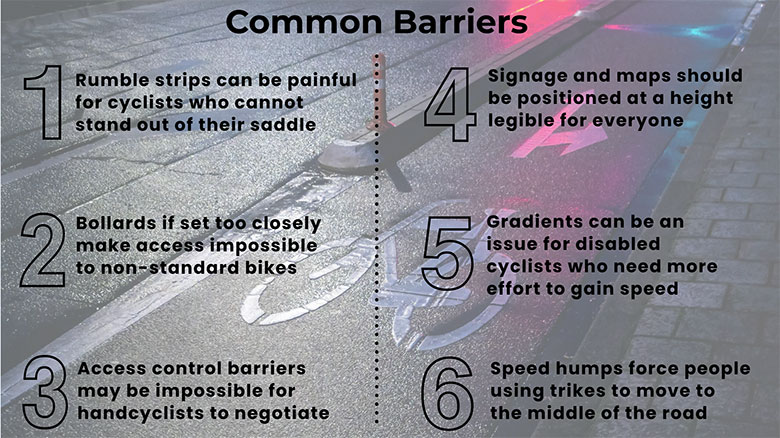 According to Sustrans, trains and buses should be adapted to carry bicycles for longer journeys and better infrastructure should be built, such as parking near public transport hubs that usually have space for standard bicycles. Another impediment that prevents people with disabilities from cycling is that they are unsure of their skills.
Some people have never learned to ride a bike or are not confident enough to go out in their city because they may find it dangerous. "We also offer 'learn to ride and confidence building' for children and adults of all abilities and disabilities, as well short and long-term hire of all our cycles," says Sam.
Sam also highlights the role of cycling in building physical strength.
"Our children's officer has taught children to cycle who have gone on to see improvements with their routines and dyspraxia, their mental health and in some cases found children have regained the ability to walk after regular cycling sessions," says Sam.
Despite the great benefits places like Cardiff Pedal Power can bring to people with disabilities, they are not common in the UK. Besides, new routes to make cities safer are a starting point for making them more inclusive, but more problems need to be solved to make cities enjoyable by bike for all.