Cardiff City fans come together to pay a beautiful tribute to Emiliano Sala along with millions of other supporters from all over the world.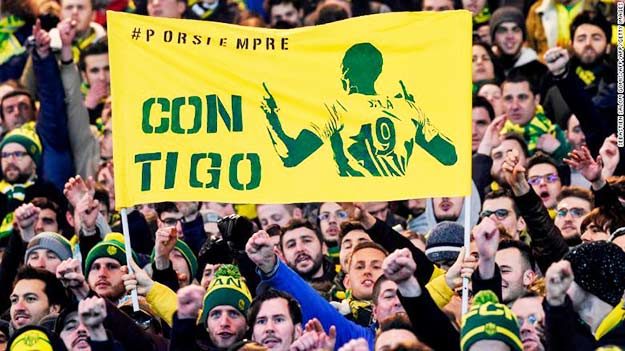 Over 32,000 fans and supporters gathered in Cardiff City football stadium to pay their respects to Emiliano Sala after his plane disappeared over the Channels.
Flags from all over the world were waving in the hands of the 'Bluebirds', but there was one which stood apart from the rest: the Argentinean one, reminding the tragic of Emiliano Sala, the Argentine player who disappeared crossing the English Channel on 22nd January.
Will Stevens, a Cardiff City supporter said, "So many of us were waiting for him to come and be our saviour and be our goal scorer but at the end of the day he is somebody's son and that's more important. The outcome of today's game really does not matter. This game is for Emiliano and who knows, we might even win it for him."
Football fans from all over the world took the chance to tribute the Argentinean player during the game against Bournemouth and funding the search operation rescue.
The little section of flowers in Ninian Park's Lidl which is usually empty was full of people buying small yellow flowers this time.
Fred Keenor's statue stood outside the stadium was the point chosen by the fans to leave their tributes to Sala. The statue was covered in blue and white scarves, jerseys and uncountable pictures of Emiliano Sala, the player who never played.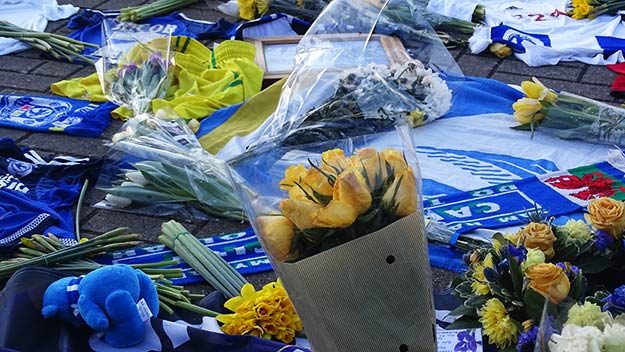 Some Cardiff City fans had also travelled to the match against Arsenal in North London where they unfurled a banner that read "We never saw you play and never saw you score but Emiliano our beautiful Bluebird we will love you forever more."
The fans also paid tribute Sala during the game against Bournemouth. Each time Cardiff City scored against Bournemouth AFC, the fans sang Sala's name out loud even though he never played for them. Cardiff City stadium was full this time with banners for Sala from both the sides because rivalry knew no place in this game as if all the fans had come there for one unified purpose.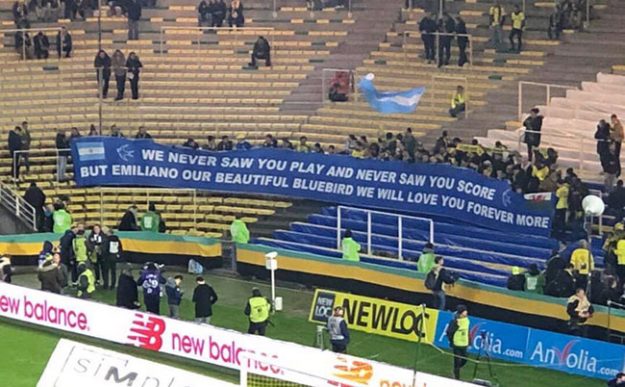 Hugo Alvarez, a Chilean sports journalist who went to cover game said, "I saw many people with Argentine flags. Photos of Sala were put up everywhere with a lot of offerings all around the stadium. It was breath-taking"
Neil Warnock, Cardiff's manager was visibly upset a press conference, he said, "The lads never really met Emiliano, he came to the training ground last Friday afternoon before we set off for Newcastle and I had a few words with him then, but it's been a sombre mood all week. I have never experienced anything quite like it."
On 21st January, Emiliano Sala said goodbye to his former teammates in Nantes and boarded a small private plane to Cardiff. Shortly after their difficult take off which took three tries, the plane disappeared over the English Channels.
The French civil aviation authority said Sala was aboard a light aircraft that disappeared from radar in route from Nantes to Cardiff. Guernsey Police took over the search and rescue operations but to no avail and finally, after four days of a rigorous quest, the search was called off.
Hundreds of fans from around the world donated to a GoFundMe account to restart the rescue operation with many football players donating to the cause. World Cup winner Kylian Mbappe donated about £26,000 to the crowdfunded search operation which commenced on 26th January.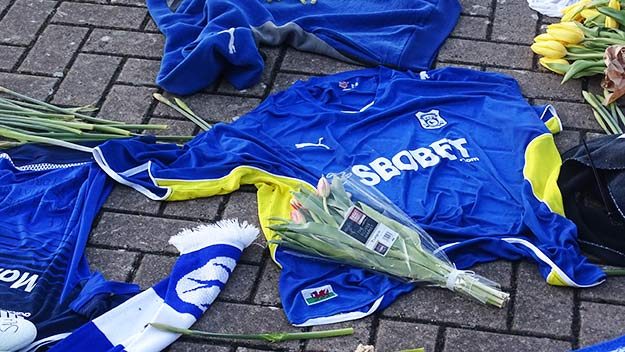 Initially, the rescuers found cushion seat covers and metal scraps from the aeroplane but on 3rd February, the full wreckage of the plane was 69-metres deep just north of Guernsey and the families of both Emiliano Sala and pilot David Ibbotson were informed of the same.
Several issues are still yet to be solved when it comes to this heart-breaking incident. The subject matter of who gets the money of the transfer fee now that Nantes FC has officially asked Cardiff City to pay them back or why the official Guernsey search was abandoned so early into the process.
Although, none of these issues will ever surpass the fact that the world lost a brilliant footballer at an age where he should've been scoring for his new team.
What brings solace to the world is that Sala will never be forgotten. His name and memories, whatever little he had made will always live on outside Cardiff City stadium and Nantes' dressing rooms.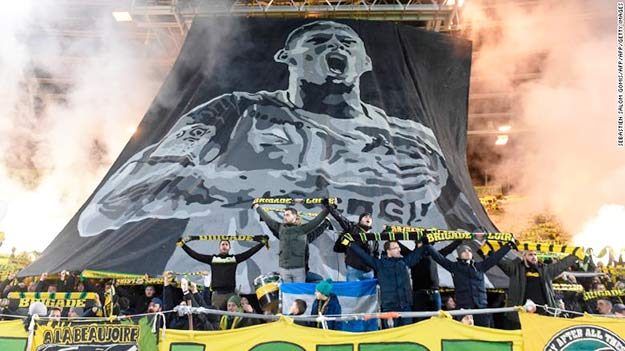 Children know his name and veteran fans understand his pain and the numerous tributes paid to him time and again is a testimony to the fact that when something so gut-wrenching happens, people come together and make an effort to be there for one another.
"The thing is that the family and the fans never got full closure about him and that is more gut-wrenching than anything else," said Will Stevens.
.embed-container { position: relative; padding-bottom: 56.25%; height: 0; overflow: hidden; max-width: 100%; } .embed-container iframe, .embed-container object, .embed-container embed { position: absolute; top: 0; left: 0; width: 100%; height: 100%; }