While a lifetime of breaking records has given many high points to sea swimmer Sally Minty-Gravett MBE, is an enduring achievement also the inspiration she has become?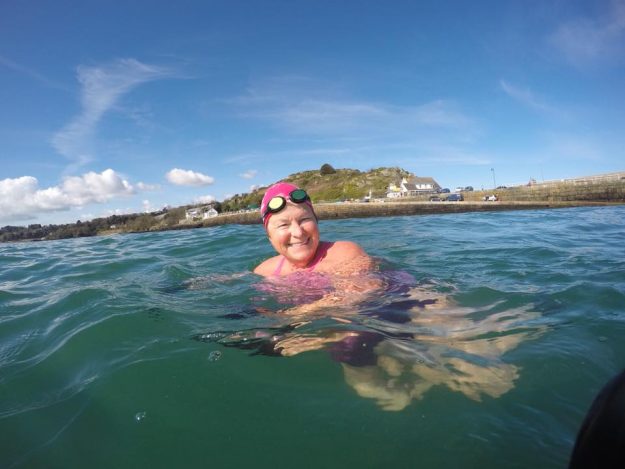 One person's life may be remarkable. An outstanding competitor, trailblazing achiever or a heralded record breaker. Sally Minty-Gravett is all of these, but it is her positive impact on countless others that further highlights an energy as powerful as the tides she swims in, and as warm as the Jersey midsummer sun.
I was fortunate to meet Sally many years ago, in her natural surroundings, the water. Working at the time, in her own teaching business Swimrite, she was already a notable international sportswoman having represented Great Britain and broken records with each English Channel swim in every one of the preceding three decades.
Meeting twenty years later, her students now number in the tens of thousands and as ever she is a passionate advocate for swimming, especially in the sea. "If you can give kids a love of water they will go on and do other things in the water," she explains. "They won't necessarily just swim, they'll surf, they'll kayak, they'll stand up paddle board now, and just have fun in the water."
Her own love of water started at a very young age, and, after starting to swim competitively from the age of nine, she was actively assisting the Jersey Swimming Club sessions by 14. It was at this age that she also began to make a difference helping others to benefit themselves through the enjoyment of swimming.
This saw her take on her first pupil, a young girl of eight named Vanessa, who, although suffering from down syndrome, had a clear passion for the water. All these years later and speaking with what must be considerable pride, Sally tells me of what her student has gone on to achieve. "Vanessa Chinnery is now a grown woman of over 50, still active, still loving her swimming, and regularly travelling to and winning many medals in the Special Olympics!"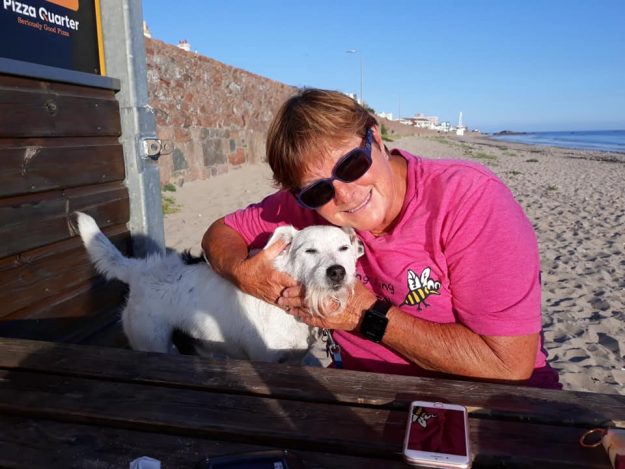 Sally's aquatic education came on an island with no indoor swimming pool, and after the introduction of one in 1969, she began to move back towards swimming in the sea. "It's so much better in the sea, in nature, being at one with the world and the elements," she says. "It's just nice being outside, no chlorine, no black lines, no restrictions, the world is your oyster really."
It's a personal preference backed up with good scientific reasoning. Swimming in the sea and exposing your body to the cold natural water initiates a series of health benefits. This includes the buildup of brown antipose tissue, the subsequent fat loss, reduced inflammation to help strengthen your immune system, the balancing of hormone levels, improved sleep and the production of endorphins to calm your mind and elevate your mood.
With all the good points of ocean swimming, Sally is still keen to underline the thought and care that needs to be taken. "People have got to understand the sea and respect it. Our seawater is very clear and very pure, our big tides are the third largest rise and fall in the world, but because of this and the dangers it can bring a big respect is needed."
After ten very busy but successful years with Swimrite, Sally was headhunted to run a new major development in Jersey's capital, St Helier. It was here at Aquasplash, during her unveiling ceremony, that the seeds were sown for her future endeavours.
"They were all talking about my channel swimming, I had two England to France swims, and one France to England. I said I'd like to do another France to England, but they have stopped allowing people, the only way you can do a France to England swim is if you do a two way – so they told me if you do a two way we'll pay for it – you're on, I said. "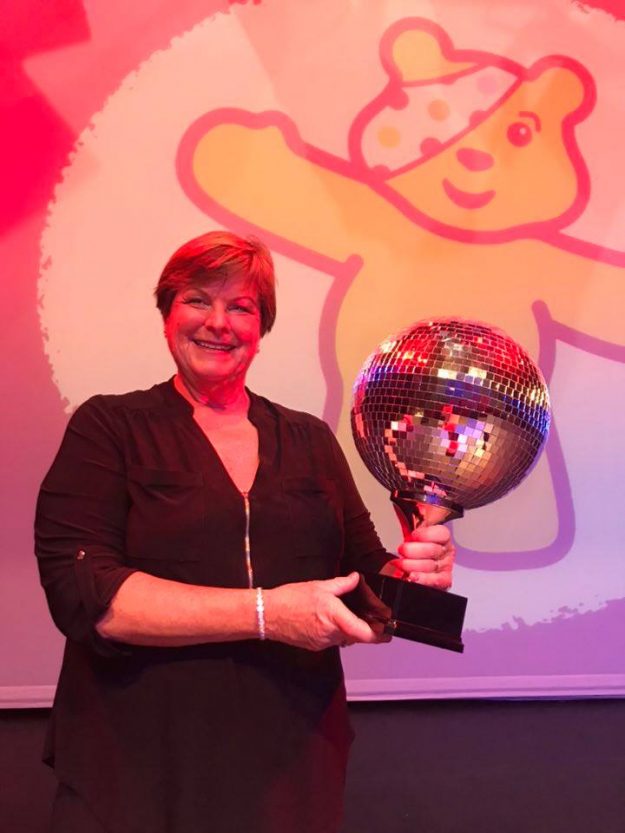 Her first attempt at the double channel swim came in 2005, but between her busy work schedule, and coaching another six channel swimmers, Sally didn't leave enough room for her own training. "I just put too much pressure on myself that year, I was sick for ten or eleven hours of that swim and as we went into the French coast the pilot asked me if I wanted to turn around, but I just felt too sick and didn't have enough energy."
Nevertheless, this completed another channel swim, and in 2006 Sally travelled to the USA to be inducted into the International Marathon Swimming Hall of Fame for the fourth channel swim in four decades. 2013 saw another single channel crossing with a woman just recovered from cancer, giving Sally her 5th channel swim in 5 decades.
On June 10th 2016, for her services to swimming, Sally was awarded an MBE in the Queen's birthday honours list. Later that summer, over the 29th and 30th of August, she accomplished her two-way English Channel swim – becoming the oldest lady in the world to complete the challenge.
When I ask her how, at the age of 59 she managed to do it, increasing the length so far beyond previous channel swims, the answer is telling. "It's a mindset, you train yourself to swim until you run out of water. That's what I say to everybody I coach, and for me there was no way I was getting out until I got back to where I started."
This mental strength has served Sally well in years of swimming locations around the world. Within this global success, she has mentored in the region of 50 others to complete their goals. One of her current, and most prominent, Prabhat Koli, is aiming to become the youngest person ever to complete the Oceans Seven – a marathon swimming challenge consisting of seven open water channel swims.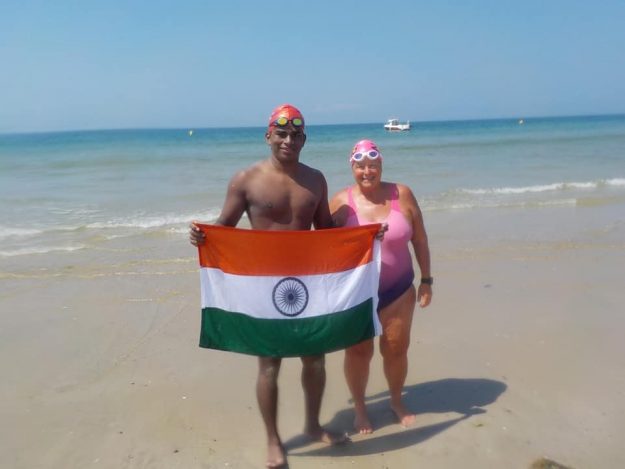 Having already swum five out of seven, and at the young age of 19, he is well on his way to beat the record set by current holder Thomas Pembroke at 29. Sally will be with Prabhat again in July, as they swim the length of Lake Tahoe in California, a swim known for its toughness due to the altitude and freshwater conditions.
Sally could have been excused for putting her feet up, considering all she has achieved, but, as is a testament to her character, she shows no signs of stopping yet. Her plans include climbing Mt Kilimanjaro, completing an Olympic distance triathlon and becoming the first person to swim the channel in six decades.
"I'm going to have to keep going…an English woman has done it at 73, so I'm going to have to keep going really, to break that, I'm going to have to be the oldest person to have done a solo."